This is an excerpt from the AMM Dividend Letter released March 29, 2014.
Dividend Stock in Focus: Lorillard, Inc. (NYSE:LO): $53.35 (as of market close, March 28, 2014).
Lorillard, originally known as P. Lorillard & Co., is America's oldest tobacco company. While the company's public shares have only been trading since 2008, when it was spun off fully from Loews Corp., it was originally founded in 1760. In fact, some of North America's first tobacco advertisements were run by P. Lorillard & Co. in Ben Franklin's newspaper.
Dividend History:
Once spun off from Loews Corp., Lorillard immediately started paying a quarterly dividend of $0.30667 per share. In February of this year, Lorillard increased its quarterly dividend again by 12% to $0.615. This is the sixth increase in 6 years, doubling the initial payout. This represents a 13% compound annual growth rate since August 2008.

Data from S&P Capital IQ
Lorillard's policy is to return 70-75% of its earnings to shareholders in the form of a dividend. The company's current payout ratio is 70%.
Catalysts for Dividend Growth and Price Appreciation
Electronic Cigarettes:
Civilization's love affair with smoking is waning. The harm is just too great. Enter the electronic cigarette, "eCig", a device focused on harm reduction and renewing man's love affair with nicotine.
An eCig is a battery-powered device that converts liquid nicotine, not tobacco, into a vapor that is inhaled by the user. There is no fire, smoke, or ash.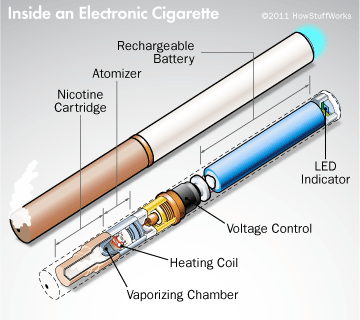 Image courtesy of Howstuffworks.com
In April 2012, Lorillard purchased Blu eCigs for $135 million in cash. Sales have grown from $61 million in 2012 to $230 million in 2013, per Lorillard's latest 10-K filing. Utilizing Lorillard's well-established distribution network, Blu eCigs have already captured 50% of the U.S. electronic cigarette market. The market share gains are even more impressive when we consider that Blu eCigs have so far only been available in approximately 1/3rd of the retail locations that comprise Lorillard's distribution network. As Lorillard fills out its distribution network, we would expect Blu eCigs' strong sales growth to continue.
During the 4th quarter of 2013, Lorillard also purchased SKYCIG, a leading U.K. electronic cigarette maker. The acquisition gives Lorillard an entrance into the U.K. market and Western Europe. The company has announced plans to rebrand SKYCIG, unifying Lorillard's global electronic cigarette brand under the Blu eCigs banner.
While Blu eCigs' operating and profit margins are well below the margins of traditional cigarettes, there is reason to believe this situation may reverse itself in the future. Cigarette sales are subject to excise taxes, and part of the revenue goes to funding legacy legal settlements, while sales of e-cigarettes do not. Goldman Sachs' research department estimates that eCigs as a whole could generate profit margins in excess of 50%. Traditional cigarettes currently generate around 30% profit margins, and Lorillard's trailing twelve-month profit margin is at 23%. Sales growth and margin expansion driven by expanding market share and greater adoption by the consumer should be positive for Lorillard's stock price in the years to come.
Market Leader in Menthol Cigarettes:
Cigarette sales for tobacco companies are declining. Over the last 3 years, the total volume of sales for domestic cigarettes has declined at a compound annual rate of -2.31%. In comparison, Lorillard's total sales volume has declined at a much slower rate, -0.59% compounded annually over the last 3 years. This is due to Lorillard's Newport brand of cigarettes, a menthol-flavored cigarette. As seen in the chart below, Newports represent the bulk of Lorillard's sales, and the brand continues to gain market share.

From Lorillard's 2013 10-K
Lorillard's management has more than offset any volume declines with price increases. Since becoming a fully independent company in 2008, Lorillard has grown revenue at a compound annual rate of 6%.

Data from S&P Capital IQ
Potential Merger:
Lorillard and Reynolds American (NYSE:RAI) surged earlier this month on the rumored news that Reynolds would make a bid for Lorillard. The rumored bid is expected to be north of $20 billion. Rather than an outright buyout of Lorillard, the deal would most likely be a merger and involve an equity offer from Reynolds.
There are significant hurdles for this deal to be completed. Reynolds and Lorillard are the number 2 and 3 U.S. tobacco companies. A combined entity would control about 92% of the U.S. market and 67% of the U.S. menthol market. Additionally, British American Tobacco owns 42% of Reynolds, and controls five board seats. Any equity Reynolds issues that would dilute shareholders by 5% or more needs approval from British American Tobacco.
Right now, the deal is a rumor, along with the speculation that Imperial Tobacco or Japan Tobacco would make counter-bids for Lorillard. We were happy to hold Lorillard for the long term when we first bought it in the $47-49 range, and the failure of a bid to materialize will not change our thinking.
Capital Efficiency:
Lorillard is an extremely capital-efficient company, generating Return on Assets "ROA" over 30% and Return on Capital "ROC" over 90%.

Data from S&P Capital IQ
Return of Capital:
Besides rewarding shareholders with a growing dividend, Lorillard has also bought back a lot of shares. Since its spin-off in 2008, Lorillard has reduced total shares outstanding at a compound annual rate of -5.35%.

Data from S&P Capital IQ
Conclusion:
Cigarette sales across the U.S. are in decline, making an investment in this industry somewhat contrarian. However, due to Lorillard's leadership in the menthol category, the company has seen below-average declines in sales volumes, and management has more than offset these declines with price increases. Total revenue has grown at a compound annual rate of 6% since 2008. Assuming a fairly conservative growth rate of 3%, a discount rate of 12.5%, long-term average margins, and accounting for share buybacks, we derive a fair value of $55 per share. Fair value represents the price we would be willing to pay to generate a return commensurate with a particular stock's risk (i.e., it does not represent a "target" or static price objective). For a company like Lorillard, we estimate this return objective to be 12-15% annually. Additionally, our fair value estimate gives little weight to the eCigs business, which we feel could provide significant upside.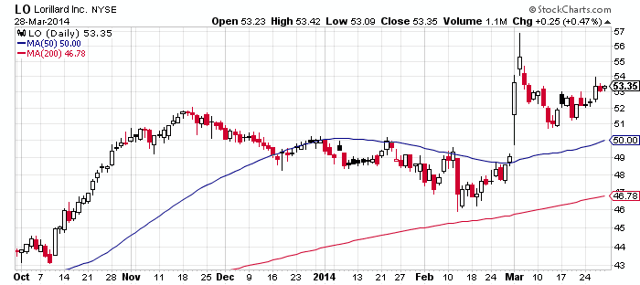 Chart from StockCharts.com
Disclosure: I am long LO. I wrote this article myself, and it expresses my own opinions. I am not receiving compensation for it. I have no business relationship with any company whose stock is mentioned in this article.