During the first quarter of 2014, the equity markets were rather resilient. It is not as if market participants expected trials and tribulations, especially after their stellar performance in 2013. Nonetheless, the markets were able to withstand and recover from a number of setbacks, which included the burgeoning economic stresses within the emerging markets, unseasonable cold and wintry weather, and a growing Ukrainian crisis. Two of the three were external events, while the other is an event that is likely to reverse when spring arrives.
When thinking about resiliency, most would agree that it comes from some underlying strength; be it a core belief, a sense of duty, honor, or commitment, or simply an inherent willingness not to give up. No one is suggesting that such virtuous characteristics are evident in the equity markets, but the concept of underlying strength definitely makes sense, and when one talks about the "markets" and "strengths," one is referring to the economic fundamentals.
As for the problems in the emerging markets, stresses had been developing within the sector since last May when the U.S. Federal Reserve implied that it was likely to taper its quantitative easing program. The straw that appeared to break the camel's back, however, was the January release of Markit's Purchasing Managers' Index (PMI) for China. It caused the markets to question if Chinese growth was potentially at risk. In addition, Brazil and India remained under pressure due to flagging growth and stubborn inflation, not to mention renewed protests in Brazil. Around the same time, the Turkish lira dropped to new lows as a corruption probe embroiled the Turkish cabinet, political protests engulfed Thailand and the Ukraine, the Argentinean peso plummeted, and Venezuela devalued its currency.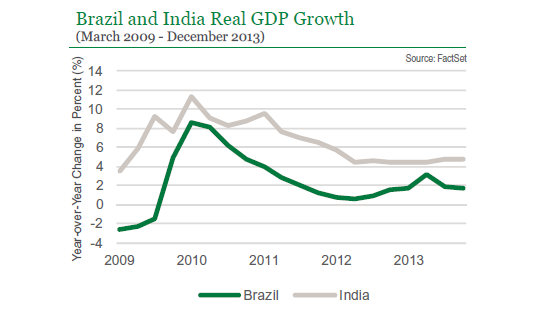 The net effect on the U.S. financial markets was a return of the "risk-off trade" where equity prices drop and investors seek the safe haven of the U.S. Treasury market, causing interest rates to fall. From mid-January to early February, the equity markets dropped by more than 5% while the yield on the ten year U.S. Treasury dropped from 3.0% to 2.6%.
It should be noted that the sell-off in the equity markets and the drop in interest rates were not solely caused by the problems in emerging markets. Generally speaking, the economic releases early in 2014 were disappointing.
After peaking in early January, the Citigroup Economic Surprise Index, which measures data surprises relative to market expectations, had turned negative (i.e., the data releases were worse than expected) by mid-February. As for specific releases, most market participants are focused on the labor markets, and the payroll reports released in January and February were both disappointing, failing to match the job growth figures posted during the last half of 2013. In addition, both Institute of Supply Management (ISM) Indices posted material declines during the first quarter, retail sales were negative month-over-month in January, and industrial production sagged.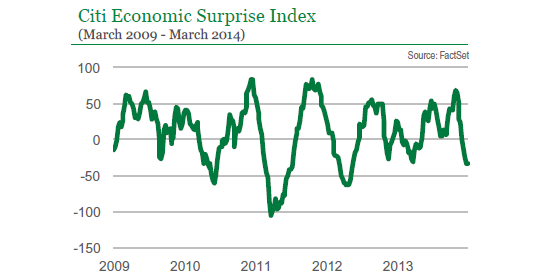 As everyone who lives between Chicago and Boston is well aware, as are many who live south of the Mason-Dixon Line, it has been an especially tough winter. That is assumed to have negatively impacted the economy; how true that is and how large the effect has been is yet to be determined. Toward the end of the quarter, subtle signs of improvement started to appear. For example, the ISM Manufacturing Index recovered some of its January decline in February. After back to back months of negative growth, retail sales rebounded slightly in February, and after dropping by almost a full percent in January, industrial production recovered most of that decline in February.
A belief that the weather effects will dissipate as we move toward spring, and the aforementioned subtle improvements in the economic releases, caused interest rates to stabilize and drift ever so slightly higher during the second half of the quarter. Equity prices on the other hand, worked their way back to the levels they were at to start the quarter. Those market moves occurred even with the change in leadership in the Ukraine, the subsequent succession/annexation of the Crimea peninsula by Russia, and the increasingly acrimonious back and forth between Russia and the West regarding the fate of the Ukraine during the month of March.
Interest rates may have been affected by the events in the Ukraine with Treasury yields holding steady due to a modest flight to quality as the situation in the Ukraine worsened. Equities on the other hand have looked through the Ukrainian events, focused instead on the domestic economy, and more importantly on earnings. The domestic focus is supported by the fact that small cap and mid cap stocks, which tend to be far more domestic-centric when it comes to earnings and revenues, have bounced back significantly more from their inter-quarter lows than large cap stocks, which typically rely more on international sales. As for earnings, all three cap levels are experiencing rising (and record) forward earnings. Economic optimism, domestically speaking, along with continued earnings growth tend to support equity prices, allowing their price action to be quite resilient in the face of what many would consider significant headwinds.
While resilient during the first quarter of 2014, there have been other quarters when the equity markets have crumbled in the face of headwinds. Ultimately what matters are the fundamentals, specifically the economy and earnings. Regarding the economy, we believe investors are best served sifting through the quarter-to-quarter noise and focusing instead on the longer-term fundamentals. As for earnings, it is best to apply time tested, proven strategies designed to identify those companies with the best business prospects. In managing its clients' assets, Manning & Napier has consistently applied both over the past 40+ years.
Investment Approach: Leaning Into the Wind
During the past few years we have spoken at length about the importance of investing in businesses that can successfully grow despite the difficult macroeconomic environment. If economies are growing slowly, revenues and earnings for the bulk of companies are likely to advance at a similar rate. We believed that the relative scarcity of companies experiencing healthy growth would eventually draw investor interest and lead to rising prices, as is the case when capital pursues any limited resource.
Given the widespread fallout following the financial crisis and 2008 market correction, it took time for market observers to shift out of capital preservation mode, but the generally strong performance of equity markets over roughly the past seven quarters suggests that investors' risk appetite did ultimately return. The S&P 500 advanced 41.6% from July 2012 through February 2014. Their broadly more bullish attitude is reflected by the breadth of strong returns across various sectors, industry groups, market cap cohorts, and growth and value style categories. Of these factors, growth companies have been particularly strong performers from both a relative and absolute perspective recently. From March 2013 through February of this year the Russell 1000 Growth index returned 29.1%, outperforming its value index counterpart by nearly 6% and beating the S&P 500 by almost 4%.
Client portfolios continue to have a pro-growth theme embedded within them. This positioning was perhaps a bit challenging to grasp several years back when market volatility often eclipsed the good things that were going on fundamentally in strong and well-positioned businesses, but we had a lot of conviction in the view that buying growing companies at attractive valuations would prove to be beneficial in the long-run. We continued to pursue the growth theme even as the safety and stability trade persisted, which in some cases led to lagging relative performance.
Leaning into prevailing market winds is one of the ways our active management approach seeks to adds value. When investors were most concerned with dampening volatility and protecting capital, we were scooping up great values in companies that we believed would be able to expand revenues at a faster clip than Gross Domestic Product (GDP).
The Walt Disney Co. (NYSE:DIS) is an example. DIS was first added to client portfolios during the fourth quarter of 2008 as stocks were broadly declining. The company had been on our radar for a long time as a candidate for the Strategic Profile strategy, but we viewed its price as unattractive. DIS shares tend to trade at a premium valuation relative to the market given the company's many strengths. The average price-to-sales ratio on DIS over the past 20 years is two; however, this ratio dipped below one in late 2008. The break in valuation provided the opportunity to invest in DIS.
Among features that make DIS an ideal Strategic Profile company is its long history of consistently developing and monetizing new characters. DIS theme parks are also very unique and draw crowds from all over the globe. The company's media networks business owns highly sought after channels, such as ESPN, and has been a key revenue driver in recent years, benefiting from the secular shift in viewers moving away from broadcast networks and toward payTV. Together, these attributes give DIS a sustainable competitive advantage and pricing power, factors which proved valuable in the post-recession slow economic growth environment.
At the time of investment we thought investors were too focused on the hit to revenue DIS might take as park attendance dropped due to consumer retrenchment. The market overlooked the fact that media networks had become a much more important fundamental driver, and that this segment was fairly well insulated from macroeconomic headwinds. Over time, our differing perspective narrowed as investors worried less about the parks and resorts business segment and the price appreciated toward our estimate of fair value. Clients' investment in DIS was recently sold at healthy relative and absolute gains. Importantly, during the holding period DIS revenues and earnings grew at compound annual growth rates that were much faster than U.S. nominal GDP.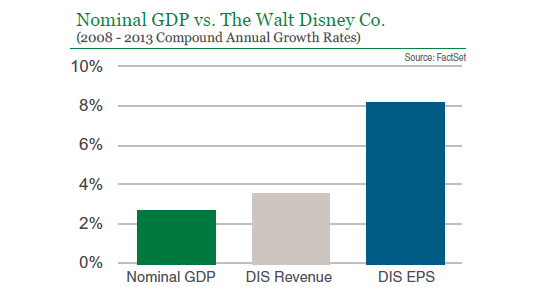 Growth Stock Bubble?
The recent strong run in growth companies has not gone unnoticed. There is a loudening chorus of pundits drawing parallels between the latest run up in growth stock valuations and the growth/tech craze of the late 1990s/early 2000s.
To determine if a bubble in growth stocks exists, we can analyze valuations of the pure growth companies that comprise the Russell 1000 Growth index. If a bubble is present it stands to reason that companies defined exclusively as "growth" should be trading at valuation multiples at or above historic medians.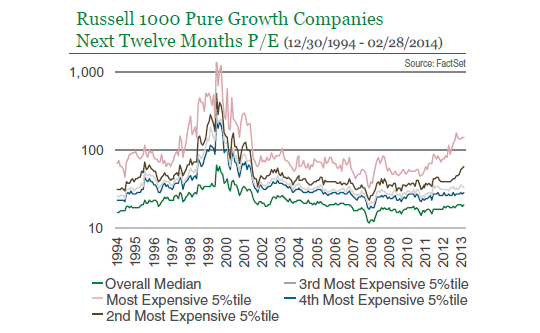 On the chart above, we break down these pure growth names into buckets based on one year forward price-to-earnings (P/E) ratios. The group of stocks indicated by the line labeled "most expensive 5%tile" represents the top 5% pure growth companies from a forward P/E perspective, or the most expensive 5%. The next bucket represents companies in the next most expensive range, and so on. We then calculate the median forward P/E for each group and display the change over time in those metrics.
Looking back to 2000, it is striking how lofty valuations got, and notably, that the stratospheric rise enveloped a significant portion of the growth universe. Contrast this with the current situation. Median forward P/E ratios for stocks in the top buckets shifted markedly higher from 2012 through 2013. Median valuations of the other groups, and of the pure growth category overall, however, have risen much less. Significantly, current median valuations remain well below the peaks experienced in the early part of the last decade.
With surging growth stock valuations limited to a relatively small portion of the overall growth universe, we believe attractive absolute return potential continues to exist in companies experiencing strong fundamental growth. Our overarching slow economic growth outlook remains in place and we think the scarcity of good growth businesses in a weak growth world concept is creating new and attractive long-term investment opportunities.
Equifax Inc. (NYSE:EFX) is a recent addition to client portfolios under the Strategic Profile strategy that exemplifies our continued focus on growth. The company is a major player in the credit data business and has grown annual revenues at a mid-single digit pace over the past ten years. Aided by the ongoing recovery in consumers' financial health and related pickup in borrowing, as well as a vast runway for international expansion, we think revenue growth at EFX is poised to accelerate. Our differing perspective centers on the international growth opportunity as credit availability remains highly underpenetrated in certain parts of the globe, emerging markets in particular. The consensus is less enthused about EFX's ability to expand globally. With respect to pricing, EFX's valuation is not at trough levels like DIS was back in 2008, but in the context of our vision of EFX's growth potential, we see room for future share price appreciation.
The focus on strong growth businesses also extends to our efforts in bond markets. Recall that our fixed income investment process views the corporate bond universe through the same strategy lenses we employ on the equity side. This means fundamental business factors such as competitive positioning, market share trends, pricing power, and financial health are among areas we take into consideration when analyzing the merits of a corporate bond investment. Today, investment-grade corporate bonds generally represent the largest absolute weighting in client fixed income holdings and much of this debt is issued by businesses experiencing strong growth. While we expect longer-term interest rates to resume an upward trend in the not too distant future, we still see corporate bonds as possessing attractive total return potential in this environment.
Beyond the corporate sector, Treasury Inflation Protected Securities (TIPS) are an area that has become increasingly attractive during recent quarters. We should note that inflation risk is not a prominent near-term concern of ours, but we are wary of the potential for unexpected inflation to creep in. At this point consensus is fairly one-sided on the topic of inflation, meaning that the dispersion of inflation forecasts is very tight. A major external event that puts upward pressure on commodity prices, or sudden acceleration in wages and salaries, might place forecasts for benign inflation at risk. TIPS investments may help mitigate the erosion of portfolio value in an unexpected inflationary scenario, not to mention the fact that TIPS also offer positive real yields today.
After a choppy start to the year, we think broad market returns are likely to be mediocre going forward given where valuations are now. We do not see a strong argument for further margin expansion, and with valuations uncompelling, subsequent returns would need to be driven by growth in business fundamentals. Index investing is not a recipe for success in this environment. Rather, an active approach that seeks out strong companies with good growth potential at reasonable prices is what we think will put investors in the best position to continue chipping away at their long-term financial goals.
Manning & Napier is governed under the regulations of the United States Securities and Exchange Commission (SEC). This newsletter is published for the exclusive use of Manning & Napier and is for informational purposes only. Stock mentions should not be considered specific stock recommendations by Manning & Napier. Please contact us if you have comments or questions.
Past performance does not guarantee future results.
This newsletter may contain factual business information concerning Manning & Napier, Inc. and is not intended for the use of investors or potential investors in Manning & Napier, Inc. It is not an offer to sell securities and it is not soliciting an offer to buy any securities of Manning & Napier, Inc.
Sources: FactSet, Bloomberg.