A comparative analysis of Research In Motion Ltd. (RIMM) and Apple Inc. (NASDAQ:AAPL):

I generally focus on micro-caps. Therefore, it is unusual for me to invest in a company with a market cap in the billions. I broke this rule last Friday by purchasing some shares of Research in Motion late in the day after it was trading down over 10% from the prior days close.
Before buying any stock, we compile a detailed 6 page report that downloads historical data from SEC filings. We then add other data (such as price info, consensus estimates etc.). The format used is Excel, which automatically calculates (from built in formulas) various metrics such as: percentage changes, PE ratios, market cap info, return on equity, inventory turnover, etc., just to name a few.
After running reports on AAPL and RIMM last Friday, I concluded either RIMM was cheap; Apple too pricey; or maybe a combination of both. The first thing that struck me was Apple's market cap ($246.1 billion) was 8.4 X greater than the market cap for RIMM ($29.2 billion). The market caps were calculated using the diluted shares outstanding for the most recent quarters (ending in March 2010 for AAPL and May 2010 for RIMM,) and the closing prices on Friday, June 25, 2010 (see table below).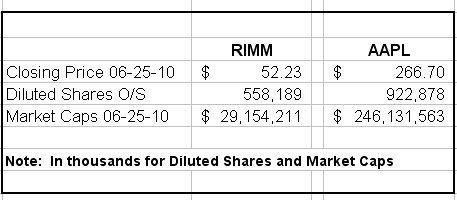 Next, I compared the ratio of market caps for the two companies (8.4 to 1) to the ratios for certain operating data during the most recent 12 month periods for both companies. These ratios were calculated by dividing the Apple amounts by the corresponding RIMM numbers. The ratios were as follows: 3.2 to 1 for sales; 4.2 to 1 for net income after taxes; 3.8 to 1 for operating cash flow; and 2.6 to 1 for diluted earnings per share. The dollar amounts listed in the table below are in millions, except for per share data.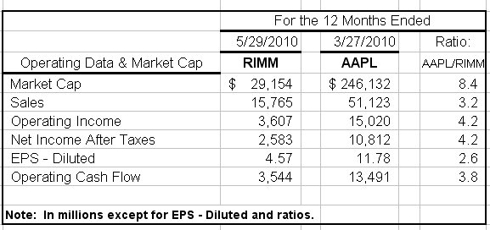 Click to enlarge
While the ratio of relative market caps for the two companies was 8.4:1, the other ratios (based on operating data) showed smaller relative ratios ranging from only 2.6:1 for diluted earning per share to 4.2:1 for both Operating Income and Net Income after Taxes.
I also compared other metrics generally reviewed by investors, when valuing publicly traded companies. This information is shown below: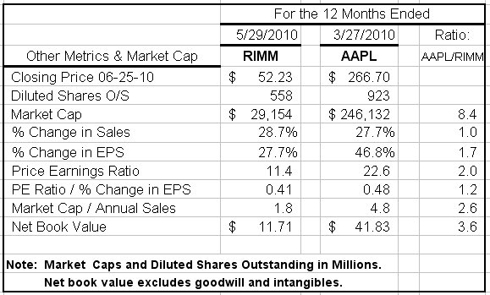 Click to enlarge
Once again, it can be seen that the ratios calculated by dividing certain Apple metrics by the same RIMM metrics show that RIMM is relatively undervalued based on its closing price of $52.23 on June 25, 2010. All of the AAPL / RIMM ratios, other than the relative Market Caps (8.4:1), were significantly lower (ranging from 1.0:1 on the low side and 3.6:1 on the high side).
I also compared the ratio of the current market caps for the two companies to the ratios for certain operating data covering the last five complete fiscal years (ending in September 2009 for AAPL and February 2010 for RIMM). This information is shown below: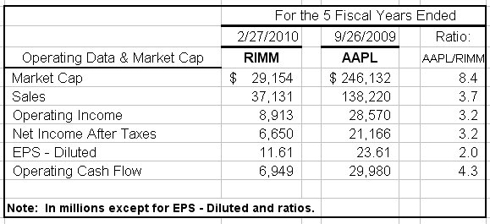 Click to enlarge
The above table shows that the current market valuation for RIMM versus Apple appears too low, when compared to their respective performances over a period of more than five years.
On January 25, 2010 Apple filed an Amendment to it Form 10K for the fiscal year ended September 26, 2009, which had the effect of increasing previously reported sales, net income and earnings per share amounts for fiscal years ending 09-26-09 and 09-27-08. There were minor and inconsequential changes affecting the fiscal year ended 09-29-07. The impact of the restatement on Sales, Net Income and EPS for the three fiscal years ending 09-26-09 is shown below.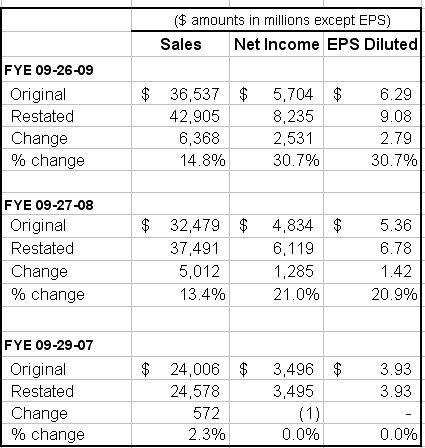 Essentially, deferred revenue amounts previously reported as liabilities (balance sheet) were reclassified to sales (income statement) and certain other assets (balance sheet) amounts were reclassified to the cost of goods sold (income statement). This had the effect of increasing previously reported amounts as follows: sales by $6.4 billion, net income $2.5 billion and diluted earning per share $2.79 in fiscal 2009; sales by $5.0 billion, net income $1.3 billion and diluted earning per share $1.42 in fiscal 2008; and sales by $572 million in fiscal 2007. Net income and diluted earning per share were relatively unchanged in fiscal 2007. No changes were made to operating expenses (R&D or S,G&A) in the three fiscal years.
Prior to the restatement, Apple's share were trading at $197.75 as of the close on January 22, 2010. In the period from 01-25-10 to 06-25-10 their stock price increased by $68.95 or 34.9%, while the general market averages were flat or just up slightly. The share price increase of $68.95 resulted in a market cap increase of approximately $63.6 billion for AAPL, which increase (in just 5 months) by itself is twice as large as RIMM's total market cap on 06-25-10 ($29.2 billion). During the same five month period ending 06-25-10 RIMM's share price declined from $61.38 to $52.23 even though operating results were well above average in the six months ended 05-29-10. This was a drop in share price of $9.45 or -15.3%.
Some argue that the most recent trends for Apple justify the sizeable differential in the relative market caps of the two companies, regardless of prior operating history. I am not one to bash Apple. How can you rap a company that has people lining up to buy their new products well before the items are put out for sale? While Apple's recent performance has been outstanding, the results produced by RIMM have been well above average. This is evident when comparing information from their last two quarterly operating reports, as shown below: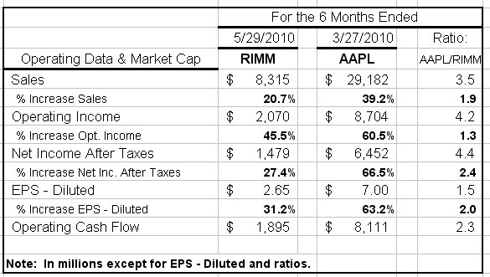 Click to enlarge
For the six month ended 05-29-10 RIMM reported year over year increases in sales (20.7%), operating income (45.5%), net income after taxes (27.4%) and EPS – diluted (31.2%). The difference in the growth rates between operating income (45.5%) and net income after taxes (27.4%) was due to the company having a higher tax rate (29.1%) in the six months ended 05-29-10 versus the comparable period ending in May 2009 (tax rate 19.5%). The after tax earnings were favorably impacted by an atypically low tax rate (8.0%) in the quarter ending in May 2009. The higher percentage increase in EPS (31.2%), versus the increase in net income after taxes (27.4%), is due to RIMM's ongoing program to buy back its common shares.
While Apple's number were better than RIMM's in the most recently reported six month periods shown above, the differentials in operating results do not seem to justify the current 8.4 to 1 market cap differential between Apple and RIMM. Also, the current market price for RIMM does not appear to correlate with the operating results being reported for the Company covering all periods shown above (includes most recent 6 and 12 months, as well as the last 5 complete fiscal years).
In summary, I do believe RIMM is currently undervalued, which is now at a low point last visited in April 2009. Also the sell off in RIMM shares last Friday seems overdone to me. That being said, there is no guarantee that RIMM shares will move higher in the future. In addition to the operating data and metrics presented above, of note is the announcement on June 24, 2010 that the Board of Directors of RIMM "
authorized a share repurchase program to purchase for cancellation up to approximately 31 million common shares. The Company can purchase up to approximately 10 million common shares of the approved 31 million over the Nasdaq Stock Marker (the "Nasdaq") commencing on June 29, 2010.
As noted earlier, this is just adding to RIMM's well established policy of buying back its shares.
A copy of our worksheet reports on RIMM and/or AAPL is available by emailing resgroweq@yahoo.com.
Disclosure: Long position in RIMM, No postion in AAPL