Historically, technology is the one industry most value investors have kept their distance from. Value investors, however, may need to reconsider this industry as their stocks now trade at considerably lower multiples to earnings today. Consider Microsoft Corporation (NASDAQ:MSFT), which historically traded at an average P/E of 18.9 for the past five years and now trades at a P/E of 12.7 for trailing twelve months earnings. Perhaps Microsoft is currently trading for less than intrinsic value and represents an intelligent investment for bargain hunting value investors.
Microsoft divides itself into five operating segments, which are Client, Server and Tools, Online Services Business, Microsoft Business Division, and Entertainment and Devices Division. Some of its most popular products from the aforementioned divisions include Windows 7, Microsoft SQL, Visual Studio, MSN, Bing, Microsoft Office, Microsoft Dynamics, Xbox 360, and Windows mobile software.
Although Microsoft does not always get it right, the company certainly does possess a durable competitive advantage in the software and technology industry. With 93,000 employees, 56,000 in the United States and 37,000 internationally, and none of the employees subject to collective bargaining agreements, Microsoft is a cash generating machine that spent $9 billion in research and development in 2009 alone. Microsoft has an extremely low amount of long-term debt on its balance sheet and had $31.4 billion in cash, cash equivalents, and short-term investments as stated in their 2009 annual 10-K filing with the Securities and Exchange Commission.
In addition, value investors always look for shareowner friendly managements, which Microsoft undoubtedly enjoys. With the equity ownership of all Microsoft executive officers and directors totaling 12.82% for fiscal year 2009, there is clear evidence that management's intentions are closely aligned to those of the shareowners. Furthermore, according to its most recent proxy filing, Microsoft CEO Steve Ballmer, who owns 4.57% of the common stock, only made $1,276,627 with no stock rewards in fiscal 2009.
Microsoft undoubtedly remains the dominant player in the technology industry; generating enough annual cash flows to fund a negative retained earnings and strong cash dividend. When Bill Gates, Microsoft founder and former CEO, still remains as their Chairman of the Board and continues to own 7.99% of their common stock, there are certainly great returns in store for shareowners. After all, Bill Gates is a best friend of the modest old value investor Warren Buffett, nonetheless.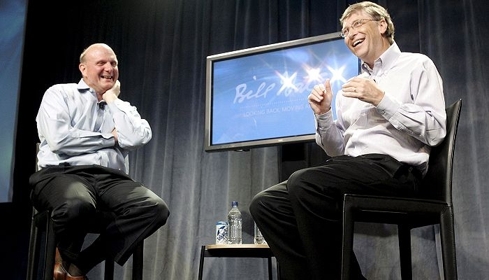 Disclosure: The author has no positions at the time of writing.