After seeing many setbacks either in the form of bad weather conditions in the US or complaints by health-conscious populations around the globe, McDonald's (NYSE:MCD) has now turned its focus to a more customer-centric approach to its business. Optimizing its menu, reinvigorating the customer experience by involving newer and smarter technologies, and allowing easy access to the brand are some features that give us insight into the company's long-term business strategy. The focal point of this article is to delve into the details of the enhanced strategy of the company and risks that can impact customers, as well as investors.
Optimizing Its Menu
McDonald's serves 70 million customers daily around the world, and to retain its customers, the company was required to optimize menu choices for consumers. McDonald's has recently focused on its breakfast offerings, because it is a crucial part of the company's business and contributes around 25% to its turnover. The breakfast market is an attractive market for all fast food retailers, and McDonald's is not the only player. Customers are looking for breakfast options that are portable and save their time and money. Hence, McDonald's has to compete with other rivals like YUM Brands' (NYSE:YUM) Taco Bell, Starbucks (NASDAQ:SBUX), Chipotle Mexican Grill (NYSE:CMG), and Burger King Worldwide (BKW). Playing in such a competitive market will be a plus for the top line, but carries the drawback of eroded margins as well.
McDonald's has revamped its breakfast offerings via increased focus on coffee and reportedly exploring the option of extending breakfast hours beyond the 10:30 A.M cut-off. This is because the retailer has realized the consumer sentiments and craving for breakfast after 10:30 A.M. Last year, McDonald's invested $6.5 million in Guatemala and other South American countries to ramp up the volume production of high-quality Arabica coffee beans. The retailer is trying to boost coffee-driven visits to its outlets, but Starbucks appears to be quite a worthy coffee competitor. Starbucks has been offering free grand-sized brewed coffee with the purchase of a breakfast sandwich since the beginning of this month. It is also introducing four new premium breakfast sandwiches. Apart from Starbucks, Taco Bell is going to roll out its breakfast menu on March 27th, and Burger King is focusing on developing its breakfast items as well. However, with regard to the latter two rivals, McDonald's will be carrying a first-mover advantage in the breakfast stream.
Other than breakfast offerings, McDonald's is also attempting to counter the criticism it garnered from health-conscious populations around the globe. US First Lady, Michelle Obama has been actively pushing the need for a healthy diet, and US eateries have to serve a healthier menu according to consumer preferences by providing them with fresh, organic, nutritious, and low-calorie food. McDonald's aims to incorporate verified sustainable beef in 2016 to a range of its menu choices.
After seeing the declining soda sales in North America, it has shifted towards coffee that blends perfectly with its breakfast menu. The introduction of salads and more options like the choice between fries and fruit in combo meals is another attractive move by the company. The introduction of the Bacon Clubhouse line will also help the company gain more consumer traction. However, this move by the retailer appears very late, as Chipotle Mexican Grill, with its antibiotic-free animals' procurement, and Panera Bread (NASDAQ:PNRA) are some of the players that are widely seen as providers of healthier and higher-quality options offering with comparable value. Burger King also has a veggie burger on its international menu that seems to be another healthy option.
The Road Ahead - Geographic Expansion
McDonald's no longer depends entirely or mainly on the USA for its top and bottom lines, as illustrated in the graph below. Although McDonald's generates a major chunk (31%) of its revenues from the USA, international operations contribute 69% to its revenue, and that is far more significant. Continuing with the trend, the company aims to diversify its operations in the international stream, and the current focus is on the untapped markets of Asia and Africa with enormous growth potential.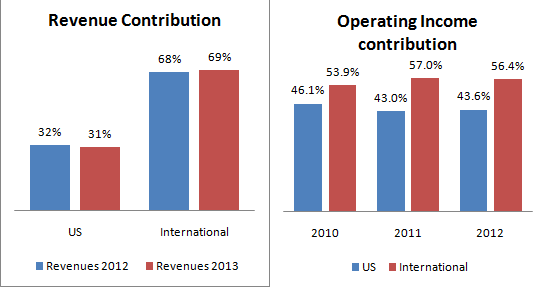 Source: Company Annual Reports
Last month, McDonald's opened its first outlet in Ho Chi Minh City, Vietnam, where it will have to compete with Burger King Worldwide Inc.'s 29 branches there. This outlet has led the restaurant count of the retailer in APMEA (Asia, Pacific, Middle East, and Africa) region to 10,000. Apart from its iconic menu items like the Big Mac and its French Fries, the McPork line of burgers could also be enjoyed at this outlet, reflecting local consumers' tastes. The opening of this outlet is just the beginning of the retailer's journey into this market.
Africa is the world's youngest and fastest-growing population, where the International Monetary Fund [IMF] estimates a growth rate of 6.1% this year that is almost double the global growth of 3.7%. McDonald's aims to make Nigeria its next potential target for expansion, since it has enjoyed an expansion rate of 8.2% annually since 1999. Its per capita income has grown almost 5.5 times from $310 since then to $1,725. The social impact is also noticeable here, since McDonald's that is enjoyable for everybody in the US and Europe will be a status symbol for the middle and upper-class population in Africa. It will be enjoyable by those who earn middle-to-higher income levels. Thus, it will be just this class of population that will benefit the company. Looking at the demographics of the African countries, the middle-income class is rising rapidly and is comparable to the size of its Chinese and Indian counterparts, and this will be a catalyst for fast food retailers in the region. This scenario leads us to believe that McDonald's is moving towards the optimum opportunities that Africa may yield for the company.
Significant Bumps on the Road
Losing Momentum In Japan
There are some setbacks that McDonald's will have to face in various locations around the globe. McDonald's has been struggling in Japan, and now, according to a recent news survey, McDonald's lost its place as the most loved fast food chain to the country's own native MOS Burger. The reasons that led the latter to the top of the list are its quality ingredients and customer-oriented servings. The survey allotted the following ranks to various players in the Japanese QSR (quick service restaurant) market.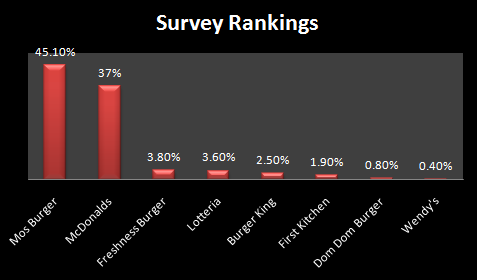 Source: Japan Today
Japan is a major market for McDonald's in Asia, and if it does not do well here, the contribution from Asia as a whole will suffer. McDonald's operates in Japan through its 50%-owned McDonald's holding company, Japan Ltd. (NYSE:JP), which announced profit warning after its costly store revamp back in 2013. It is closing 74 of its 3,000 outlets in the region, accounting for 2.3% of its total store count, due to declining customer demand. Various factors, such as rising product prices due to the weaker yen and a strong competition for its coffee business from Family Mart, Lawson, and 7-Eleven acted as headwinds for the company. Comparatively, Starbucks is gaining momentum in Japan, reporting growth at a rate of 11.1%, while McDonald's is losing momentum there.
Rising Food Costs
Consumers in the restaurant industry look for the perfect blend of prices and the quality of the product they receive. According to the US Department of Agriculture [USDA], 2014 will see food prices rise, as the consumer price index (all food) is anticipated to witness a 2.5%-3.5% jump this year. The highest price inflation will be witnessed in beef, veal, and poultry prices, with an increase of 3%-4% year over year. As a result of the 2012 drought, the supply of cattle will remain lower than average, thus bringing a rise in beef prices.
To cater to the American population's growing health-consciousness, McDonald's has plans to incorporate sustainable beef to its variety of menu choices. McDonald's needs to put its hedging plan in action in order to avoid any hindrance to its bull run from the inflation or the price hike in its ingredients. However, consumers want healthier and sustainable food choices, but whether or not they are comfortable paying extra for them is not yet clear. It will be a matter of time before we see whether McDonald's can pass on its high food costs to its customers or whether it will be seeing its profits dented. Note that McDonald's will not be the only one dealing with the price hikes; in fact, all eateries will have to deal with the scenario.
The Challenging US Market
The US has become a very challenging market for McDonald's due to various reasons, such as stiff rivalry in the market, rising food prices, and the rise in minimum and downward sales trend. Its global comparable sales trend is illustrated in the graph below segregating the significant geographies the company operates in. US comparable sales fell 3.3% in January and 1.40% in February. Year-to-date, the US segment has fallen 2.4%, and that is twice as bad as the 1.2% drop for the same period in 2013. Realizing the stiff competition and near-saturation of the US market, McDonald's is rapidly expanding in other continents to maintain its lead in the QSR market.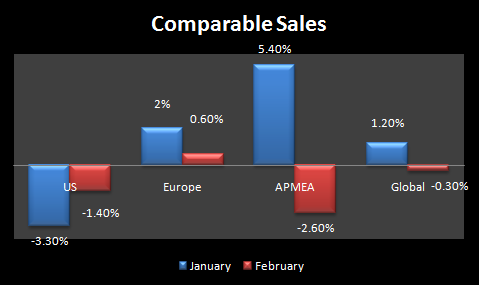 Source: McDonald's Press Releases
Although the fast food retailer blames frigid cold and snow for the sluggish performance at US restaurant outlets, internal missteps have also complicated its menus and slowed its service. McDonald's is bidding on creating a coffee culture through its McCafe products to compete with Starbucks Corporation. Playing in the coffee stream means the company needs to match the significant discounts from competitors that makes it difficult for the franchises to fulfill the costs of running and maintaining those machines. According to Howard Penney, a restaurant analyst, McCafe is the cause of slowed services at McDonald's, and thus, is at the heart of its operational woes. However, now McDonald's is trying to make its food preparation more efficient by high-density tables that would cost around $25,000-$50,000 for storing sandwich toppings and other items. The new equipment is anticipated to help workers turn out sandwiches and other food items faster.
Since the minimum wage hike was put into effect in the USA on January 1st, 2014, McDonald's will also be increasing the wages for its workers. However, the key thing to notice is the proportion of the company's owned stores is very small in comparison to its total store count. Around 81% of its stores are running under franchise agreements that deliver a percentage of their revenues to the company's top line and separates the company from their operational woes. However, for the remaining 19% of the stores that McDonald's owns itself, it is responsible for the operations as well. So, the price hike will be affecting McDonald's in terms of its staff in US-owned stores. On the other hand, US franchises will be either seeing their profits dented due to wage hikes, or they will transfer the hike to their customers in the form of higher prices, thus compromising the customers' traffic to the outlets. Either way, McDonald's will see an indirect effect on its revenues from US franchises as well. McDonald's will see 31% of its total revenue (US contribution as mentioned above) affected by this wage hike. On a competitor front, all of the company's rivals will also be battling the wage increase, and it will not solely affect McDonald's.
The real problem is the future outlook of fast food restaurants in the US, where retailers offering burgers, fries, and other fast food are being surpassed by those offering coffee and pizza. A new survey conducted by Goldman Sachs ranks the various players in the US QSR market according to the preferences of millennial consumers. The survey involved 2000 participants aged 34 or under, and yielded the following results.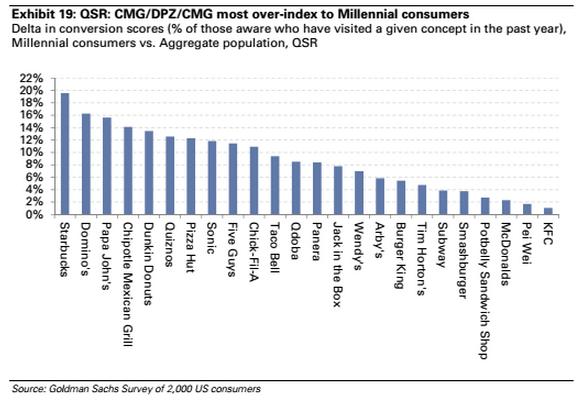 Source: Total Customer
Once the baby boomers receive their retirements, the millennials will be getting more jobs and spending power along with it. This implies that they will play a pivotal role in setting a spending and consumption trend in America. Thus, businesses need to attract this category of the population and youth in order to bring longevity to their businesses. Now McDonald's is losing on this front, as it has been ranked way lower than Chipotle Mexican Grill, Pizza Hut, and Starbucks. That also casts doubt on the company's ability to turn its negative sales trend in the US market into a positive one.
Comparative Analysis
The comparative analysis of McDonald's demonstrates that the company is outperforming its competitors in terms of gross profit and dividend yield (colored in red). Apart from these two metrics, the company is lagging behind its competitors: YUM Brands Inc., Chipotle Mexican Grill, and The Wendy's Co. (NYSE:WEN).
McDonald's is earning a better-than-industry gross profit margin, but its net profit margin is showing a declining trend, as illustrated in the graph below. After increasing in the third quarter of 2013, the net profit margin decreased again in the fourth quarter.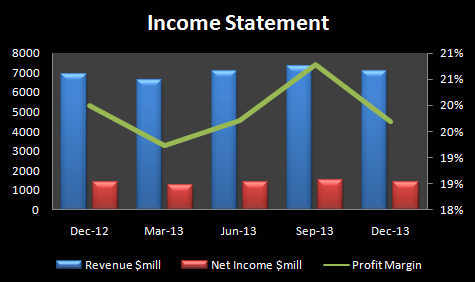 Source: Bloomberg
Final Take
McDonald's was battered by terrible weather conditions, stiff competition, steep discounting, and some operational missteps. That's the reason why the company's margins are declining and the company does not expect to see improvements this year as well. From 2014 onwards, the company's efforts put into the menu update and geographical expansion may start paying off, but still, it will have to deal with the rising rivalry in the QSR market. During this time, the company will get used to its global management restructuring and its Chief Operating Officer Tim Fenton's retirement later this year (he will be serving the company in some other capacity). It will be worth noting whether or not the company is able to cope with the loss of its COO that contributed his services to the company for 41 years. Therefore, I would not recommend investing in this stock right now, because there are better alternatives on the exchange that are growing in terms of consumer sales, as well as stockholders' return.
Disclosure: I have no positions in any stocks mentioned, and no plans to initiate any positions within the next 72 hours.
Business relationship disclosure: The article has been written by a Gemstone Equity Research research analyst. Gemstone Equity Research is not receiving compensation for it (other than from Seeking Alpha). Gemstone Equity Research has no business relationship with any company whose stock is mentioned in this article.