By Edward Faubert
Soft commodities see a strong quarter as weather and lower supplies fuel higher prices.
Coffee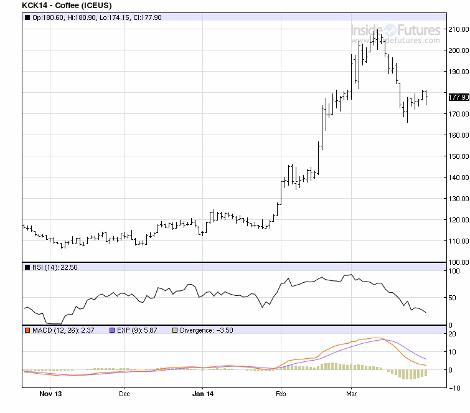 Coffee prices as measured by the ICE futures contract (KC) finished the first quarter of 2014 at $1.78 a pound, up 65 cents, or 58 percent. Prices made a low for the quarter on Jan. 2 at $1.13 a pound and then quickly rallied up to $2.09 a pound by March 12 before retracing to current levels.
The coffee market exploded in late January based on dryer and hotter-than-normal conditions in Brazil's coffee-growing areas. Brazil is the largest producer of coffee in the world, producing roughly one-third of total world production.
The heart of Brazil's coffee-growing region is the southern part of the state of Minas Gerais. From January through March, southern Minas Gerais received only a fraction of normal rainfall, well below anything recorded during the last several decades. Lack of rain, combined with unusually hot weather, began to impact cherry formation and stress the coffee trees.
The actual amount of damage done to this year's crop won't be known until after the harvest begins in May. Traders are guessing, based on current conditions, the current crop has been reduced by 5 million to 10 million 60 kg bags. There is also concern that continued stress could affect the health of trees and impact next year's 2015 crop as well.
Before the drought, the USDA in its last report of 2013 projected total world production of coffee for the 2013/14 year ending Sept. 30 at 150.4 million 60 kg bags. Brazil was expected to produce 53.1 million bags. Total world year-end coffee stocks were expected to rise by 3.5 million bags to 36.3 million bags by Sept. 30, 2014.
The drought in Brazil will not result in a deficit of coffee but rather a reduction in available stocks.
Traditionally, year-end world stocks of 35 million 60 kg bags or higher are considered surplus and result in lower prices. Stocks of 25 million to 30 million 60 kg bags are considered tight and usually result in higher prices. Back in 2011, when world stocks fell to 25 million bags, coffee prices soared to more than $3 a pound.
But things are not all bad for Brazilian producers. The Brazilian crop may suffer by 10 to 20 percent but prices are up by nearly 60 percent, so Brazilian producers can still expect to gain much more than they lose.
Money managers caught this market early, reversing out of their net short positions in mid-January. Operators are currently net long 44,400 lots compared with net short 9,600 lots three months earlier.
Cocoa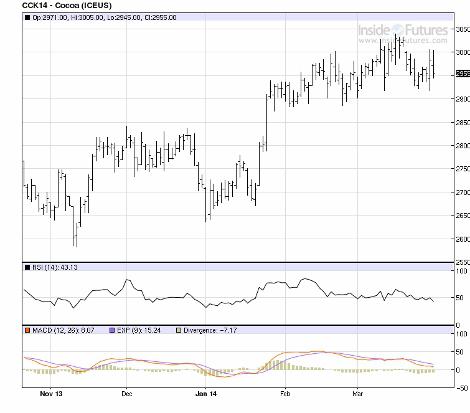 Cocoa prices as measured by the ICE Futures contract (CC) rose during the first quarter to settle at $2,955 a ton, up $239 a ton, or 9 percent, over the past three months. The low was made in the first days of the quarter at $2,636 a ton.
The market ran up rapidly in late January and has since hovered in a sideways pattern just below the high of $3,039 made in mid-March, which represented a 2 ½-year high.
Brazil produces only 5 percent of the world's cocoa, mostly up in the northern Bahia region, which has been generally unaffected by the recent dry conditions in the south. Approximately 70 percent of the world's cocoa is produced in West Africa, notably Ivory Coast and Ghana.
The International Cocoa Organization in its first estimate in February for the 2013/2014 crop year ending Sept. 30 projected a shortfall of 115,000 tons, with grindings (consumption) of 4,178,000 tons, outpacing production of 4,104,000 tons.
This follows a larger shortfall last year during the 2012/13 season of 174,000 tons. The critical stocks/grinding ratio is expected to drop to 37 percent from 40.8 percent a year earlier.
Consumption is anticipated to remain strong in the mature European and North American markets as well as in emerging markets such as India.
Money managers have reduced their long positions on profit-taking and are currently net long 70,600 lots compared with net long 81,600 lots three months earlier.
Cotton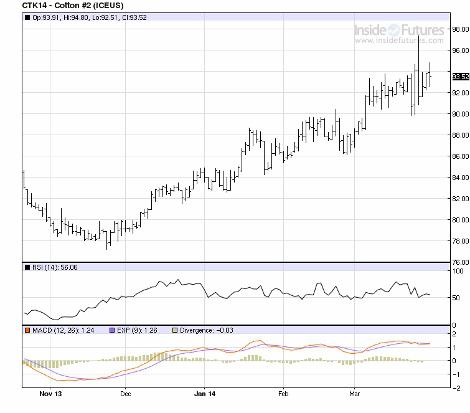 Cotton prices as measured by the ICE Futures #2 contract (CT) finished the first quarter at 93.52 cents a pound, up 9.12 cents a pound, or 11 percent.
In its latest report of March 2014, the USDA projects that global cotton stocks will continue to rise through the 2014/15 season ending Sept. 30, for the fifth-consecutive year, to a record high of 100.5 million 480 pound bales.
Despite record projected stock levels, prices have firmed as traders wait for more information on Chinese government policy. China is the world's largest producer of cotton, accounting for about 25 percent of production, and the world's largest consumer, accounting for about 23 percent of use.
The Chinese government has replaced the reserve purchase initiative with a producer subsidy program in an effort to reduce government held reserves. Nevertheless, Chinese reserves still account for nearly half of total world stocks and are effectively insulated from the international market.
The USDA expects global trade in cotton to decline year-over-year, attributable almost entirely to a decrease in import activity from China. Outside of China, stocks are expected to rise at their highest rate in five years.
Despite record surpluses, diminished global trade and uncertainty as to how quickly the Chinese government will liquidate their stocks, money managers have added to their long positions and are currently net long 64,900 lots compared with net long 37,400 lots three months earlier.
Sugar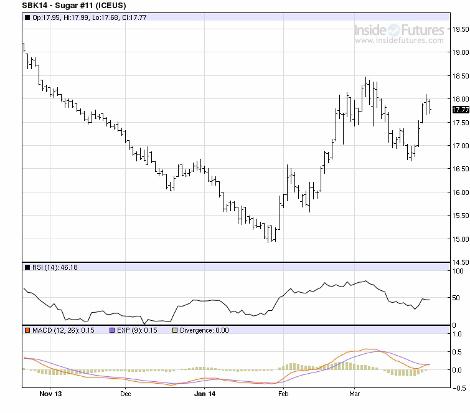 Sugar prices as measured by the ICE Futures NY 11 contract (SB) finished higher on the quarter to settle at 17.77 cents a pound, up 1.21 cents, or 7 percent. During the quarter, prices traded in a wide range of 3.55 cents, from a low of 14.92 cents a pound in late January to a high of 18.47 by early March.
Brazil is a significant producer of the world's cane sugar, accounting for approximately 25 percent of production. Brazil's crucial Center South district is key, and it too was affected by this year's drought. From December through February, rainfall was only half of normal.
Typically 45 to 50 percent of the cane harvest goes to producing sugar and the balance to ethanol. This ratio varies based on price and demand.
Trade estimates are that the Center South region will harvest 570 million raw tons, down from 596 million tons a year earlier. Harvesting typically begins in April.
Before the drought, the USDA had projected global sugar production to outpace demand with total world production at a record 175 million refined tons. Traders are now privately revising their estimates downward. The USDA had projected consumption at 167 million refined tons.
Traders are also focusing on the potential of an El Nino this year, an anomalous warm-water phenomenon that occasionally develops off the Pacific coast of South America. An El Nino often brings excess rains to Brazil during the crucial harvesting season, reducing yields, and dryness to India, the world's second-largest producer of sugar.
Money managers have reversed their positions and are currently net long 125,300 lots compared with net short 23,200 lots three months earlier.