Telecommunication:
Telecommunications has seen impressive growth as the XTL (SPDR Telecom ETF) and the IST (SPDR International Telecommunications ETF) gained ~21% and ~29% respectively over the past year. Innovations in high-speed mobile and wireless broadband continue to offer huge growth potential for the industry.
Telecom companies are increasing their capital expenditures at higher rates than ever to update networks with the newest technologies. Future expectations for the industry are to expand applications and products to customers to keep up with high demand. As the economy continues to show signs of recovery, demand for high-speed mobile and wireless broadband increases.
Growth momentum is expected to remain high in the U.S. as the demand for data and live video streaming is increasing at higher rates compared to voice communication. This fundamental change fuels the growth opportunities for the future in high-speed mobile and wireless broadband. Additionally, according to the Federal Communications Commission (FCC), 20% of rural American households do not have broadband access.
Despite the opportunities domestically, the highest growth for this industry will come from emerging markets: Brazil, Russia, India and China. The current global LTE connections is 176 million (mostly in developed countries) which is expected to increase to over 1 billion by 2017. This represents a ~570% growth in users in just 3-4 years. The opportunities in new users alone is obvious; additionally, LTE users in developing countries generate 20 times higher average revenue per user compared to non-LTE users. In developed countries, the increased average revenue per user is 10%-40%.
Due to limited public airwaves, competition is high which creates an environment where mergers and acquisitions could be more prevalent than other industries. This means the industry may see consolidation and the smaller exceptional companies with great innovative technologies could be bought or merged. This is another, yet speculative, opportunity for investors over the next few years. Below is an analysis of three companies that will grow with the industry and offer shareholders long-term gains.
Cisco Systems Inc. (NASDAQ:CSCO):
Cisco Systems Inc. offers products in the communications and information technology industry that enhance transporting data, voice and video information between customers. As more wireless broadband and high-speed mobile products are sold CSCO will continue to add value to its shareholders. Cisco's future revenue growth will come mostly from:
Data centers
Mobility and wireless
Security
Services
CSCO currently lowered its future guidance of sales growth to 3%-6% due to the macroeconomic environment. This is a conservative projection by management and the economic condition is becoming less uncertain at every passing quarter. The opportunities in telecommunications and larger spending pools from consumers will add value to CSCO and it will see higher growth rates going forward.
The stock is currently trading at ~15 times earnings, which is well below the industry average. I believe worst-case scenario is CSCO increases sales at the rates mentioned. Even at these growth rates, the stock is valuable for any investor. It currently offers a 3.33% dividend rate and is undervalued. Based on 3%-6% sales growth and a modest future P/E ratio of 14, CSCO should expect to be trading at ~$28.31 during FY 2014. This represents a ~24% intrinsic gain just this year. Including dividends before tax that's roughly 28% economic value for investors.
CSCO also has a strong balance sheet with great liquidity ratios including a 2.63 current ratio. Despite a negative cash flow due to capital expenditures on updating networks with new technology, CSCO has over $47 billion in cash and working capital of over $37.70 billion. The stock is cheap at current levels and CSCO has great growth opportunities for the future.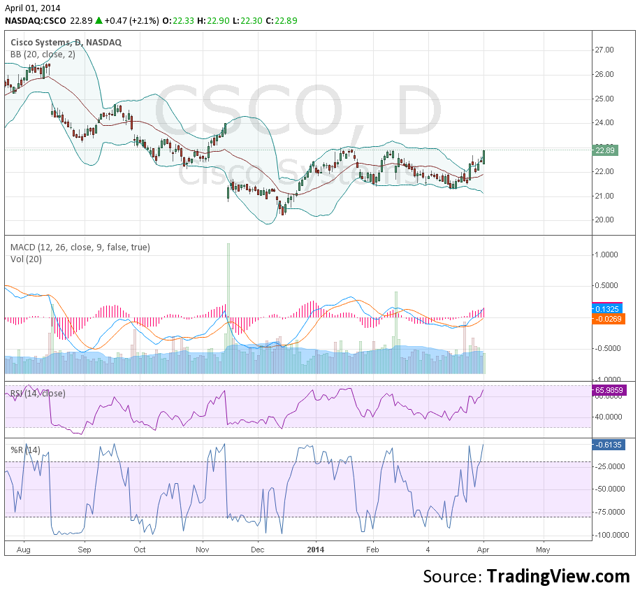 Qualcomm (NASDAQ:QCOM):
Qualcomm is a global leader in technology and continues to deliver the most innovative wireless solutions. Among other services, is the world's largest semiconductor producer and largest wireless chipset and software technology provider. Their technology powers the majority of 3G devices today. Its technology is in almost everything with wireless capabilities. As advances in technology are made, QCOM is there to provide support. They are also a provider of LTE advanced technology, which is said to grow at huge rates in the coming years.
QCOM delivered positive financials for the latest quarter and decent guidance to follow. With 2013 revenues at $24.87B, QCOM expects a ~10% increase to over $27 billion. They also expect to increase EPS at ~15% from $3.91 to $4.45 in 2014. Among other positive financial results, QCOM is repurchasing $3 billion of shares in 2014. With a modest dividend of ~2%, QCOM is trading at ~21.83 times earnings and ~18 times future earnings. Although higher than CSCO, this is still low for the industry. Using current financial ratios to derive the same business environment for 2014, CSCO shares should expect to increase to ~$90.00 for FY 2014 representing a ~13% gain. Including dividends before taxes this is a 15% gain. The scenario is based on current expectations but as emerging markets and a stronger economy enable the industry to grow at faster rates, so will QCOM.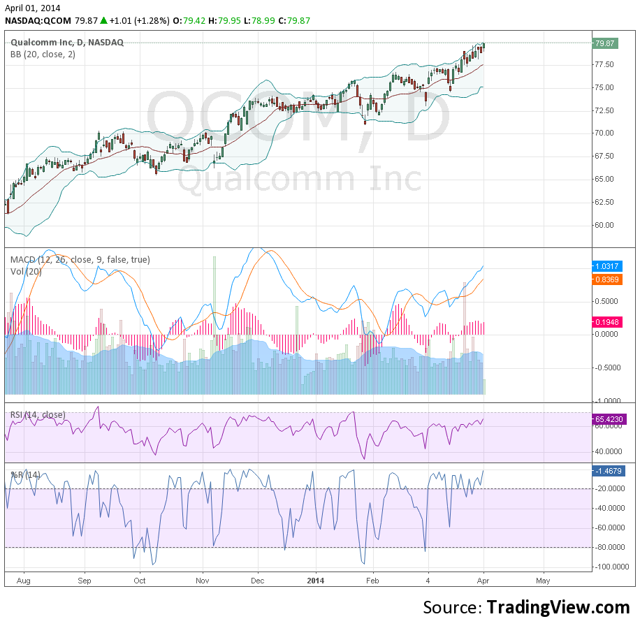 Alcatel-Lucent (ALU):
ALU is a growth company at the forefront of global communications that provides products and innovations in IP cloud networking and ultra-broadband fixed and wireless access. They have been recognized as a "Top 100 Global Innovator" and "Technology Hardware and Equipment Industry Group Leader" by Thomson Reuters and The Dow Jones Sustainability Indices Review respectively. The stock has seen huge gains over the past year with some pullback in 2014. However, this growth company has much room to grow. I recently posted an article on ALU, which walks through my expectations for the future. This can be read here.
Earnings are currently negative but could break the positive mark as early as 2015. ALU recently was selected by China Mobile for strategic transformation to all-IP ultra broadband network and 4g TD-LTE technology. This is a one-year deal worth over EURO 750 million. As mentioned in the article attached above, this is one of many deals that will project ALU into the future with huge growth potential. ALU could expect 25% growth rates into the future and see stock prices increase to more than $10 in the near term.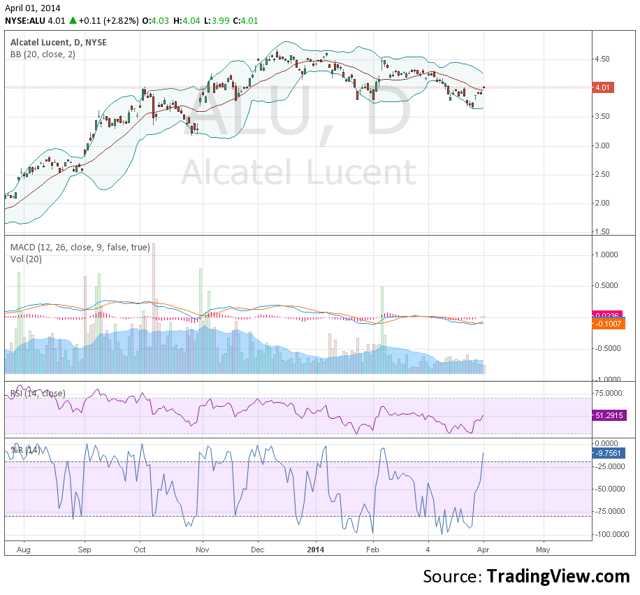 Conclusion:
This is an industry changing at a fundamental level as innovations in technology continue to create new opportunities. These three companies are industry leaders and offer investors an opportunity to grow with the industry. It is certain that the higher demand for such products will increase networks and allow more people access to data and video communication in real time. As more people have access to this technology, the more demand will increase. CSCO, QCOM and ALU all offer different investment opportunities. ALU is more speculative and risky as a growth stock but offers the most potential upside for this industry. CSCO and QCOM offers stable and less risky economic value with higher dividend yields and stronger financial positions. Based on your investment goals, either of the three companies could be a great addition to your portfolio. Another opportunity is to use the ETFs mentioned above. Either way, telecommunication is a great addition to the portfolio when you choose a company that is at the forefront of the industry changes.
Disclosure: I have no positions in any stocks mentioned, but may initiate a long position in ALU, CSCO over the next 72 hours. I wrote this article myself, and it expresses my own opinions. I am not receiving compensation for it (other than from Seeking Alpha). I have no business relationship with any company whose stock is mentioned in this article.