We just passed the third anniversary of the once in a millennium Fukushima Disaster. Lessons have been learned from the accident. The nuclear sector is rebounding, getting up off the mat and making a comeback as Japan and Germany are in the process of turning their nuclear reactors back on as rising electricity prices have made a negative impact on their domestic economies. I predicted that the nuclear sector will stay viable for over two years while other analysts and investors left the sector for dead.
With the rise of Putin's Russian Nationalism, Germany and the rest of the EU will not be controlled by imported natural gas from Russia. The EU is the largest per capita user of nuclear power in the world with over 160 nuclear reactors. They may look to build additional nuclear power plants as they do not want to be dependent on Putin.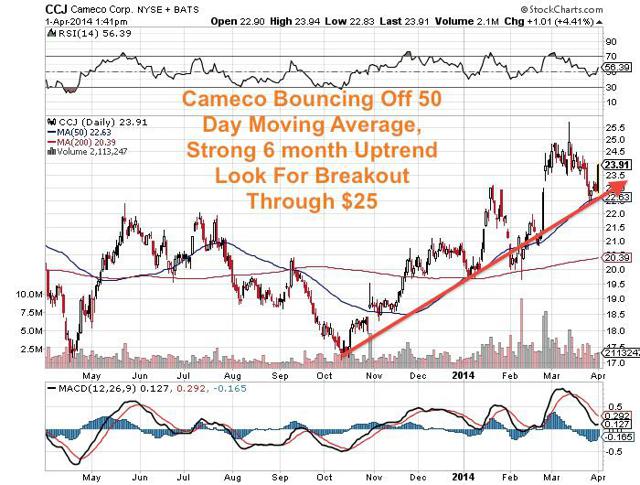 The uranium miners are just beginning to break out which may forecast that the uranium price at $40 may be on the verge of a major bullish reversal off of eight-year lows. Uranium bellwethers such as Denison (NYSEMKT:DNN), Cameco (NYSE:CCJ) and the uranium miner ETF (NYSEARCA:URA) may be just beginning to make a move bouncing off of the 50-day moving average.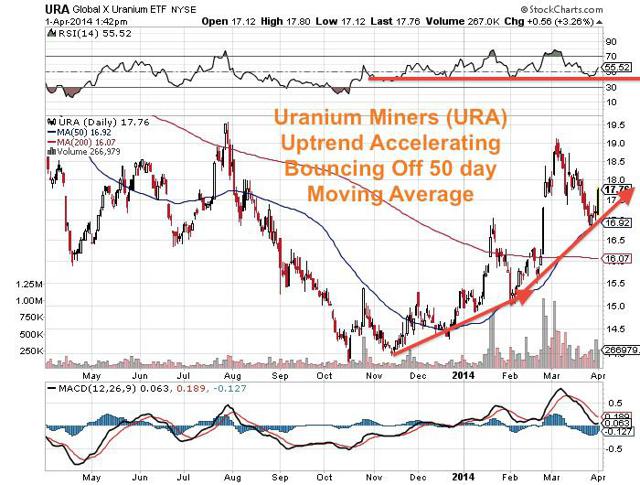 Both the 50 and 200 day moving averages are in upward sloping positions indicating the intermediate and long-term trend may be turning positive after a three year downturn. Cameco hit a new two-year high and has pulled back to the 50-day moving average. This technical bounce may indicate smart money is continuing to accumulate this sector.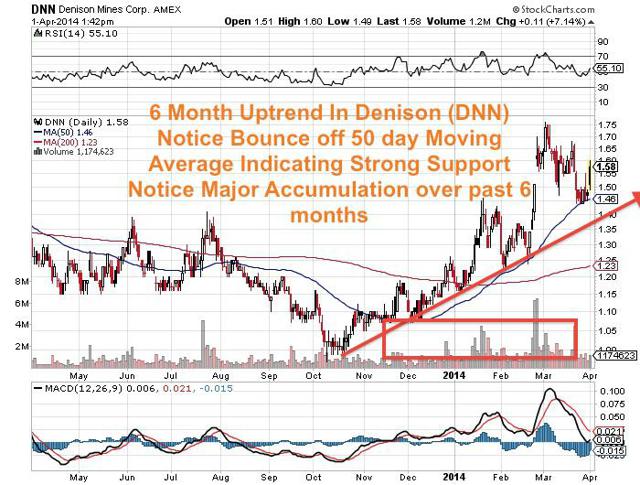 Smaller explorers such as Denison have made major moves in the new year making phenomenal gains on high volume outperforming the larger bellwethers. Recently they have had a pullback but major support on high volume continues as the uranium miners make a series of higher lows indicating an uptrend. From a technical perspective the charts look excellent for the junior uranium companies with advanced resources as they appear to be finding major support on large volume.
Right now I am focused on the juniors who have the support of their local jurisdictions, with advanced resources which are nearer to production. The uranium sector is undergoing a major process of being cut off from cheap Russian uranium which came from nuclear warheads.
The U.S. is the largest consumer of uranium with 104 nuclear plants and has relied on imported uranium from Russia over the past 20 years. However, that has come to an end in 2013. Recent economic sanctions on Russia could mean the U.S. will need to increase its own uranium production. Remember the U.S. produces less than 10% of what it consumes annually in uranium.
For many years I have been preparing my readers for this time when the market would go into a major supply deficit. Unfortunately, the wildcard that was dealt to my readers, many of whom are experienced uranium investors, was the Fukushima disaster which was caused by a once in a generation earthquake. Despite that event, I predicted at that time that new nuclear reactors will continue to be built despite others who claimed the death of the nuclear sector.
North American uranium producers should be invested in as they could fill the uranium shortfall from the end of the Russian agreement. I expect to see huge production growth in the US over the next decade.
The uranium mining sector may be in a six-month uptrend for the following seven reasons.
1) Investment demand is returning as Uranium Participation Corp (OTCPK:URPTF) raised $50 million to buy spot uranium. The uranium price is still 50% off pre Fukushima prices and 75% below the 2007 top.
2) Japan has plans to restart more than 15 reactors. Some may turn back on before the end of 2014.
3) Some of the older uranium mines operated by Rio Tinto (NYSE:RIO) and Areva (OTCPK:ARVCF) in Africa and Australia have been shut down or mothballed due to low uranium prices. Cameco's Cigar Lake in the Athabasca Basin finally is starting production after a 30-year delay. We will see how it operates and hopefully there will be no flooding like in 2007. Even one mine shut down or mothballed could cause a supply shortfall. Now we are witnessing several. This could mean 20%-25% of future supply could be at risk.
4) The agreement between Russia and the U.S. to recycle uranium from Soviet Nuclear Warheads expired at the end of last year. This removes an additional 24 million pounds of supply annually.
5) A major legal backlash in Germany from the nuclear utilities has ruled that the nuclear moratorium was unconstitutional.
6) Numerous banks are turning bullish on uranium including JPMorgan, Bank of America, TD Securities and Scotiabank with upgrades and higher targets as nuclear utilities, especially from emerging economies that are expected to secure supply.
7) The EU which is the largest per capita user of nuclear power may actually increase capacity with new reactors to become less reliant on imported natural gas from Russia.
Now close to three years after Fukushima there are more nuclear reactors being built than before the tragedy. Despite following this sector for many years, new investors have the opportunity to get in at ground floor prices. The major decline in the resource sector combined with Fukushima allows investors to buy producers at valuations that would be given to start-up explorers.
Disclosure: I am long DNN. I wrote this article myself, and it expresses my own opinions. I am not receiving compensation for it (other than from Seeking Alpha). I have no business relationship with any company whose stock is mentioned in this article.