Microsoft's (NASDAQ:MSFT) Office for iPad is not yet a week old and already Microsoft Word it has made it into the top 10 of the charts for highest grossing applications on revenue on Apple's App Store.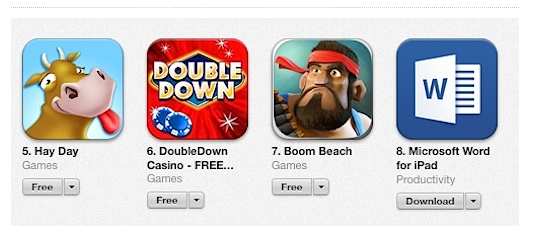 Source: Computerworld
The result is impressive since Microsoft has not made it easy for Apple (NASDAQ:AAPL) to share in the subscription fees it receives for Office by making it a free download so that Apple earns revenue solely from "in app" purchases of the software. The demand is even more impressive when you realize that while I was writing this article, Office apps on the Apple App Store moved up to hold positions one through four. There is little doubt the revenue bump for Microsoft is much larger outside of the Apple App Store where users can subscribe to the full Office program for $70 for Office Personal or $99 for Office Home Premium, which allows 5 users for one subscription.
Last October, Apple reported that 170 million iPads had been sold, so by now the total number of iPads in use must be about 200 million. Office is the world's most popular productivity suite reportedly with over 1 billion users worldwide. The availability of Office for the iPad may raise that number a bit, but the likelihood is the total additions will number in the tens of millions rather than anything dramatic. 10 million new users of Office would add somewhere between $700 million and $1 billion to Microsoft annual revenues - a nice bump but not earth shattering. Even the addition of 20 or 30 million users would not be dramatic, but it might just add to the investor enthusiasm for Microsoft stock, which has done well lately.
More importantly, the move defends the Office franchise and probably expands it, shrinking the risk that iPad users find it either necessary or convenient to move to other solutions having become somewhat wedded to their iPads.
Without much press or fanfare, Microsoft has also tweaked its very productive One Note application for use on iPads. I use One Note almost daily and find it more powerful and more useful than competitor Evernote, which has been extremely popular with an estimated 90 million users.
Microsoft seems to be paying attention to competition. At the same time, Microsoft continues to advance in mobile generally, with the innovative Nokia X and X+ models getting a strong reception in China and starting to sell in India, with the appeal of its forked version of Android OS but presented with a definitely Windows user interface finding customers. The launch in India stumbled at first when the device was priced at 8,599 rupees, but a quick decision to sell the phone at 7,599 rupees may have been enough to prompt a successful introduction. At the same time, Lumia handsets using Windows OS are making steady progress with share gains in the United States, China, Argentina, Brazil, and Germany offsetting minor share losses in other markets according to the latest data from Kantar World Market. Microsoft has that former Nokia CEO Stephen Elop will run its devices unit once the deal with Nokia closes, expected this month.
The use of Android to develop users of the Windows interface makes a lot of sense. Android OS has developed to the point where it has become a much more stable OS than iOS despite the fervent belief by iOS users that they somehow have a premium product.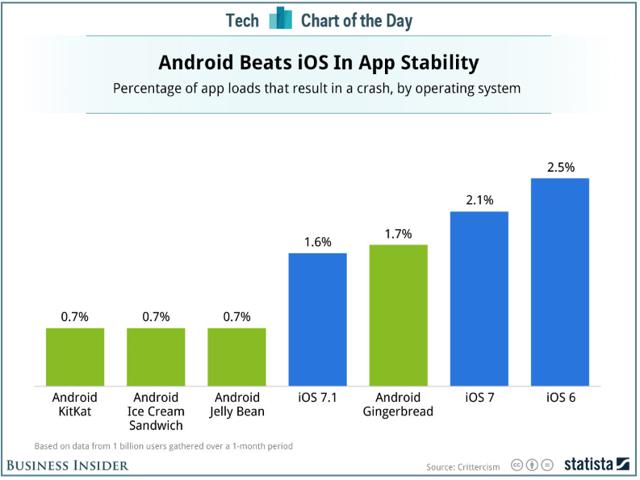 Click to enlarge
By positioning Nokia X and Nokia X+ devices near the entry level for first time users in emerging markets, Microsoft's new handset division will develop a base of customers familiar with the Windows interface in a rich and stable environment and over time migrate them to the Windows platform. That platform is also holding its own. Enterprise sales of Windows phones continue to show interesting wins, with Spanish bank CaixaBank ordering 30,000 Lumia smartphones as it sets Nokia's Lumia 925 as its smartphone of choice.
In its more traditional enterprise markets, Microsoft is taking bold steps under the leadership of its new CEO to ensure it remains fully competitive on all fronts. In the highly competitive cloud space, Google (NASDAQ:GOOG) kicked off a round of aggressive price cuts quickly followed by Amazon.com (NASDAQ:AMZN) and now matched by Microsoft. The price cuts of from 27% to 65% suggest that Google, Amazon and Microsoft are all determined to hold or expand market share in the fast growing segment.
On the operating system front, Microsoft seems to be heading for the release of Windows 9 sometime in early 2015. The release is quite likely to further advance Microsoft's plans to integrate its OS from server to handheld while making sure that desktop users lose none of the functionality they value in Windows 7. Now that I use Windows 8.1 daily, I find a lot to like but more than a few annoying features that were a step backward from Windows 7. If Microsoft gets Windows 9 right, it might spur a bit of demand for Windows devices and a long overdue upgrade cycle.
What is becoming clear is that Satya Nadella's Microsoft is an aggressive, decisive and forward thinking company not wedded to any sacred cows from the past and capable of moving quickly. That makes Microsoft an exciting investment, in my opinion.
I have traded in and out of the stock over the past year with a lot of success and have no current position, but look for a market correction to provide an entry point to take a meaningful long position.
Disclosure: I have no positions in any stocks mentioned, but may initiate a long position in MSFT over the next 72 hours. I wrote this article myself, and it expresses my own opinions. I am not receiving compensation for it (other than from Seeking Alpha). I have no business relationship with any company whose stock is mentioned in this article.