Oracle Corporation (NASDAQ:ORCL) is a computer technology company that makes money by selling crucial database, application, and middleware software primarily to medium and large businesses worldwide. The company recently declared its third-quarter earnings results and failed to beat analysts' estimates. However the third-quarter revenues were $9.3 billion up 4% from the third quarter of the previous year but less than analysts' estimates of $9.36 billion. The company's reported EPS was $0.68 up 5% from last year but fell short of analysts' expectations of $0.70 per share.
Positive Takeaways from Oracle's Results
Even though Oracle's performance missed estimates the company still posted some key positive points in its results. The company's sales of new software licenses and cloud subscriptions increased by 4% to $2.4 billion during the recently reported period. That should please potential investors as new software licenses lead to maintenance contracts that last for long periods and provide constant sources of cash for a company.
Oracle also reported its cloud software subscription revenues went up by 25% to $300 million in the recent quarter and its cloud booking jumped by 60% reflecting an approximate 30% rise from the last quarter. With the growth of cloud subscription revenues, the company was able to generate a record $15 billion in cash flow over the past twelve months.
Another positive point from the recent results was the strong growth in hardware revenues. Hardware products revenues that are generated from the sale of hardware systems grew by approximately 8%. This was a biggest increase since the company's acquisition of Sun Microsystems in January 2010.
Worldwide Spending on Public IT Cloud Services
The growing focus on cloud services as a business innovation platform will help to drive spending on public IT cloud services. According to IDC's research it is expected that the worldwide spending on public IT cloud services will grow at a CAGR of 23.5% over the next four years. IT cloud services will increase from $47.4 billion in 2013 to $107.2 billion by 2017 and the growth in cloud markets is estimated to be five times that of the IT industry growth.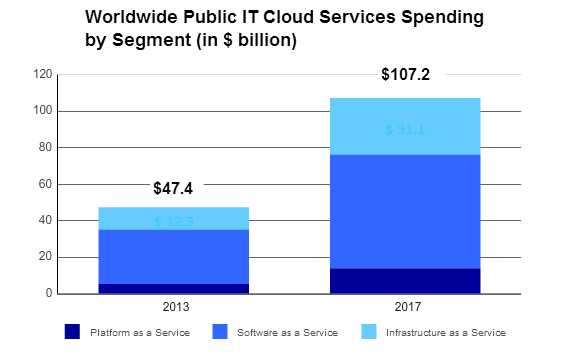 Source: IDC
Oracle has a number of cloud application suites for its Fusion series that include Fusion Enterprise Resource Planning, Fusion Human Capital Management and Fusion Customer Experience.
Oracle Expanding its Cloud Network through Acquisitions
Oracle has announced the acquisition of Corente a few months ago to further expand its cloud network. Corente is a leading provider of software-defined networking "SDN" technology for wide area networks "WANs". Corente's software-defined WAN virtualization platform accelerates the deployment of cloud-based applications and services by allowing customers to provisions and the ability to manage global private networks by connecting to any site in a secure, centralized and simplified manner. Through this acquisition Oracle is expected to deliver a complete technology portfolio for cloud deployments with SDN offerings that virtualized both the enterprise data center LAN and WAN.
In addition, Oracle recently acquired BlueKai the leading cloud-based big data platform that enables companies to personalize online, offline, and mobile marketing campaigns. The BlueKai solution includes its data management platform that centrally organizes a company's customer and audience data in the cloud to help implement personalized marketing campaigns across all channels and deliver better results and higher marketing ROI. BlueKai also runs the world's largest third party data marketplace to augment a company's proprietary customer data with actionable information on more than 700 million profiles.
I believe that Oracle will become a major player in the enterprise cloud computing market. Oracle's recent acquisitions of cloud-based software providers will help it to gain a more market share in the enterprise cloud software market.
Oracle's Investment Pays Off
The following is a comparison of Oracle's margins with that of the industry. Trailing-twelve-month and five-year average gross margins are at 81.91% and 78.79% and are outstanding compared to the 50.45% trailing-twelve-month margin and 56.92% five-year average gross margin of the industry. The five-year average EBITDA margin is 45.23% compared to the industry average of 26.69%. TTM and five-year operating margins are 39.18% and 36.13% compared to the 12.12% TTM and 21.96% five-year operating margin of the industry. Net profit margins are also nearly 6 times higher than the industry averages. These stats are a clear testimony to the fact that Oracle is a very efficient logistic giant that is not easy to compete with.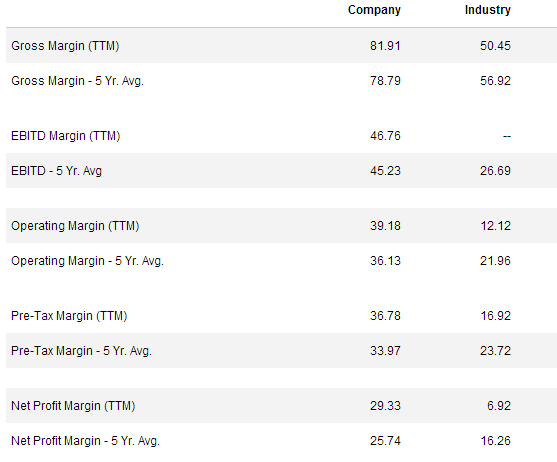 Source: Reuters
Final Take
While Oracle's growth lagged in the third quarter there are underlying trends that are very positive for the company's future outlook. Oracle's software and cloud business are growing rapidly and the company even posted growth in its hardware unit. The company is well positioned to grow with its recent acquisitions and the future prospects are also looking favorable due to the worldwide increase in spending for cloud services. The company is also trading at a discount based on trailing price to earnings compared to the industry average. Based on the above discussion I give this stock a buy rating.
Disclosure: I have no positions in any stocks mentioned, and no plans to initiate any positions within the next 72 hours.
Business relationship disclosure: The article has been written by APEX Financial Consultants. This article was written by one of our research analysts. APEX Financial Consultants is not receiving compensation for this article (other than from Seeking Alpha). APEX Financial Consultants has no business relationship with any company whose stock is mentioned in this article.