I have written negatively about Aegean Marine Petroleum (NYSE:ANW) for over a year and a half. Since then, the company has missed earnings estimates, delayed the completion of the Fujairah storage facility and diluted shareholders to acquire revenue basically to hide the declining organic business.
Until now, investors have not had an apples-to-apples comparable company to measure Aegean's financial performance to. On Friday, OW Bunker (OW.CO) went public on the NASDAQ OMX Copenhagen exchange. In this article, I will attempt to show how OW Bunker is a much better company trading at a lower valuation to Aegean Marine. I anticipate as investors realize the vast difference in profitability of the two companies, Aegean will soon sell at a discount to OW Bunker.
Below is a quick summary of the important financial metrics comparing the two companies: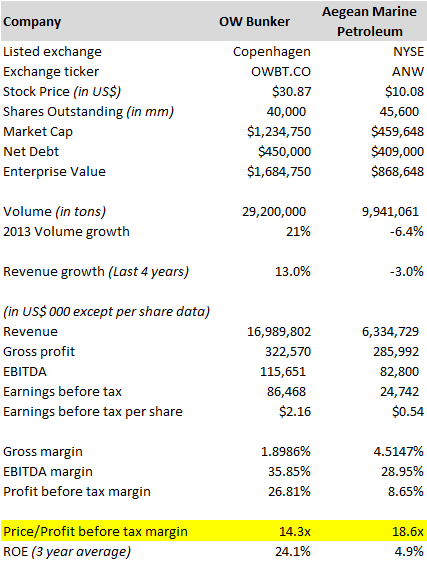 As you can see, OW Bunker is far more efficient, growing much faster and more profitable than Aegean. The shocking part is OW Bunker is also trading at a lower valuation even after a nearly 20% pop on its first day on trading.
Why is OW Bunker more efficient?
OW Bunker, like Aegean, is a physical supplier of bunker fuel to shipping companies in various ports around the globe. In order to do this, both companies own bunker vessels to physically deliver the fuel. OW Bunker currently operates 29 vessels, but only owns 10 and the remaining 19 are time charters. Aegean owns 56 vessels and time charters 9 vessels. More importantly, OW Bunker sells 2.9 times more fuel than Aegean. OW is able to do this because it operates as a reseller, which means it facilitates transactions or acts as a broker by purchasing both the marine fuel and the physical delivery from a third party supplier. The reselling business is much more efficient from a capital perspective. There are also many benefits from operating a larger business including economies of scale (i.e. bargaining power with suppliers), as well as operating synergies from an integrated and centralized platform servicing 2,900 customers in 134 countries.
To illustrate this, I will compare the Return on Equity (ROE) between the companies. Over the past three years, OW Bunkers average ROE is 24% versus Aegean meager 4.9%. The difference is largely due to OW Bunker's limited fixed asset base. As of December 31, 2013, fixed assets only comprise 4.2% of total assets versus Aegean's 37.5%, mostly made up of underutilized bunkering vessels. To put this level of profitability into perspective, let's say Aegean can sell 11m tons in 2014 at a gross spread of $28 per ton (both metrics far above what ANW has produced in its history) gross profit will be $308m (11,000*28). Assume operating expenses will be $230m and interest costs are $30m, profit before tax will be $48m. Aegean's ROE is only 8.8% (48/543). Aegean would need to sell 14m tons or 40% more than it sold in 2013 to get to an ROE of 24%. I do not see that happening anytime soon.
Why is OW Bunker more profitable?
A lot of the additional profitability comes from the reselling business. OW achieves this by operating both businesses as one integrated company which allows it to attract and maintain strong customer relationships. In addition, OW is able to leverage the reselling business with over 200 resellers to keep vessel capacity utilization high. Aegean has been suffering from very low capacity utilization since the global economic crisis. According to the OW Bunker prospectus, the company has increased market share from 4% to over 7% while Aegean has only increased market share 100 basis points to 3%. As Aegean continues to sell older vessels to reduce costs, it is also limiting its growth potential by decreasing the total capacity it can sell, which should put downward pressure on the earnings multiple. Further, OW has grown bunker volumes 53% since 2010 while Aegean's volume has decreased 6%.
(If you are wondering, the big increase in Aegean's volume in 2010 is from the acquisition of Verbeke, representing 3.5m tons). It is important to note that OW Bunker makes an effort to keep its gross margin sold per ton stable by hedging as well as OW also insures 75% of its trade receivables. Even incorporating these additional costs, OW is a far more profitable company.
What does this mean for Aegean shareholders?
OW Bunker is trading at 14.3x profit before tax while Aegean is trading at 18.6x. (I use profit before tax because Aegean has not paid taxes in over two years and I wanted to make an apples-to-apples comparison.) Most importantly for yield-thirsty investors, OW has announced it is going to pay 50% of net income out in a dividend. For some perspective, in 2013 the annual dividend would have been roughly $.83 a share! That's a 2.7% yield versus Aegean's .4%.
Aegean investors are paying a premium to OW even though Aegean is growing more slowly and also taking greater risk (commodity and credit). If Aegean trades at the same multiple as OW Bunker (14.5x 2013 profit before tax), the stock should trade at $7.75 a share or 23% lower than today's price and if it trades at 12x profit before tax, the stock will fall 35% to $6.51.
I think it's also worth noting why OW decided to go public. OW is majority owned by a very successful Stockholm-based private equity firm, Altor Equity Partners AB. In the IPO, Altor is selling more than half its stake in the company and very little capital is going to OW. I find that interesting for two reasons 1. Altor acquired OW in 2007 and has made a fantastic return on its investment thus using the hot European IPO markets to sell its stake 2. Since OW does not need additional capital to grow means Altor is selling to take profits.
To conclude, Aegean Marine investors now have an apple-to-apples comparable company to measure operating results. Rational efficient markets should soon realize how much better OW Bunker is performing causing Aegean investors to "jump ship".
Disclosure: I am short ANW. I wrote this article myself, and it expresses my own opinions. I am not receiving compensation for it. I have no business relationship with any company whose stock is mentioned in this article.