Seadrill (NYSE:SDRL) has had a bit of a hard time lately, to say the least. The stock has been under constant Bear attack which has been fueled by expectations of a cooling offshore drilling market. Reuters reported on February 25, 2014:
Feb 25 (Reuters) - The global oil drilling market will slow by more than expected over the next two years as energy firms save cash for dividends and delay exploration, Seadrill , the world's biggest offshore driller by market capitalisation, said.

Oil companies are struggling with cash outflows, while they also need to spend more just to maintain production levels at their existing assets, where depletion rates are high, Seadrill said on Tuesday.

"Combined with a relatively high dividend payout and increasing development cost to bring new production on stream, oil companies have limited opportunities to fund exploration activities," Seadrill, the crown jewel is shipping tycoon John Fredriksen's business empire, said in a quarterly results statement.
I am generally optimistic about the long-term growth prospects of the offshore drilling market. New oil- and gas discoveries are rare and become harder to explore, raising the need for in-depth know-how of contractors such as Seadrill.
Oil majors cut back on exploration spending lately and posted inferior upstream volume growth. Adding new reserves and developing new portfolio assets will become increasingly important for oil- and gas companies in order to meet increasing fossil fuel energy demand. Seadrill is greatly positioned to serve those needs and deliver value in the exploration business with its state of the art rig fleet.
Share performance
As I have said in the introduction, Seadrill had a hard time lately - similar to other offshore drillers with expertise in ultra-deepwater drilling activities. A weak near-term outlook for the offshore drilling market has certainly contributed to the decline in share values over the last six month. Seadrill is down approximately 4% over the last twelve month and down 27% since it marked a new 52-week High at $48.09 in September 2013.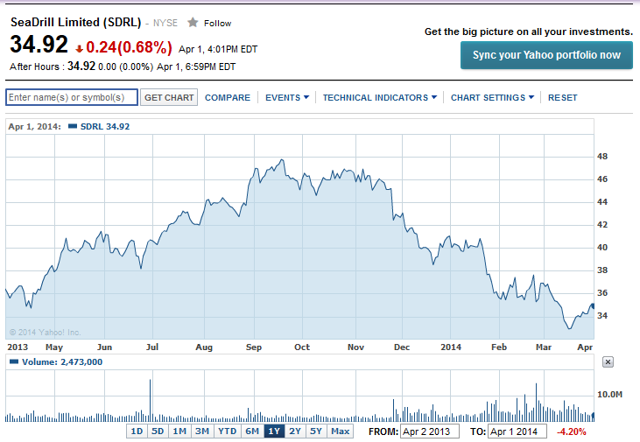 (Source: Yahoo Finance)
Other offshore drilling firms actually did much worse than Seadrill. Transocean (NYSE:RIG), for instance, a large-cap industry leader, lost a chunky 25% over the most recent two year performance measurement period while Noble Corporation (NYSE:NE) declined 16% and Ensco (NYSE:ESV) 2%. Seadrill did comparatively well with a two-year minus of 7%.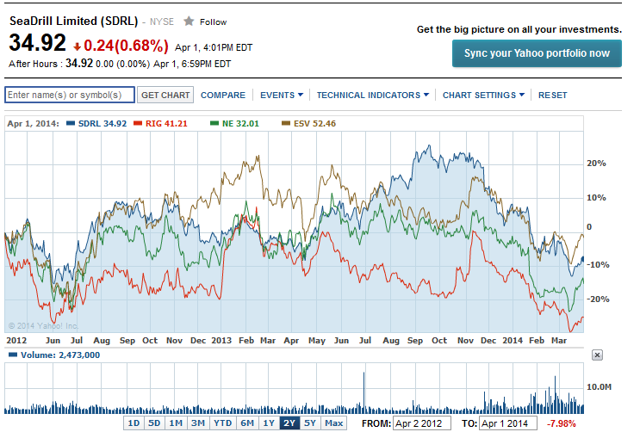 (Source: Yahoo Finance)
The bigger picture
Dividends
Seadrill is committed to distributing most of its cash flow to shareholders. Not surprisingly, in a cyclical business that largely depends on oil- and gas exploration spending, cash flows and dividends can fluctuate wildly. Investors purchasing Seadrill, of course, must be aware that the companies dividend yield is everything but safe, especially if operating cash flows take a hit. Seadrill's state-of-the-art fleet, however, gives the company a competitive advantage and cushions it to some extent from consolidating near-term day rates for ultra-deepwater jobs.
Seadrill currently pays investors a dividend of $0.98 quarterly and the offshore driller has repeatedly said, that dividend growth will remain a priority. Seadrill's current dividend yield stands at 11.23% which is an extraordinary yield even for master limited partnerships.
Debt
SA contributor Casey Hoerth took a closer look at Seadrill's debt situation and concluded:
Clearly, the market is nervous about Seadrill's indebtedness. I propose we look at the big picture for a moment. Management's decision to take on relatively more debt was a fairly recent one, and I believe that decision was a reaction to two very important market forces.

Rising offshore energy activity, and in particular a rising demand for deepwater and ultra deepwater rigs. This is amplified by the Macondo disaster in 2010, which has resulted in a greater demand of safer, state-of-the-art rigs. Seadrill has responded to this demand by borrowing to obtain the youngest fleet among its large-cap peers.
Historically low interest rates. Seadrill borrowed when it was cheap, and when demand for new ships were high.
I agree with the notion, that Seadrill acted opportunistically to take advantage of extremely low interest rates. Real estate companies which made the bold move to take out low-yielding, long-term debt during the financial crisis have done very well for shareholders and I believe Seadrill will equally prevail.
Market valuation
I still like Seadrill from a valuation point of view. Seadrill has one of the most modern rig fleets in the business which justifies a premium valuation. However, the P/E comparison chart below suggests that Seadrill trades just at a slight premium to other offshore drilling companies. With a forward earnings multiple of less than nine, I believe Seadrill is hardly expensive -- thanks to the decline in share price over the last six month.
Other companies in the sector trade at similar earnings ratios: Transocean, which now is an even better bargain than when I recommended it in October of last year, trades at only 8.7x earnings and Ensco and Noble both trade below eight times earnings.
Those multiples hardly suggest that investors are overpaying, but that investors focus more on the next quarter than on the long-term prospects of the offshore industry.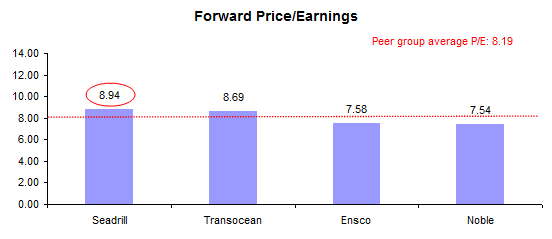 (Source: Achilles Research, Finviz.com)
Conclusion
Seadrill is an attractive offshore driller that consistently achieves strong ultra-deepwater economic utilization rates (an average of approximately 93% over the last thirteen quarters). Seadrill also has a convincing dividend- and EBITDA growth record and a shareholder friendly distribution policy. Its fleet is state-of-the-art and alone justifies a higher valuation compared to its peers. Management also appears competent and committed to deliver high cash flow yields for shareholders. I think the recent decline in share price has gone way too far and opportunistic investors might now find a reasonable entry price for a high-yield income play.
Disclosure: I am long SDRL. I wrote this article myself, and it expresses my own opinions. I am not receiving compensation for it (other than from Seeking Alpha). I have no business relationship with any company whose stock is mentioned in this article.