In my previous article "Should you think twice before Investing in Varonis?" I raised a concern about investing in Varonis (NASDAQ:VRNS) as it might be premature for the market. In the article I mentioned that while Varonis' revenues are increasing, its net loss is also increasing, and the company needs to invest further in customer engagement and worldwide operations to increase revenue per customer. Although it can be inferred, I didn't mention overvaluation or price bubble in that article. In this article, I expand the analysis to other Israeli tech companies that had an initial or secondary offering and check whether there is an Israeli IPO tech bubble evolving in NASDAQ.
In the past six months, a growing number of Israeli tech companies filed for either initial or secondary offerings. These companies are mostly small cap technology (and biotechnology) companies with few earnings or none that operate in markets with a lot of traction these days. In order to check whether there is an Israeli tech bubble in the IPO market, this article focuses on six Israeli companies: Varonis, Borderfree (NASDAQ:BRDR), Lumenis (NASDAQ:LMNS), Mediwound (NASDAQ:MDWD), Compugen (NASDAQ:CGEN), and Enzymotec (NASDAQ:ENZY).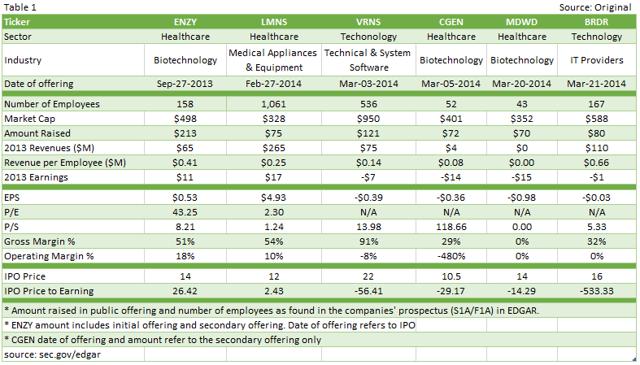 Enzymotec was the first of the six companies to issue stocks in a public offering. Enzymotec, a developer and manufacturer of lipid-based nutrition supplements and medical food, went public on September 27, 2013. The company set a $14 IPO price for 4.4M shares offered, and raised $62M in its initial offering, reflecting a $600M market cap. Enzymotec has solid financial results and presented increased revenues from $37.8M in 2012 to $65M in 2013 and increased net profit from $4.7M in 2012 to $11.4M in 2013. The company presents growth year after year in its gross margin, operating margin, and net profit margin, and has a number of revenue streams including fish and krill oil based omega-3 ingredients, infant nutrition ingredients, cognition improvement products and medical food. Enzymotec has expansion plans for the future to further increase its revenues and earnings. After the successful IPO, Enzymotec announced a second offering of 5.4M shares with a $28 price tag only six months after the initial offering. Even though Enzymotec used the bull market and the surge in stock price to raise an additional quantity of shares at twice the price, it has solid revenue streams, constant improvement in its financials, and is not an IPO bubble. As I mentioned in my previous Enzymotec article "Enzymotec had a great 2013 and has a promising 2014," investors looking for a small-cap biotech company for the long run should find Enzymotec an interesting opportunity.
On February 27, 2014, Lumenis was the second of the six to issue stocks. Lumenis is a medical equipment developer and manufacturer who offers laser and light based systems for surgical and aesthetic applications. The company markets its products to hospitals, outpatient clinics, ambulatory surgery centers, physicians' offices, and private clinics through a network of direct sales representatives, medical distributors, and strategic partners worldwide. Between 2012 and 2013, Lumenis increased revenues from $249M to $265M and increased net profit from $7M to $17M. Lumenis set a $12 price tag for the 6.25M shares offered and raised $75M, reflecting a $420M market cap to the company. The company has a 2.43 IPO price-to-earnings ratio, a 1.24 P/S ratio, a gross margin of 54%, and an operating margin of 10%, making Lumenis a stable and mature company. If there is an Israeli IPO bubble in NASDAQ, Lumenis is not part of it.
The third company of the six to go public is Varonis, only one week after Lumenis's IPO. Varonis is a software developer that offers platforms to map, analyze, and protect big data. Varonis operates in a very "hot" market - the IT infrastructure market - which is growing rapidly and trying to deal with an increasing quantity of data. Varonis offered 5.5M shares at $22 (above its initial $17-$19 IPO price range) and raised $121M in a very successful IPO on March 3, 2013. On the first day of trade, Varonis's stock surged 100% from the IPO price of $22 to its closing price of $44, reflecting a roughly one billion dollar market cap for the company. Although Varonis has a $1B market cap, its net loss is increasing year by year from negative $4.8M in 2012 to negative $7.5M in 2013, and its operating margin is worsening from 3% in 2012 to -8% in 2013. As shown in table 1, Varonis's negative EPS drives a negative IPO price-to-earnings ratio of -56.41, reflecting the gap between the company's earnings and the stock price. Moreover, Varonis's P/S ratio of 13.98 is 1.7 times higher than Enzymotec's P/S, and 11.27 times higher than Lumenis's P/S. Varonis' IPO P/E and P/S as well as the negative operating margin and increasing net loss place the company as the first IPO bubble of the six companies covered in this article.
Two days after the Varonis IPO, on March 5, 2012, Compugen offered 6.9M shares in its second offering. The company priced the offered stocks at $10.5 and raised $72M, reflecting a $400M market cap for the small pharma company. Compugen has only 52 employees and focuses on therapeutic product discoveries in immunology and oncology. Although Compugen has a strategic alliance with the pharma giant Bayer, it has very little revenues, which summed up to ~$4M in 2013 and a net loss of $14M. The IPO price-to-earnings ratio of -29.17, the P/S ratio of 118.66, the increasing net loss, and an operating loss of 480% place Compugen as the second IPO bubble of the six companies covered.
Mediwound is the fifth company to go public and its offering took place almost two weeks after the Compugen offering. Mediwound is a small developer and manufacturer of products for the treatment of severe burns, chronic and other hard-to-heal wounds, and connective tissue disorders. Mediwound has only 43 employees, no revenues, and a market cap of ~$350M. Mediwound offered 5M shares at the price of $14 and raised $70M. As shown in table 1 above, the company has an EPS of -0.98, an IPO price-to-earnings of -14.29, and $15M net loss in 2013. Mediwound is the third case and clearly an IPO bubble as the company raised $70M with no revenues, increasing net loss, and a negative IPO price-to-earnings ratio.
Borderfree went public one day after Mediwound on March 21, 2014. Borderfree is an ecommerce platform that sells apparel, handbags, jewelry, sporting goods, home décor, and toys online. The company enables US retailers to expand globally and transact with customers worldwide through its website, port51.com. Borderfree offered 5M shares at a price of $16 and raised $80M reflecting a ~$600M market cap to the company. Although Borderfree revenues increased from $81M in 2012 to $110M in 2013, its net profit turned negative from positive $192K in 2012 to negative $654K in 2013. The company has an IPO price-to-earnings ratio of -533 and a P/S ratio of 5.33. Even though the company's price-to-sales ratio is better than Compugen, Varonis, and Mediwound, the negative IPO price-to-earnings ratio and negative operating margin place Borderfree among those companies as an IPO bubble.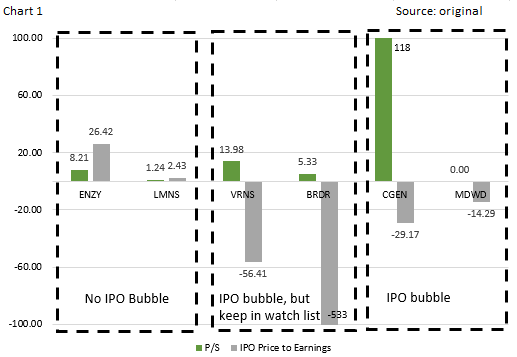 Conclusion
Following the recent numerous offerings of Israeli technology companies on NASDAQ, this article considers whether there might be an Israeli IPO bubble. To validate this thesis I analyzed six Israeli tech companies that issued stocks to the public in an IPO or a secondary offering. Four of the companies analyzed in this article were found to be IPO bubbles. These companies used the bull market to go public and expand their offerings, even though they have very little or no revenues and a negative IPO price-to-earnings ratio. Investors looking for solid long-term investment might not want to buy these right now. I break the six companies into three categories:
IPO bubbles: Mediwound and Compugen, with 40 to 50 employees, have barely any revenues and were able to raise ~$70M even though they present poor financials. As shown in chart 1, these companies' P/S ratio and IPO price-to-earnings ratio reflect an IPO bubble on top of the poor financials.
IPO bubbles, keep in watch list: Borderfree and Varonis are considered IPO bubbles even though they have increasing revenues, as both of them have net losses and negative operating margins. These companies probably went public a little prematurely but as they continue to invest in their research, development, and sales operations, they might be a buy opportunity in a few years.
Not IPO bubbles: Enzymotec and Lumenis have solid revenue streams, gross and operating margins, and reasonable IPO price-to-earnings and price-to-sales ratios (as shown in chart 1). These two companies' IPOs are not considered IPO bubbles.
Disclosure: I have no positions in any stocks mentioned, and no plans to initiate any positions within the next 72 hours. I wrote this article myself, and it expresses my own opinions. I am not receiving compensation for it (other than from Seeking Alpha). I have no business relationship with any company whose stock is mentioned in this article.