By Chris McKhann
One trader is calling a bottom in KB Home (NYSE:KBH) after the stock dropped sharply Friday with its earnings report.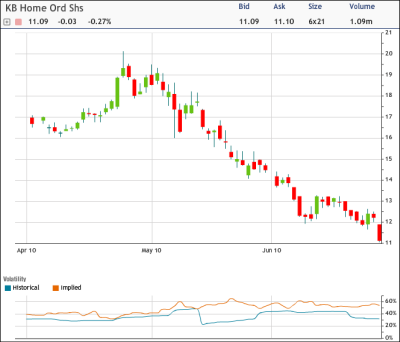 KBH is down fractionally this morning, trading at $11.09. Friday's reaction to the earnings was not pretty as shares fell 9% to close at $11.12, their lowest level since March 2009. The homebuilder's stock was above $20 just two months ago.
This name does not see much in the way of option volume, averaging 3,400 contracts per day. But one strike matches that total already this morning as interest in the August 10 puts has picked up. Traders were selling those puts for $0.51 against open interest of 27 contracts.
The put sellers are obligated to buy shares if they are below $10 at expiration. One way to look at that is a great buying opportunity; another is that the put sale has less risk than actually buying shares at this point.
The implied volatility of those puts is 60%, which is slightly higher than average for KBH. It is also near the high end of the range and above the historical volatility of 57%. With earnings out and volatility remaining high, this trader saw it as a good time to sell some volatility.
(Chart courtesy of tradeMONSTER)