In December, I published an article highlighting Barron's favorite stocks for 2014. I provided a few tables that summarized the views of a group of analysts, including the Thomson Reuters IBES opinions.
So far, the results have been all over the place. In the following article, I'll update the same estimates published in December by both a group of independent analysts and the Thomson Reuters IBES consensus estimates, both obtained through Fidelity.com.
YTD Performance
The table below shows the YTD performance through April 1st, 2014. At the top of the list is American Airlines (NASDAQ:AAL) with a whopping 50% return through three months. A distant second was Canadian Natural Resources (NYSE:CNQ) with a 14% return, and Simon Property Group (NYSE:SPG) with a return above 8%.
The big loser so far has been General Motors (NYSE:GM) with a loss of 16% YTD. Citigroup (NYSE:C) also had a substantial loss of 8%, but the rest of the group coasted through the quarter.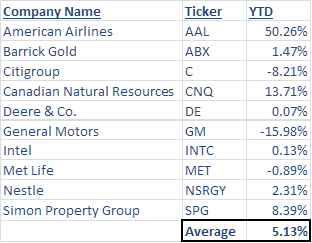 Analyst Estimates
Some analyst estimates have been spot-on so far, while others have been dead wrong. Our recommendations in December would have generated a return of 2.36% if we had overweight our Buy recommendations relative to our Hold recommendations. I won't go into the details here so as not to inflict further pain on myself.
At least for 1Q, we underperformed an equally-weighted basket of the 10 stocks.
Unfortunately, Barron's doesn't come out with an update on any of its stock picks throughout the year. But analysts do have that luxury, and it will be interesting to see their opinions back in December, and 1. whether they have been right thus far; and 2. if they are changing their views on any of the stocks.
American Airlines (AAL)
Due to the recent merger, we couldn't gather enough information back in December and the chart below was not yet available in the same format. The current equity summary score is a Neutral, but the Thomson consensus estimate suggests continued upside in the stock. How much higher can it go?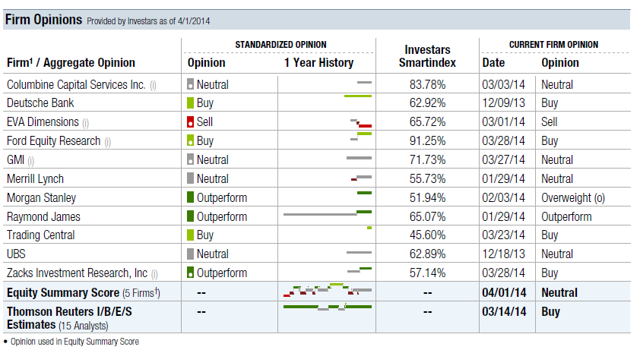 Barrick Gold (NYSE:ABX)
Analysts opinions for Barrick were middle of the road for the most part, and this turned out to be spot-on. Barrick had a 1.5% return in 1Q, and analysts haven't changed their opinion on the stock.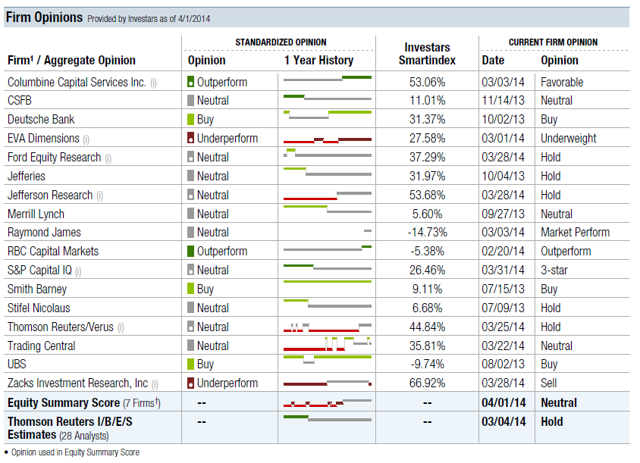 Citigroup (C)
Citi had mixed analyst opinions. One group rated it Neutral, while Thomson consensus was a Buy. As we previously mentioned, Citi was the second-worst performing stock of the group this quarter, and analyst opinions are unchanged.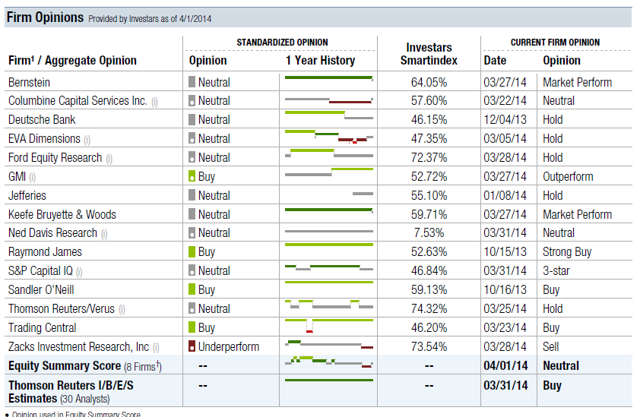 Canadian Natural Resources (CNQ)
Canadian Natural had comparable analyst ratings to those of Citi, but the performance was dramatically different. CNQ had a return of 13.7%, and there seems to be more upside to the stock.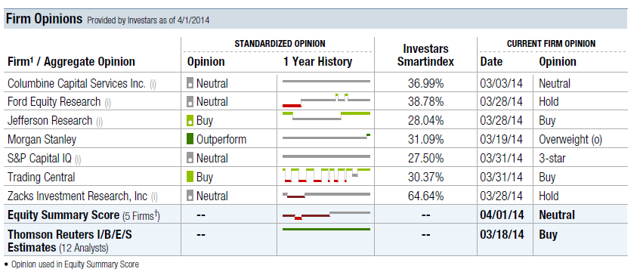 Deere & Co. (NYSE:DE)
The maker of farm and tractor equipment was perfectly flat for the quarter. The independent analyst group continues to be bullish on the stock.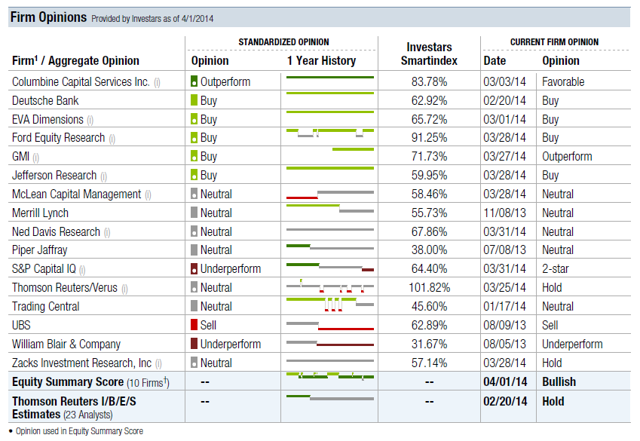 General Motors (GM)
GM was the biggest loser for the quarter, and ironically, it was one of the most favored stocks by both independent analysts and Thomson consensus. With a loss of 16%, you would think that an analyst who was bullish in December would be even more bullish now. The Thomson consensus has remained the same, but the independent analyst group has downgraded the stock to Neutral.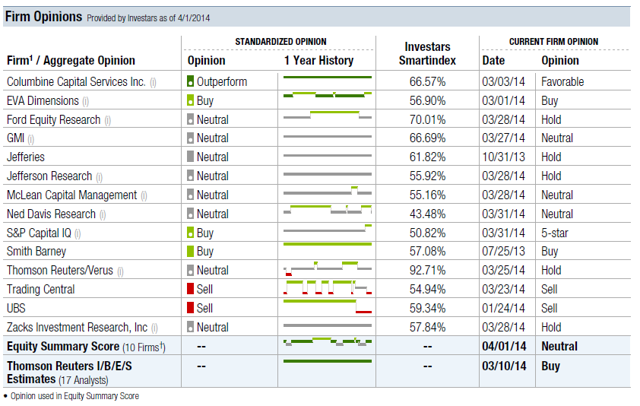 Intel (NASDAQ:INTC)
Intel also received mixed opinions in December, and the result was uneventful with a return of 0.13% for the quarter. Not much has changed in analyst opinions, but there was a slight downgrade from Very Bullish to Bullish.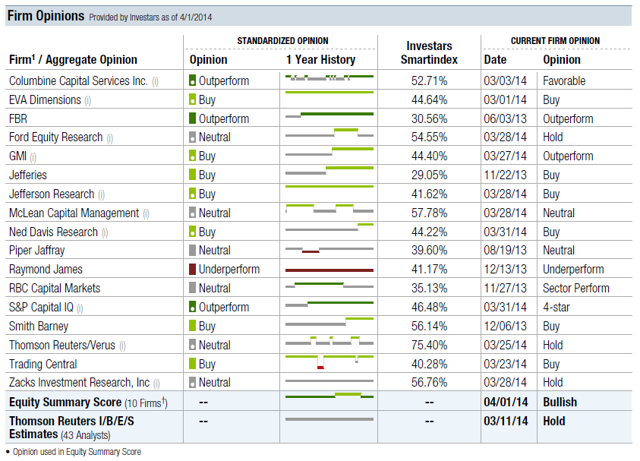 Met Life (NYSE:MET)
Yet another stock with mixed analyst opinions that did relatively nothing over the quarter. The stock was upgraded, however, by the independent analyst group from Neutral to Bullish.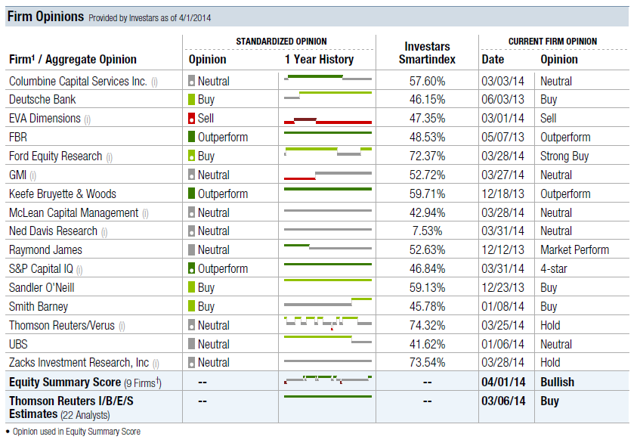 Nestle (OTCPK:NSRGY)
Nestle was one of two companies for which we didn't have information back in December. It has had a modest return so far in 2014, but the independent analyst group rates it Bearish.

Simon Property Group (SPG)
Talk about polar opposite opinions on this stock. The ratings ranged from Bearish to Buy for the independent analysts and Thomson consensus, respectively. At least for the first quarter, the Thomson analysts got it right. I cover many REITs, and I too am in the Bullish camp for this stock.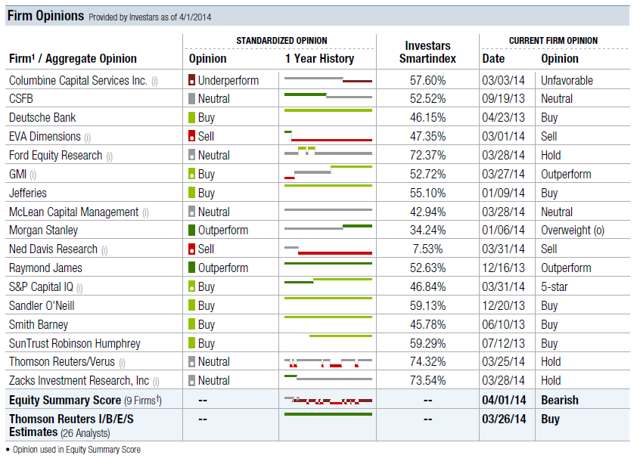 A summary of the ratings for each stock for December and April is listed below, as well as the YTD performance of each.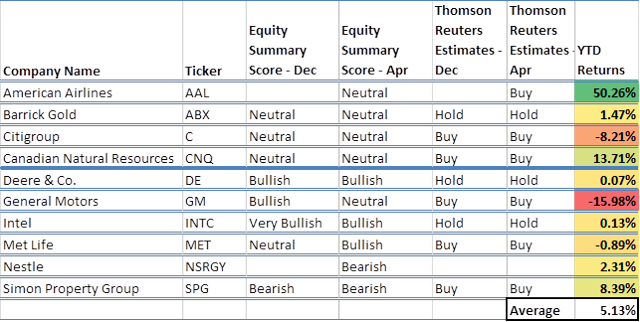 One point I would like to share with readers, if they get nothing else from reading this article, is that analysts are wrong more often than not. A recent article in the Wall Street Journal mentioned that the accuracy of Seeking Alpha article predictions for stock returns exceeded those of professional analysts.
Use analyst opinions and ratings as additional inputs, and if you can obtain their reports, read the facts from an unbiased perspective. Do the same with articles on Seeking Alpha. You never know when someone is trying to pump a stock, as was recently uncovered.
The range of opinions mentioned above and the level of (in)accuracy should serve as a warning not to act blindly on others' opinions.
I'll try to update these charts on a regular basis, but I will also be writing a few in-depth articles on some of the stocks mentioned. Stay tuned for that, and good luck investing.
Sources: Thomson Reuters, Fidelity
Disclosure: I have no positions in any stocks mentioned, but may initiate a long position in AAL over the next 72 hours. I wrote this article myself, and it expresses my own opinions. I am not receiving compensation for it (other than from Seeking Alpha). I have no business relationship with any company whose stock is mentioned in this article.