When the biggest lease-holder in the Eagle Ford shale play announces an impressive drilling update, there is no doubt that potential investors like myself tend to take an interest in that particular company.
With that said, I not only wanted to examine the recent drilling results that were announced by EOG Resources (NYSE:EOG) but also note a number of reasons why I'm staying bullish on its shares.
Company Overview
Based in Houston, Texas, EOG Resources, Inc., together with its subsidiaries, explores for, develops, produces, and markets crude oil and natural gas. As of December 31, 2013, it had total estimated net proved reserves of 2,119 million barrels of oil equivalent of which 901 million barrels (MMBbl) were crude oil and condensate reserves, and 377 MMBbl were natural gas liquids reserves; and 5,045 billion cubic feet were natural gas reserves.
Eagle Ford Drilling Yields Very Positive Results
On Monday, March 31, EOG Resources announced that five new wells in the Eagle Ford formation were pumping more than 13K boe/day of crude and yielding 91%-97% oil. According to sources, these wells had individually produced between 2,314 and 3,071 boe/day and the crude that was discovered is very similar to the light oil that is produced off the coast of Louisiana.
If EOG Resources can continue to demonstrate significant production-related performance as it continues to develop newer wells, there's a very good chance the company's long-term earnings growth and long-term revenue growth could increase if such performance is sustained. In other words, if EOG can continue to develop wells that yield at least 92% oil while producing an average of 2,500 boe/day, there's a very good chance both earnings and revenue growth could be positively impacted for years to come.
Recent Performance & Trend Behavior Signals A Long-Term Buying Mode
On Tuesday, shares of EOG, which currently possess a market cap of $54.07 billion, a forward P/E ratio of 18.30, and a dividend yield of 0.50% ($1.00), settled at a price of $98.98/share.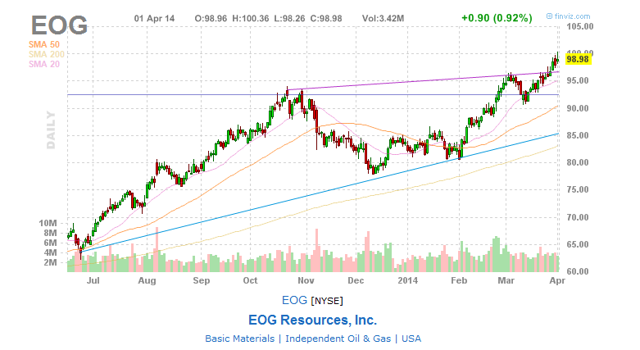 Based on their closing price of $98.98/share, shares of EOG are trading 4.26% above their 20-day simple moving average, 9.67% above their 50-day simple moving average, and 19.22% above their 200-day simple moving average. These numbers indicate both a short-term and mid-to-long term uptrend for the stock, which generally translates into a buying mode for both near-term traders and long-term investors.
Comparative Forward P/E Ratios Set EOG Apart From One Of Its Peers
Although the above referenced numbers indicate a long-term uptrend for the company's stock, I actually think its share price of $98.98/share offers investors a considerable point of entry. Why? Well, I think that when shares are trading at a much better forward P/E ratio than their sector-based peers, a great buying opportunity is created for most long-term investors.
As of Tuesday's close, EOG's forward P/E ratio of 18.30 was much lower than the forward P/E ratio of Pioneer Natural Resources (NYSE:PXD) (forward P/E ratio of 29.25 as of 4/1) which signals a greater level of affordability for those who may be looking to establish a position in EOG Resources, especially when compared to a number of its peers.
EOG Has Demonstrated Solid Dividend Growth Over The Past 24 Months
Since April 12, 2012, the company has increased its quarterly distribution three times over the last two years (including the company's most recent increase that was announced on February 24). From an income perspective, the company's forward yield of 0.50% ($1.00) coupled with its 24-month dividend behavior certainly make this particular stock a very viable income option for long-term investors in search of a conservatively yielding oil & gas play.
Conclusion
For those of you who may be considering a position in EOG Resources, I strongly recommend keeping a close eye on the firm's recent trend performance, its ability to sustain its recent drilling-related performance in the Eagle Ford, and its ability to enhance shareholder value over the next 12-24 months, as each of these factors could play a role in the company's long-term growth.
Disclosure: I have no positions in any stocks mentioned, but may initiate a long position in EOG over the next 72 hours. I wrote this article myself, and it expresses my own opinions. I am not receiving compensation for it (other than from Seeking Alpha). I have no business relationship with any company whose stock is mentioned in this article.