With a 5% dividend, Bristol-Myers Squibb (NYSE:BMY) provides one the highest yields you can find. This makes BMY a very attractive stock for income investors, especially considering today's near-zero interest rate environment.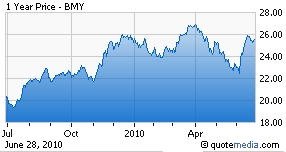 There are however, a couple hiccups for investors to be aware of. Bristol is set to lose patent protection on its best-selling drugs, Plavix in 2011, and Avapro in 2012. Plavix and Avapro had sales of $6.1 and $1.3 billion, respectively in 2009, together accounting for about 39% of all revenue. Some of this revenue will be made up by growth from its portfolio of approved drugs. Abilify, already a $2.6 billion drug, increased sales 20% in 2009, the virology franchise of Baraclude, Reyataz, and Sustiva total another $3.4 billion in sales and grew about 10% in the period. Orencia and Sprycel are also doing well, albeit from smaller bases. Both products have the potential to reach over $1 billion in sales. Recently launched Onglyza, however, is off to a rather slow start. I estimate growth from these products can make up for approximately 40% of the revenue lost by Plavix and Avapro by 2013.
What about the other 60%? To make up for this "patent cliff" Bristol has been busy cutting costs, divesting non-core operations, making acquisitions, and in-licensing drugs. Begun in 2007 with the acquisition of Adnexus Pharmaceuticals, this is known as its "string of pearls" initiative, to transform itself into to pure "Biopharma". BMY went on to acquire Kosan and Medarex. Along the way, Bristol partnered with KAI Pharmaceuticals, PDL (NASDAQ:PDLI), Exelixis (NASDAQ:EXEL), ZymoGenetics (ZGEN), Nissan Chemical Industries, Alder, and Allergan (NYSE:AGN). That's quite a long string.
Today, Bristol has six drugs awaiting FDA approval: Ipilimumab- a cancer vaccine for melanoma; Brivanib- a dual VEGF/FGFR inhibitor for oncology; Necitumumab- an anti-EGFR antibody for oncology; Dapagliflozin- a SGLT2 inhibitor for Type I Diabetes; and Apixaban- a Factor Xa inhibitor for thrombosis. Belatacept- a CTLA-4 fusion protein for transplant rejection, received a complete response letter from the FDA requesting more long-term data.
Cost cutting has maintained earnings growth in the last few years, but BMY estimates that in 2013, the first full year without Plavix, earnings will dip to $1.95 per share, down about 13% from estimated 2010 earnings of $2.15 to $2.25 per share. Earnings are projected to begin growing again in 2014 after 2013's nadir. BMY has said it anticipates launching five new drugs by 2012 with sales analysts estimate could reach $4 billion by 2016, however, it is likely to be less than half that in 2013. Total 2010 revenue for BMY will be in the $20 billion range. In 2013, it will likely be less by $2-3 billion, a 10-15% decline. This is in-line with the company's earnings guidance.
Bristol has a pipeline gap between its most advanced drugs and its early stage compounds. As promising as its early stage pipeline is, there is a dearth of compounds in late phase clinical trials especially with its decision to end its work on c-Met inhibitor XL184. XL184, from Exelixis was in late stage trials in Thyroid Cancer and ongoing trials for multiple oncology indications, but on June 21, Bristol decided to pull out of the partnership, paying Exelixis $17 million to end its involvement.
Although the company has maintained that its interest is in doing multiple small deals, most analysts believe it will need to do something larger. This only makes sense; good late stage compounds will not come cheap. It is likely the company will either in-license or acquire a company with a high quality drug that is close to market. It has more than enough cash with a $10 billion war chest for strategic acquisitions and partnerships. Bristol has been a good steward of its cash, having made an excellent purchase in Medarex and refusing to overpay for Imclone. I trust management will be successful in plugging its pipeline holes.
Over the last few years, BMY has transformed itself to a pure drug development company - a "Biopharma", it says. However, for the next few years, the stock will be purely for income investors and speculators. There are only declining revenues to look forward to until 2014, and then slow growth. Growth from promising new drugs will be offset by patent expirations of existing franchises. Only a buyout or a major blockbuster on the order of Plavix will light up this stock.
Disclosure: No positions