I wrote that I was going to be a buyer of BlackBerry (NASDAQ:BBRY) on Monday, and I was. If the bears bring it down again today, I'll likely press it again.
Additionally, when I transfer some capital over to my account in the middle of April, I'm likely to continue to add to my BlackBerry position if it stays at these prices.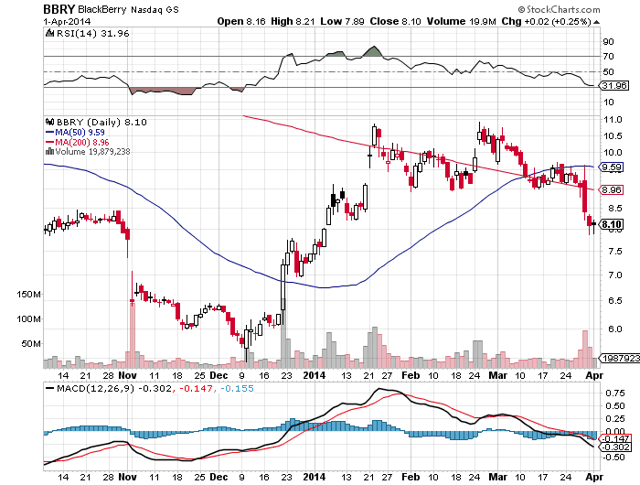 I don't want to rehash and go over everything that I've talked about in my last couple of articles about BlackBerry - if you want to read why I think the company is going to be successful and why I believe in John Chen, you can go back through my articles from the past week, post-earnings, and read about why I really dig the company and its fearless leader.
The purpose of this article, today, however, is to identify three simple reasons that one would look at BlackBerry as a potential investment. What are the numbers that, on the heels of the poor revenues posted at earnings, could still drive someone into this stock - and especially someone who is excited about the price getting driven down, like I am.
Of course, I'm not super excited that the price is going down and I don't want it to continue that way long-term, but what it's doing is presenting yet another buying opportunity for those that believe. If you had asked me in December, when the stock broke $10, if we'd ever see it back down under $8 again, I would have said "not likely." And, today, longs are in an even better position - because not only is the company actually showing that it's making the transition that's necessary - the stock is cheap to buy.
Analysts at Evercore and Credit Suisse, who fail to see the forest for the trees, recently downgraded BlackBerry, putting even more pressure on the stock. Financial Times reported:
BlackBerry suffered a second day of declines after two brokers downgraded the company following a fourth quarter marked by continued losses.

Analysts at Evercore and Credit Suisse dimmed their view on the struggling smartphone maker, lowering their ratings to underweight and underperform, respectively. Those at Credit Suisse noted they remained doubtful that "BlackBerry can create a meaningful business".

"Our concern remains that the declining subscriber base and average revenue per user trends coupled with secular hardware issues mean that the services stream will see pressure for some time," Credit Suisse analyst Kulbinder Garcha said.

Mr Garcha said he believed services revenue would tumble more than 60 per cent from fiscal 2013 to $1.5bn in the current year.
So, let's ignore the revenues for a second and give the company a bit of room to transition. Let's examine two balance sheet metrics and one "hunch" that makes me confident to keep investing in BBRY.
1. The Company has $2.7 Billion Cash on Hand
Jim Cramer was on CNBC the morning of the earnings call reaffirming that $2.7 billion in cash is way more money than the company needs to turn itself around. Chen has almost managed to turn off the money sieve, and is forecasting cash flow positive operations in just a year from now. That's going to leave BBRY with tons of money to conduct their business with, and without the need for any type of massive, future dilutive financing (for the short to mid-term, at least).
2. The Company's Price to Book Ratio is Still Very Attractive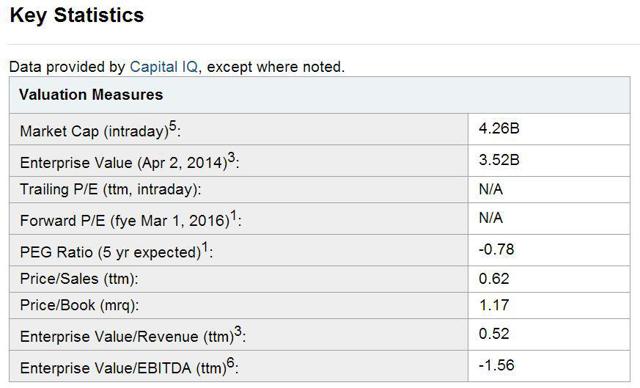 As the stock slides downward, this metric gets better and better looking. This stock is barely trading, on paper, what the company's intrinsic value is. This basically says the market has absolutely zero confidence in the job that John Chen is going to do and there's absolutely no forward-looking sentiment behind the way that BBRY is currently trading.
The stock is guilty until proven innocent, according to the market - this is the time for the believers to buy.
3. Sentiment Amongst Respected SA Contributors Seems Unanimous
Forget about Credit Suisse and all of those guys for a second. Yes, they work for big banks, but no, they're not necessarily smarter than you - and they definitely don't have a crystal ball.
Everyone that knows me know how I feel about analysts, and why I think most of them are generally full off it or pushing an agenda - even some of us on SA. But, what I've found is that the intention behind SA contributor pieces is generally a bit more honest, a bit more "nitty gritty" style in terms of analysis, and definitely a hell of a lot more fun to read.
Now, look at how the SA community has felt of recent about BlackBerry: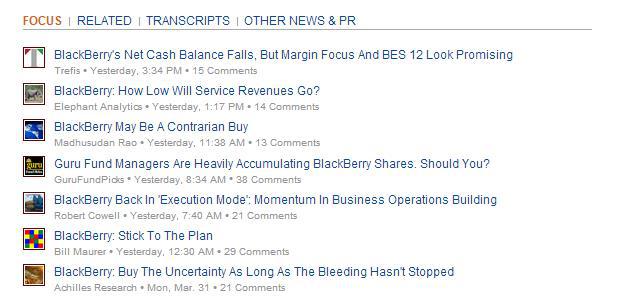 While I realize that this isn't a "balance sheet" argument, it's a intuition one, contributors like Trefis, Bill Mauer, and Achilles Research are prolific contributors that make up the meat of this site's contents on some days. They also have good track records as investors. So, I'm always a bit more interested in lending an ear to SA analysts before I listen to the big guys on Wall Street. I'm sticking with the sentiment of my peers - BlackBerry is "sticking to the plan," BES 12 "looks promising," and I'll continue to "buy the uncertainty."
Thanks, fellow contributors.
Investment thesis: Like I am with both Elon Musk and Brian Moynihan, until John Chen gives me a reason not to trust him, I'm going to remain confident in the job that he's doing for BBRY. As these fundamentals remain in place and rock solid, it's easy for me to push money into BlackBerry as Mr. Market continues to drag the price down - I'm almost dumbfounded that the market can't see past the poor revenue numbers from this past quarter - which is seemingly the only true negative that I saw coming out of this report. As the public continues to learn that this isn't "BlackBerry the phone company" anymore, and that Chen needs to minimize before he can grow, I believe BBRY's stock will once again meander up through $10, on its way to $15. Long BBRY, best of luck to all investors.
Disclosure: I am long BBRY. I wrote this article myself, and it expresses my own opinions. I am not receiving compensation for it (other than from Seeking Alpha). I have no business relationship with any company whose stock is mentioned in this article.