Previously, I've covered Altria (NYSE:MO) as a very good high-dividend yield play, given that based on its business fundamentals, its dividend seems sustainable over the long term. However, to have a complete picture of its earnings power and therefore its dividend sustainability, an analysis of SABMiller (OTCPK:SBMRY) is also important, because a significant part of Altria's earnings comes from its stake on SABMiller. This seems to be an overlooked factor, at least judging by the low number of articles analyzing the company on Seeking Alpha.
SABMiller is a multinational brewing and beverage company headquartered in London, United Kingdom. SABMiller plc was formed when SAB plc acquired 100% of Miller Brewing Company, at the time the second-largest brewery in the United States by volume, and changed its name to SABMiller plc. Upon the acquisition, SABMiller become the second-largest brewer by volume in the world. Currently, it still is the world's second-largest brewer measured by revenues, after Anheuser-Busch InBev (NYSE:BUD), and its main competitors also include Heineken (OTCQX:HEINY) and Carlsberg (OTCPK:CABGY).
SABMiller's brands include Fosters, Grolsch, Miller Brewing Company, Peroni Nastro Azzurro and Pilsner Urquell, beyond others. It has operations in 75 countries and about 70,000 employees across the world. SABMiller also bottles soft drinks for The Coca-Cola Company (NYSE:KO) in several countries in Africa and Latin America. Its largest shareholder is Altria, which holds a 26.8% equity stake. SABMiller has a market capitalization of about $80 billion, and trades in the U.S. in the over-the-counter market.
Like many of its peers, SABMiller is a global company having a worldwide exposure. Therefore, its revenues are well-diversified, and no single market has a large weight within the group. In the U.S., the company operates through a joint venture with Molson Coors Brewing Company (NYSE:TAP) formed in 2008. It is the second-largest brewer in the U.S., with a market share of 29%. Developing markets are the engine of volume growth for the beer industry. As income levels increase in developing countries, consumers trade up from informal alcohol to other types of beverages, including brewed beer. Thus, volume growth is robust in Africa, Latin America and Asia, while developed countries like Western Europe face the opposite trend, with consumption continuing to slide. In developed markets, the focus will be on premium brands, new variants and pricing.
SABMiller's is very well-positioned to benefit from emerging markets' growth, taking into account that more than 70% of its operating income comes from these markets. Its most important market is Latin America, being responsible for about 32% of its earnings before interest and amortization [EBITA], followed by Africa with a 30% weight on EBITA. This is the highest exposure of global beer companies to high-growth markets, boding well for its long-term growth outlook. It is also one reason why SABMiller usually trades at a premium to its sector, in recognition of its superior growth and better geographic footprint.
Regarding its financial performance, its growth has been impressive over the past few years. Its 5-year revenue CAGR was 8%, which is quite impressive given the relatively weak global economic landscape throughout this period. In its last fiscal year [FY], which ended in March, 2013, SABMiller's revenues were up by 10% to close to $35 billion. Its profitability is also good, and has been improving over the past few years. Its EBITA was $6.4 billion in FY 2013, representing a margin of 18.6%. This margin compares favorably with 16.3% achieved in 2009. Moreover, like its peers Carlsberg and Heineken, the company has a cost-cutting program ongoing, targeting improving efficiencies that could lead to higher margins over the coming years.
For Altria shareholders, what matters most is SABMiller's bottom line, given that its earnings are accounted under the equity method, as Altria only owns 26.8% of its equity. Over the past five years, Altria's earnings from its equity investment in SABMiller have grown considerably, from $600 million in 2009 to almost $1 billion in 2013. Its weight on Altria's net profit has been on average about 21.5% during this period, so a significant part of Altria's dividend comes from SABMiller's earnings. As SABMiller has brighter growth prospects than its main shareholder, its weight on Altria's earnings is expected to continue to increase over the next few years. SABMiller's net profit is expected to reach more than $4.5 billion by 2016, an increase of 38% compared to 2013, while Altria's net profit should increase by 29% during the same period.
Given that Altria targets approximately 80% payout of its diluted EPS, its dividend growth depends to a significant part on SABMiller's ability to grow its earnings and return cash to Altria through dividends. SABMiller's dividend payout ratio is only 42%, and has been remarkably stable at that level over the past few years. Based on cash flows, its dividend seems also sustainable, as SABMiller's free cash flow has improved a lot since 2009 and amply covers its dividend payment. The company has increased its dividend several times in the recent past, a path that should continue over the next few years, supported by SABMiller's organic growth and good cash flow generation.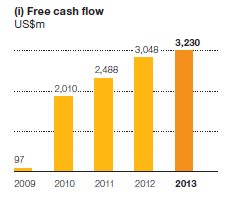 Conclusion
Altria's stake in SABMiller is quite interesting, given that it gives it exposure to a different industry (beer vs. tobacco), better growth prospects than its own business and a geographic exposure biased to emerging markets instead of the U.S. Altria's dividend is additionally supported by its stake in SABMiller, but the most appealing factor is that it gives Altria additional flexibility to grow its dividend through higher earnings expected from its equity stake, even if its underlying business suffers some temporary setback in the future.
Disclosure: I am long MO. I wrote this article myself, and it expresses my own opinions. I am not receiving compensation for it (other than from Seeking Alpha). I have no business relationship with any company whose stock is mentioned in this article.