Kodiak Oil & Gas (NYSE:KOG), driven by its operations in the Bakken Shale is one of the fastest growing companies in the energy sector. Oil production was up over 100% last year, producing an average of 29,200 barrels of oil equivalent per day (BOE/d), while also increasing proven reserves by 77%. Its sales volume accelerated during 4Q, up to 36,100 BOE/d -- well above the average for the year.
One of the keys for any oil and gas company is its ability to grow reserves. Kodiak has proved and developed oil reserves of 63,934 (MBbls), and 78,822 MMcf of proved and developed natural gas reserves and 95,162.4 MMcf of proved but undeveloped reserves.
The impressive thing about the reserves is that 83% is in the form of oil which continues to be a lucrative business and only 17% is in the form of natural gas where the market is currently depressed and has been for a while. The oil markets are expected to continue to be strong while natural gas is showing distinct signs of recovery.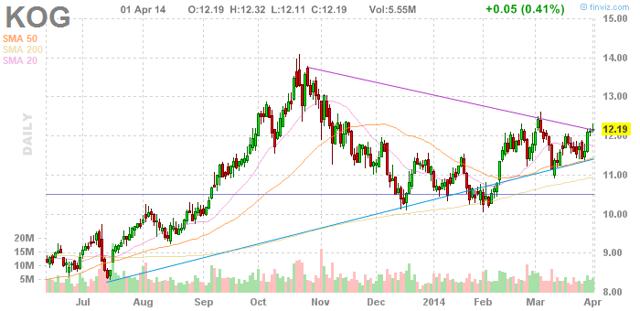 Click to enlarge
Strong production has lead to strong results
Sales were up over 100% in sales for the fourth quarter, coming in at $266.5 million compared to $130.8 million in the previous year. At the same time EBITDA was up to $199.7 million for 4Q, from $106.6 million in 4Q 2012. Net income amounted to $45.6 million ($0.17 per diluted share) compared to $33.3 million ($0.12 per diluted share) in the previous year. Net cash generated from operations for the quarter was $168.1 million compared to $69.4 million. This performance hasn't gone unnoticed as Kodiak's stock is up 33% over the past year. However, it's still a top Bakken performer with upside remaining.
Strong reserves and production growth drive the investment thesis
The beauty of Kodiak is that it has plenty of years left for drilling. By its own estimates, it has upwards of twelve years of drilling activity. It has a large scale operation, planning to drill over 100 wells in 2014 which contributes to a superior gross margin of 79%. If there is one criticism of the company, it is that bottom line growth has not kept pace with the top line but, in all fairness, this has been due to several one time charges.
Its also seeing 80% of its oil transported using railroads, with the other 20% moving through pipelines. This is a riskier mode of transportation, but the company is handsomely compensated by the higher prices that it gets. 40% of its production was transported by rail to the East Coast markets where it was able to obtain higher prices based on Brent. In addition, another 35% was transported to the West Coast and the Gulf Coast where it was also able to earn a premium.
Kodiak's production is increasing like clockwork. Just recently it announced four initial well results (two for Middle Bakken and Three Forks each). These wells are part of its Polar 2.0 downspacing pilot. The strong results from these wells are supporting its case for tighter spacing and improved resource recovery. This could well lead to a boost in Kodiak's 1,300 undrilled well inventory.
Bottom line
Trading at under $12, Kodiak is at just 13x earnings. Kodiak also trades at just over 5x 2015 expected EBITDA. However, its Bakken peers trade at an average 5.5x. Its earnings are expected to grow gangbusters over the next few years, which puts its price-to-earnings to growth ratio at 0.2, compared to an industry average of 0.7.
With its increase in proved reserves, the Kodiak price target is close to $14. That still puts Kodiak trading at less than 13x fiscal 2016 earnings of $1.09. This is well below the 20x P/E that Kodiak has traded at over the last few years. Also, if we put a 5.5x EV/EBITDA (more in line with peers) on 2015 EBITDA, fair value is around $14.50. As a side note, Kodiak trades at a roughly 13% discount to its PV-10 value, which is a slightly greater discount than where it's peers trade. All in all, Kodiak is a solid play on the energy boom in the U.S.
Disclosure: I have no positions in any stocks mentioned, and no plans to initiate any positions within the next 72 hours. I wrote this article myself, and it expresses my own opinions. I am not receiving compensation for it (other than from Seeking Alpha). I have no business relationship with any company whose stock is mentioned in this article.