Endocrinologic and Metabolic Drugs Advisory Committee is Positive
Advisory Committee meeting for Afrezza had resulted in an almost perfect 13-1 vote for Type 1 Diabetes and 14-0 vote for Type 2 Diabetes. I am sure most of us had a sigh of relief if it was as stressful for them as it was for me. Just like myself, I am sure everyone is anxious to find out what are the chances for April 15th. I will now assess the probability of Food and Drug Administration's approval on April 15th using only empirical data.
The Broad Approach
I've come across an article with statistics about Advisory Committee's influence on Food and Drug Administration's decisions on all categories of drugs. I see some very promising probabilities. First, let's look at the 5 year totals.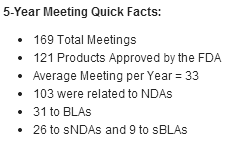 Here we see that out of a total of 169 Advisory Committees in the past 5 years, we've had a 71.5% of approval. In the same article, if we look at committee types and only for "yes" votes then we have the following.

MannKind (NASDAQ:MNKD) Afrezza insulin drug falls into the standard review type. Out of the past 45 yes votes, 82% received FDA approval immediately after. Our probability of FDA approval just increased. But this is not good enough statistics as it is too broad. Some classes of drugs have a higher chance of approval than others. These statistics also tell nothing about ratio of Yes to No votes in relation to FDA approval as well.
More Statistics on Endocrinologic and Metabolic Drugs
I paid my $29 subscription fee on FDATRACKER and formulated my own data chart using the ADCOM EXPLORER tool. The results from 2008 to 2014 for only Endocrinologic and Metabolic Drugs are as follow.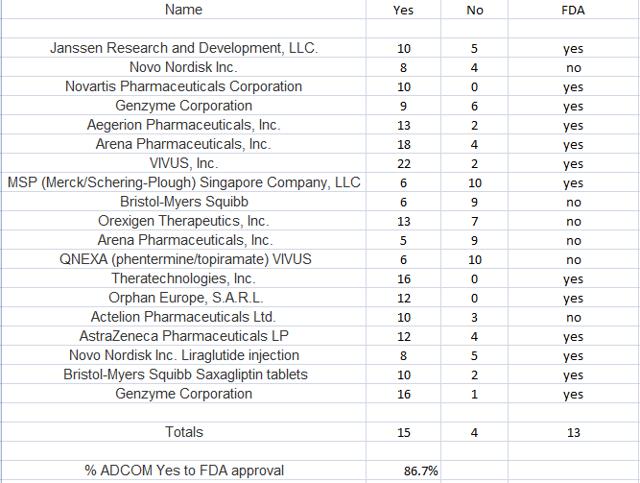 Without discriminating between yes or no ADCOM decisions, the overall number is about 87% FDA approval rate to ADCOM approval. This still doesn't tell me much since some of the ADCOM "no" decision still received FDA approval. Let's eliminate all ADCOM "no" decisions and find the real approval rate if ADCOM is positive. The results are as follow.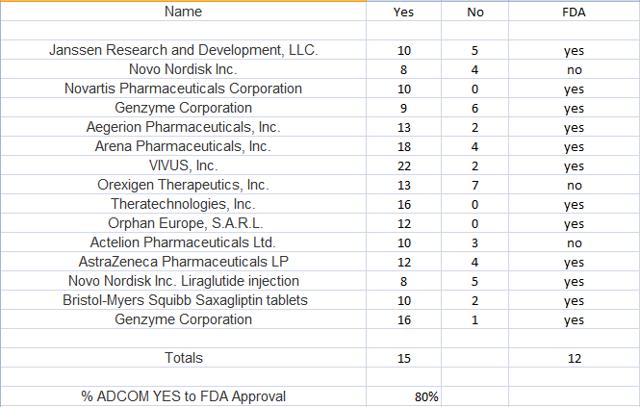 Here we see that our FDA approval rate is worse when we eliminate the ADCOM "no" that still received FDA approval. But this is still not a fair assessment because Afrezza was approved with an overwhelming 13-1 and 14-1. I will define "overwhelming" as at least 90% of votes are yes so we have a quantitative measurement instead of a feeling. The results are as follow.

This is not my subjective opinion. I narrowed down from a broad spectrum of all ADCOM drugs regardless of results to gain FDA approval. According to result data for the past 6 years, any drug that went through an Endocrinologic and Metabolic Drugs ADCOM with an overwhelming "yes" vote criteria have gotten 100% FDA approval probability.
Possibility of Another Rejection
Afrezza could face another round of scrutinizing questioning about pulmonary malignancy. This was a hot topic during the ADCOM. Mannkind had very little data on prolonged effects of Afrezza on lung functions and cancer rate. ADCOM members were also very concerned with adverse effects of patients who smoke or have lung cancer. All these concerns were listed in the conclusion of the FDA briefing document on page 225 and on.
Conclusion
It's no doubt that any drug with an ADCOM before entering the FDA panel has a very favorable chance of approval. It's clear that any drug with an overwhelming (>90%) yes votes have near certainty for FDA approval. I have not put one ounce of opinion in this analysis. Everything points to a minimum of 80-100% chance of approval. Afrezza received nearly perfect votes (13-1 for T1 and 14-0 for T2) should be closer to 100% FDA approval probability than 80%. Thank you for all those who read my article and help me recoup my $29. I hope I given those investors and diabetics who have hope in MannKind enough confidence for this FDA approval.
I believe the chance of rejection for Afrezza based on safety concern is quite small. Almost all drugs approved have long term study requirements with it. Pulmonary malignancy concerns are long term. I will hold my stance on FDA approval of Afrezza requiring long term safety study of pulmonary malignancy.
Disclosure: I am long MNKD. I wrote this article myself, and it expresses my own opinions. I am not receiving compensation for it (other than from Seeking Alpha). I have no business relationship with any company whose stock is mentioned in this article.