VMware (NYSE:VMW) rose to prominence by being the world's most successful company in providing hypervisor/virtualization to enable enterprise customers to deploy private clouds. The computer virtualization product that does this, ESX, is an extremely high performance type 1 hypervisor because it does not run atop a third-party operating system. Rather, it includes its own kernel that's closer to the metal.
In November, VMware expanded its market reach and its desktop as a service (DaaS) offering to public clouds, with the goal of simplifying the delivery of cloud-hosted desktops, to any device, anywhere. This made VMware first to fully launch DaaS, beating archrival Amazon WS, which launched its counterpart, WorkSpaces, four months ago.
At Nvidia's (NASDAQ: NVDA) annual GPU Tech Conference (GTC) in San Jose, it was announced that VMware is adding virtualized GPU (vGPU) support to vSphere, an enhanced suite of tools for cloud computing, and that it's bringing Nvidia GRID technology to its Horizon DaaS platform.
This is big news that some have overlooked, so it's worth paying attention to.
Why is this important?
Not everyone who wants and needs a real workstation can afford one. The installed base of workstations is about 30 million. With GRID and VMware, the potential for adding new users expands by another 30 million designers, engineers, project managers, and power users.
It matters because it shows VMware gets the importance and ubiquity of visual computing. And it matters because it shows that the best way for VMware to gain market share is to provide visual computing to new and existing customers.
The GPU has become ubiquitous, from the multi‐billion dollar gaming industry, to workstations running CAD, and digital media entertainment applications, to high‐resolution graphics and video in the palm of your hand. Even mainstream productivity apps like Microsoft Office 2013 demand GPU capabilities, like DirectX compliance. And the emerging influx of rich HTML5 content on the web requires having a capable GPU under the hood of whatever device is doing the browsing.
The reason is simple: a quality interactive visual experience matters, and delivering on that experience requires a GPU. Thatʹs a premise validated throughout the evolution of personal computing. And itʹs a premise that's just as valid for any enterprise's IT plans, whether focused on GPU‐equipped clients, like PCs and workstations, or a future that with GPUs in the datacenter powering virtual desktops and remote graphics.
At GTC, VMware's CTO, Ben Fathi, joined Nvidia's CEO, Jen Hsun Huang on stage to make the announcement and you could have heard a pin drop - because the audience was still contemplating the significance of the deal.
To get a virtual GPU to work in a vSphere and DaaS two very critical and unusual things had to happen involving closely guarded IP. VMware had to open up their source to Nvidia, and likewise Nvidia had to open up their GRID source to VMware.
To make DaaS with GRID, Nvidia and VMware embedded Nvidia's microcode into VMware's Hypervisor - that's a really, really, big deal.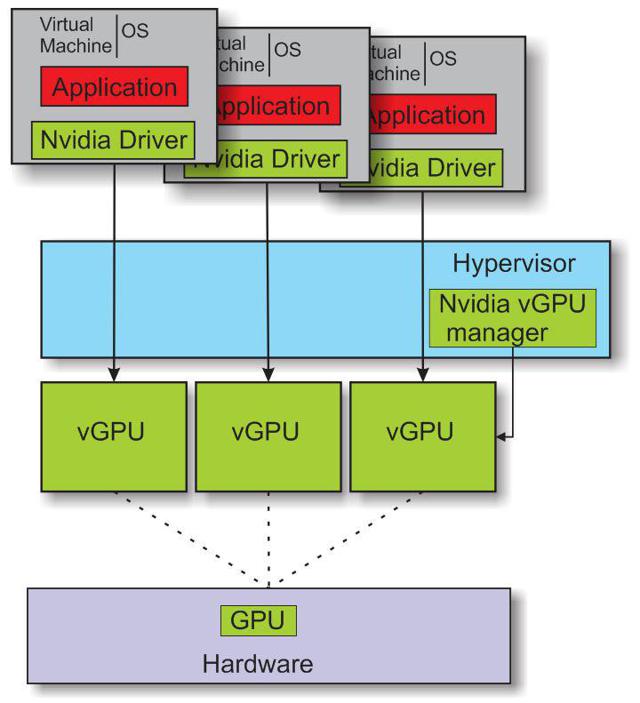 Nvidia hardware and software run though the VM stack
VMware's vSphere has had the capability to pass through a dedicated GPU to a VM for a while now. But, with GRID vGPU, any enterprise VMware cloud, private or public, will be able to deploy virtual GPUs into its virtual systems anywhere in the world. VMware users can have a dedicated GPU or a piece of a virtual GPU on any platform the enterprise is supporting with VMware. Needless to say, Nvidia's available market for GPUs just took a jump. As the company's CEO and founder Jen-Hsun Huang said: "Partnering with VMware makes it possible for us to virtualize the enterprise end to end."
Nvidia has been promoting GRID for almost two years, and it's getting growing acceptance. Between last year's deal with Citrix (NASDAQ:CTXS) and the latest with VMware, Nvidia has access to almost every virtualized desktop in the enterprise worldwide. And once the power of GPU-compute and first-rate rendering is introduced to enterprise users, they will do things they never thought possible.
Ironically, the only problem is this development is so earthshaking, and so esoteric, that only a few people get it. However, one day, maybe a year from now, it will be noticed, and folks will say, "Holy cow! When did that happen?
Disclosure: I have no positions in any stocks mentioned, and no plans to initiate any positions within the next 72 hours. I wrote this article myself, and it expresses my own opinions. I am not receiving compensation for it. My firm, Jon Peddie Research (JPR), sells market reports to the computer industry (and has done so since 2000). Nvidia has purchased reports from JPR every year. VMware and Citrix have not.