By David Russell
Volatility sellers are pounding Xilinx (NASDAQ:XLNX) as the semiconductor stock finds support at a key level.
optionMONSTER's tracking systems detected the sale of 8,765 July 25 puts for $0.30 against open interest of just 715 contracts. While the trade reflects a belief the downside is limited, 4,230 July 26 calls were sold minutes later for $0.80, reflecting a belief that the upside is limited as well.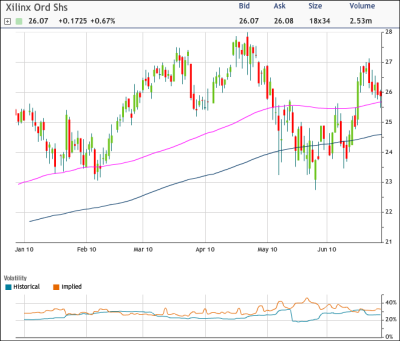 XLNX rose 0.67% to $26.07 in late-morning trading and has been moving sideways since December. It's been a favorite among option traders in the last month, seeing both call selling by investors who think it has limited potential to rally and call buying on the part of the bulls.
The company, which makes programmable chips, issued strong results and guidance on April 28. Its next release is scheduled for after the market close on July 21.
Sales account for almost all the options activity in XLNX so far today, which reflects a belief that implied volatility will continue to fall in the name. It's down to about 33% now from 43% last month.
The stock now seems to be holding the key $25.50 level where it peaked in January and which is also the approximate location of the 100-day moving average (purple line on chart). It's up 7% in the last month after finding support at its 200-day moving average in May and early June (dark blue line).
Overall options volume in XLNX is more than twice the average level so far today, according to optionMONSTER data.
(Chart courtesy of tradeMONSTER)