By Chris McKhann
Shares of Plains Exploration & Production (NYSE:PXP) appear to be headed back toward recent lows, but option traders are looking for a rebound.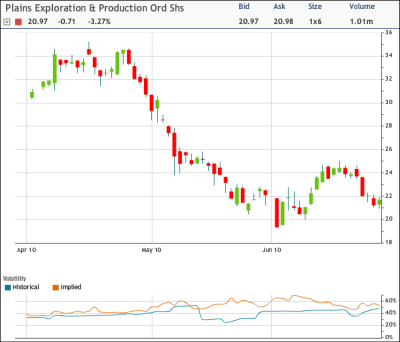 PXP is down 3.27% to $20.97 in midday trading. The oil producer lost 45% in just over a month, culminating in a 52-week low of $19.28. Shares rallied to $25 but are now breaking back down.
The average options volume is 3,000 contracts, but 10 times that number has already traded today, virtually all of it in one three-legged play. One set of trades involving 10,000 of the November 22.50 and 28 calls and 17.50 puts. The volume at all three strikes was more than 10 times open interest.
The trade involved the purchase of the November 22.50 calls for $2.45, the sale of the November 28 calls for $0.70, and the sale of the November 17.50 puts for $1.30. The net debit for the trade is $0.45, which is the risk between $17.50 and $22.50. The trade can make 10 times the debit to the upside but, to the downside, it has the risk of long stock below $17.50.
There are a number of ways to look at this trade, but it essentially uses the put sale to help fund the bullish call spread. The sale of the puts does indicate that the trader is willing to get long shares at that level.
(Chart courtesy of tradeMONSTER)