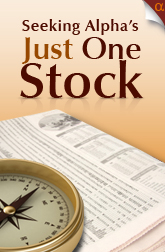 Several times a week, Seeking Alpha's Jason Aycock asks money managers about their single highest-conviction position - what they would own (or short) if they could choose just one stock or ETF.
---
Erick Zanner started Columbus, Ohio-based JDM Investment Counsel in 2008 after more than 20 years managing investments for firms including Smith Barney and Morgan Stanley. He's an executive adjunct professor in the School of Business Administration at Capital University.
If you could only hold one stock position in your portfolio (long or short), what would it be?
During 2009 we at JDM Investment Counsel, LLC, were especially fond of Caterpillar (NYSE:CAT) and Avon Products (NYSE:AVP). Currently, we believe NewMarket Corp. (NYSE:NEU) is our most attractive holding.
Tell us more about the company behind the stock.
NewMarket Corp. is a holding company of Afton Chemical Corp., Ethyl Corp., NewMarket Services, and NewMarket Development Corp. The two major segments are petroleum additives and real estate development. The petroleum additives portion of NewMarket is the main revenue generator for the company, while the real estate development relates to an office building to serve as MeadWestvaco (MWV) corporate headquarters in Richmond, Va. While NewMarket Corp. has more land, the company is not actively seeking development of that land.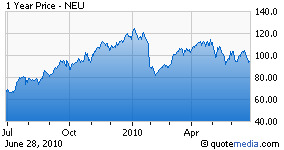 NewMarket Corp. recorded sales of approximately $1.59 billion in 2009 with a profit margin of 11.07%. While net sales decreased from 2008 levels, the cost of goods sold in 2009 was significantly lower, resulting in greater net income. Also, for 2009, NewMarket had return on equity of 44.64%, illustrating highly efficient management of the company.
For 2010, NewMarket expects to continue to efficiently deliver its petroleum additives throughout the world, as demand is expected to return to historical levels after the recession of 2008. The company has upgraded facilities in Japan, opened a new lab in Shanghai, China, and expanded their main research center in Richmond, Va., in order to develop and bring better products to market in the future. Furthermore, a manufacturing facility will open this year in Singapore that will expand their supply chain capabilities.
How does your choice reflect your investment approach?
The Balanced Taxable portfolio, which is JDM Investment Counsel's main product, utilizes a screen-driven approach. The proprietary screen is primarily driven by dividend growth, earnings growth, and return on equity. We typically run the screen monthly and evaluate the companies that come through individually. Our main goal is to generate cash flows to our investors through consistent growth of dividends. In terms of NewMarket, we looked at the company and how it would fit into our macroeconomic view of what and where the broad market economy is heading. Once we determined the sector and products offered by NewMarket were consistent with our forecasts, we evaluated NewMarket's financials and quickly discovered how well and efficiently the company is run.
Can you talk about the sector? How much is your selection based on NewMarket's industry, as opposed to a pure bottom-up pick?
Due to the way our screen is derived, industries that have recently been negatively affected by the economy do not come through, whether it is due to a decrease in dividends or a decrease in earnings growth. Our macroeconomic view of the economy drives us to view certain sectors differently than others. In 2009 we stayed away from financials even if certain companies came through our screen. Conversely, we had thought the recovery would be export-driven and that construction overseas would drive earnings growth for sectors such as capital goods. Therefore, when Caterpillar (CAT) came through our screen in March of 2009, we took a position on our Balanced Taxable portfolio.
How is NewMarket positioned with regard to competitors?
NewMarket is positioned well within the chemical manufacturing industry. NewMarket's competitors include Lubrizol (LZ), Albemarle (NYSE:ALB), and BASF (OTCQX:BASFY). Compared to the industry averages, NewMarket's financials are excellent. The company has increased the cash position in hopes of making acquisitions over the coming quarters.
NewMarket's current P/E ratio of 8.5 is well below the industry average of 28.7 and we believe it is undervalued and poised for growth. The company's high return on equity and strong net income growth are expected to carry over into 2011.
NewMarket's margins seem healthy for the industry, but could they get pinched by rising raw materials costs? And is NEU in a better position than Lubrizol in that area?
NewMarket, in our opinion, is positioned well to absorb any increase in rising raw material cost due to their strong cash position and profit margin. The cost of oil is the main component that could increase costs and decrease profitability, and we expect the cost of oil to remain relatively stable.
Both NewMarket and Lubrizol have excellent return on equity and high retention rates, which signals high and sustainable growth rates going forward. We have a position in NewMarket because their dividend growth rate and return on equity is stronger than Lubrizol's.
Does your view differ from the consensus sentiment on NewMarket?
Over the past three months analysts have become more positive on NewMarket Corp. and the current consensus is a moderate buy. NewMarket's business cycle tends to accelerate in the second and third quarters of the year and slow down in the fourth and first quarters. However, we expect demand for petroleum additives to remain strong through the fourth quarter of the year, as the worldwide economy continues to strengthen.
Does the company's management play a role in your selection?
Using return on equity as a metric, it is clear that NewMarket's management team is very effective. NewMarket was also able to increase the cash position despite the most recent economic downturn. NewMarket's financial statements take the extra step of calculating and displaying the typical ratios a shareholder would want to see. Their financials are very user friendly.
What catalysts, near-term or long-term, could move NewMarket's stock significantly?
We expect NewMarket to organically grow their dividend due to their effective and shareholder friendly management practices. As the dividend continues to grow, we expect institutional ownership to increase from its current level of 55%. We also expect NewMarket's P/E ratio to move towards the industry average as a result of an increase in the share price.
What could go wrong with your pick?
Our biggest concern with NewMarket is the volatility. As of this writing, NewMarket has a beta of 1.77. Our macroeconomic outlook for the S&P 500 and the U.S. economy is very positive, and consequently we expect the high beta to work to our advantage. However, if the economy does revert to a double-dip recession, the high beta could result in a significantly lower stock price for NewMarket.
Thanks, Erick, for sharing your choice with us.
Disclosure: JDM Investment Counsel is long NEU.
Read more Just One Stock articles »
If you are a fund manager and interested in doing an interview with us on just one stock or ETF position you'd hold, please email Rebecca Barnett.