After a the dip and steady rise in Indonesia's markets, some believe it may be safe to tentatively try out one of the world's best-performing markets of 2010 by investing into the region through the Indonesia exchange traded fund.
International expert Nicholas Vardy remarks that "with sentiment improving slightly in global markets, we now recommends that you dip your toe back into global stock markets," writes Steven Halpern for BloggingStocks.
Factors that favor Indonesia's continued growth include:
Indonesia, the world's fourth-largest country with a population of 225 million, hosts a young-and-growing population, with the nation's capital anticipated to be the largest city in the world within 20 years, adds Vardy.
Indonesia also holds large reserves of natural resources.
The domestic consumption makes up two-thirds of the GDP, which has cushioned the economy from any shifts in export demand – exports make up 26% of GDP.
The Central Bank has kept rates at a record low of 6.5% as inflation remains low.
The International Monetary Fund (IMF) projects Indonesia's economy will expand 6% this year. The Chairman of Indonesia's Investment Coordinating Board estimates growth of between 6% to 7%.
Market Vectors Indonesia Index ETF (NYSEARCA:IDX) (Click to enlarge)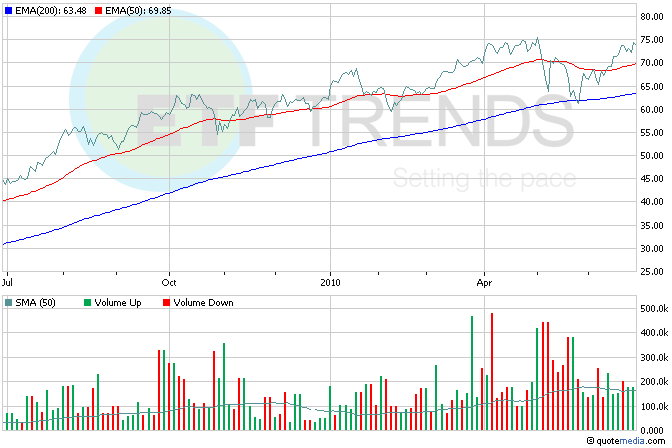 Max Chen contributed to this article.