Neonode, Inc. (NASDAQ:NEON) is a little-known tech company that has some incredible potential. It has developed technology that appears revolutionary and likely to become very commonly used in many electronic devices in the future. The company has already started to license its technology to many of the world's largest electronics makers, and this should soon lead to rapid revenue growth and profitability. For a number of reasons, the upside potential for this "hidden gem" stock appears poised to be realized in 2014. The stock is still cheap, because some investors are impatiently selling on weakness, but this is a buying opportunity for the rest of us. Let's take a closer look at this company and its technology below: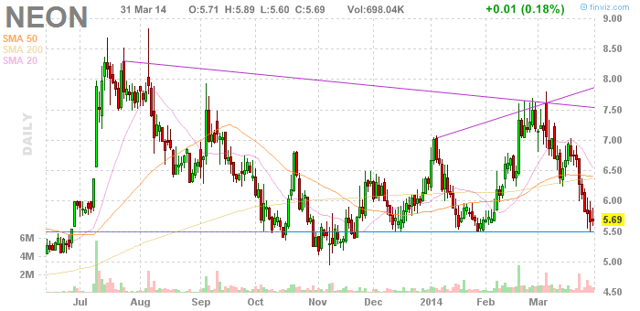 As the chart above shows, Neonode shares have been stuck in a trading range between around $5.50 and $8.50 for the past year. More recently (in early March), this stock spiked up to about $7.50, but the recent pullback in many Nasdaq-listed tech stocks has pushed Neonode shares back down to a very attractive levels, just below $6. Investors who have bought on dips at this level have not had to wait long for the shares to rebound, and that is another reason to consider buying this pullback. More importantly, recent licensing deals and other events appear to be positioning this stock for an eventual "breakout" from the trading range of the past year. Shorts could also help fuel a rally in this stock, especially as financial results improve and this company makes the shift from being a more speculative research and development company that is unprofitable to an emerging tech and parent-rich company that is profitable.
Most investors have heard of touch technology, because it has become so common on many popular tablets, mobile phones and other devices. Even PCs now frequently offer touch-screen sensors, and so do many navigation devices. Neonode has developed patented technology that offers "touchless touch," which is a step beyond what most devices now offer. It offers "proximity sensing," which means that the mobile user interface and device control is no longer limited to the size of the screen or the physical borders of any device. For example, instead of having your hands or fingers cover up a screen on a smartphone or smart watch when trying to interact with it, you could simply move your hands next to the device in order to control it. In order to see this firsthand and experience why this technology could be revolutionary, I strongly suggest watching this Neonode video. Neonode also offers multi-sensing technology for in-car systems, which offers tremendous potential growth opportunities in the future. To see how Neonode's multi-sensing touch technology is powering in-car systems for Volvo, click here.
Neonode was able to secure a number of important licensing contracts in 2013, and those deals should start to have a meaningful impact on revenues and profits in 2014. A press release from this company details the broad range of devices covered under one deal and the long-term impact it should have for Neonode, the release states:
"In addition, during 3Q we signed licenses with two of the world's largest consumer electronics OEMs in Korea, with whom we initiated volume projects across multiple sectors, such as mobile computing, childrens tablets, peripherals, smartwatches, and white goods", Mr. Eriksson continued. "Gaining entry into two companies of this caliber is a major accomplishment, as their ability to quickly drive high-volumes across many sectors should be a major boon for Neonode in the coming years."
Neonode has a solid balance sheet, with nearly $9 million in cash and no debt. This reduces risks for investors, especially since the cost of developing the "touchless touch" technology has already occurred. In the past, a potential downside risk was the limited revenues and the losses this company has posted. That is what the shorts have seemed to focus on. However, with the technology already developed, patented and licensed, this company is being "de-risked" for investors, as it is transformed from being a development-stage company to one with revenues and profits. Analysts expect the company to post very limited losses of just 11 cents per share on revenues of about $14 million in 2014. However, revenues are expected to surge in 2015 to about $72 million and cause profits to jump to around 70 cents per share. This company has filed over 100 patents, and continues to file more. As its patent portfolio expands, so should its licensing revenues. With the revenue and profit growth this company is expected to see in the coming years, it would not be surprising for this stock to have a price-to-earnings ratio of at least 25 times. That would imply a much higher share price of about $18, if the company meets earnings estimates of 70 cents for 2015.
Let's take a look at another player in this industry for valuation purposes: Cypress Semiconductor (NASDAQ:CY) offers a variety of products, which include lighting and power controllers, USB controllers, memory chips, etc. The most valuable technology it has could be its touch-sensing products, which are being used in mobile devices, tablets and other consumer products. Cypress Semiconductor is a well-known leader in the industry, so it is worth considering the valuation of this stock. Analysts expect Cypress Semiconductor to earn 51 cents in 2014 and 67 cents in 2015. It's hard not to be bullish on Cypress Semiconductor due to its management and technology, but when you consider that it trades for about double the price of Neonode shares, it makes me want to buy more Neonode. If Cypress Semiconductor is expected to earn 67 cents for 2015 and trades for over $10, and Neonode trades for nearly half that level and is expected to earn even more in 2015, it shows just how much upside Neonode shares have. RBC Capital is bullish on Cypress Semiconductor shares, with an outperform rating and a $12 price target. While that could give Cypress Semiconductor shares upside of about 20%, I prefer the upside of more than a double for Neonode, especially since it has such a solid balance sheet and major revenue and profit growth potential.
It seems reasonable to ask questions like why is Neonode so undervalued when compared to Cypress Semiconductor, and I think there are a couple of good reasons. First of all, Neonode has not yet turned the corner into being profitable, and it is also not as well-known, but those two factors could be poised to change as Neonode's technology goes more mainstream. Another reason why the stock is still cheap is because it has taken longer than some investors expected for licensing deals to materially change financial results. Impatient investors are selling this stock due to what I believe is short-term thinking and a desire for instant gratification. Many of Neonode's major licensing deals were only signed in the last half of 2013, and it takes time for this technology to be incorporated into devices and rolled out for consumers. For example, on October 7, 2013, Neonode signed a licensing deal with Lierda Science & Technology Group for its "multi-sensing touch technology", which will be used in a variety of industrial system applications, such as outdoor, point of sale and other display products. Many of the licensing deals that were signed in 2013 are expected to result in product launches and revenues in 2014, which is what should be the game-changer. With the revenue growth and the move towards profitability coming this year, there should be nothing left to hold back this stock. It's important to remember that Neonode has a competitive advantage because of its strong patent portfolio and because it already licensed its technology to many of the world's largest electronics makers. This should allow its technology to go "mainstream" in the next couple of years, and that is one reason why the stock price is likely to change for the better in the future. In yet another sign of Neonode going mainstream and generating more momentum, it announced (on March 13, 2014) that its "Multi-touch PC Solution" is now certified for Windows 8. This will allow the company to enter the PC market in a meaningful way. Finally, I would add that since the stock valuation is so much lower for Neonode, and because it appears to have stronger growth prospects, it might be a lower-risk investment when compared to Cypress Semiconductor. Let's take a look at what analysts are saying about Neonode.
On March 11, 2014, analysts at Ascendiant Capital initiated coverage with a buy rating, and set a $11.25 price target. The bullish view was detailed in a recent article, which stated:
"We believe NEON stands the best chance of all the ITO (indium tin oxide) alternative companies to first reach meaningful profitability as its products are tested and proven in millions of consumer devices already in the market, it is Windows 8 certified, its license/NRE model eliminates the risk of stalled manufacturing ramps, and its technology offers the option to add touch capability to new & existing markets for a fraction of other ITO-alternatives."

"We believe the firm is steadily building a stronger customer base, moving away from only niche eReaders and childrens' tablets to mainstream printers, PCs, monitors, and broad automotive applications. All of this takes time, and we believe many short-term investors have had difficulty waiting for the story to mature. The delays and drama from companies such as UniPixel have only created more uncertainty among investors regarding the investability of ITO-replacement companies," he added.
On March 7, 2014, analysts at Cowen set a $13 price target for Neonode shares, and were encouraged by strong prospects for Neonode's printing division. A recent article details Robert Stone's bullish views and states:
"Stone is still positive on Neonoda's printing segment, seeing the first round hitting stores soon and more SKUs appearing throughout 2014 and into 2015. On Neonode's PC wins: Customers likely won't be named until products are in stores, but contract wins could be announced sooner with more specifics about which type of products are involved. We believe entry-level consumer notebooks could be ready as soon as "back to school" and almost certainly in time for the Holiday shopping season. NEON technology should be a fraction of the cost of traditional ITO sensor + capacitive controller solutions, helping drive Win8 touch PC penetration via lower price points, Stone commented. On e-Readers, Stone sees Neonode's technology driving low-cost offerings and possibly reigniting the segment."
On March 10, 2014, analysts at Zacks Equity Research announced a buy rating for this stock, and stated it was "looking for shares of NEON to move higher in the weeks ahead." This research report also suggested that the short interest in this stock was not warranted. A "Tech Guru" article details a $16 price target for this stock, which seems reasonable, and it points out that mutual fund giant Fidelity has purchased a major stake in Neonode, possibly making it the largest shareholder.
In summary, Neonode shares look too cheap to ignore after the recent tech stock pullback. The potential downside risks appear limited at this price, since the company is financially strong and appears poised to turn in significant profits in the coming years. With about 31 patents issued and around 87 patents pending, the value of the intellectual property continues to grow. With valuation comparisons to Cypress Semiconductor making Neonode shares also look greatly undervalued, and with analyst price targets at $11.25, $13 and $16 per share or more, it's time to buy while impatient investors are still selling this stock for cheap.
Here are some key points for Neonode, Inc.:
Current share price: $5.80
The 52-week range is $4.96 to $8.84
Earnings estimates for fiscal year 2014: a loss of 11 cents per share
Earnings estimates for fiscal year 2015: a profit of 70 cents per share
Annual dividend: n/a
Data is sourced from Yahoo Finance. No guarantees or representations are made. Hawkinvest is not a registered investment advisor and does not provide specific investment advice. The information is for informational purposes only. You should always consult a financial advisor.
Disclosure: I am long CY, NEON. I wrote this article myself, and it expresses my own opinions. I am not receiving compensation for it (other than from Seeking Alpha). I have no business relationship with any company whose stock is mentioned in this article.