Commodity markets are pretty quiet right now, with metals and energy having stalled out and all the excitement having migrated to the farming commodities (livestock and grains). We continue to see a melt-up in energy names, but that rally appears to be stalling out save for a few select names. We are watching that area intently right now as profit taking might be in order for certain holdings, but we cannot imagine that we would trim back any of our key holdings in the next few weeks.
Chart of the Day:
For those paying attention to the precious metals, platinum is moving in the opposite direction of gold at this time. The platinum market found support right at the $1,400/ounce level and has now bounced back towards $1,440/ounce. Below is a year-to-date chart showing the move from the $1,400/ounce level. It seems that $1,450/ounce might be the next resistance level.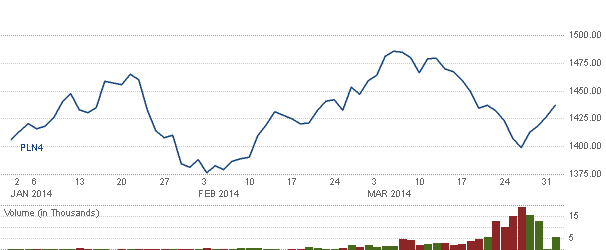 Source: CNBC
Commodity prices this morning are as follows:
Gold: $1,294.10/ounce, up by $14.10/ounce
Silver: $20.065/ounce, up by $0.377/ounce
Oil: $99.02/barrel, down by $0.72/barrel
RBOB Gas: $2.83/gallon, down by $0.0397/gallon
Natural Gas: $4.349/MMbtu, up by $0.073/MMbtu
Copper: $3.048/pound, up by $0.0135/pound
Platinum: $1,437.50/ounce, up by $7.90/ounce
Equipment Makers
While Caterpillar (NYSE:CAT) is getting grilled on Capitol Hill and in the media about its tax practices and how it has set up its international subsidiaries, we thought it might be more productive to instead point out how strong the shares have been in recent months. More importantly, it is not just Caterpillar shares moving strongly higher, but Deere (NYSE:DE) shares as well.
Caterpillar broke out through its area of resistance and has done quite well. Could Deere be next?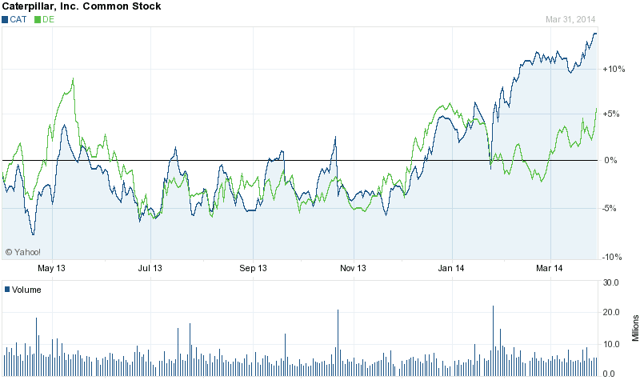 Source: Yahoo Finance
Both companies had issues earlier this year with short sellers laying out the case as to why Caterpillar was a great short idea (something we bought into, although we never short stocks) and Deere management continuing to talk down results and paint a troubling picture moving forward. Deere has been its own worst enemy in recent years with management continually downplaying good results and forcing the stock down when it should be up. We would not be at all surprised to see that trend continue this quarter, but with many commodities now trading at highs, we might get more bullish commentary during the conference call Q&A.
One needs to look no further than the recent price action in corn and other grains to see that this year is looking like it will be another solid year for the American farmer. Although high prices will put pressure on emerging markets, farmers around the world should benefit, including areas which have been weak for Deere in the past year or so. With all of this in mind, we think that Deere is probably the better play between the two equipment manufacturers, especially since we do not see a strong recovery in the near-term in the mining industry.
JPMorgan Goes Negative On Iron Ore
It is mixed news for the iron ore sector as JPMorgan lowered its price target for iron ore in 2014, lowering its target to $118/t from $125/t. It continues to see prices declining in the years ahead as new production hits the market from the largest producers, production that will be low cost in nature and continues to put the hurt on high cost producers around the world. Margins will be squeezed across the board, however the big miners will benefit as they take market share from smaller miners who are forced to either shut down the entire company or their high cost iron ore mines. The smaller players must also deal with the news that China is looking to dramatically increase its iron ore production to meet the majority of its domestic demand via domestic production.
If JPMorgan is correct with its price target, Vale (NYSE:VALE) shares will trade at levels not seen in over two years.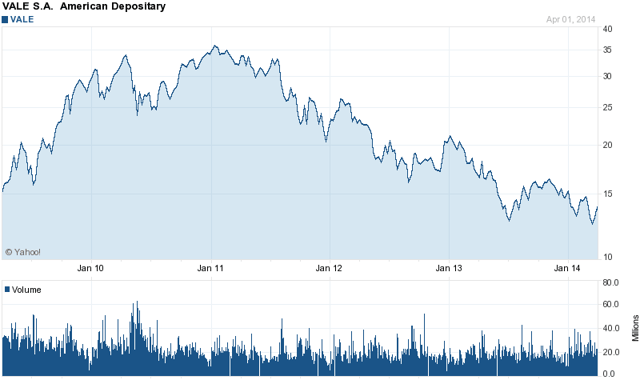 Source: Yahoo Finance
With that said, JPMorgan did say that it was still bullish on Vale (VALE) and has a price target of $24/share - almost double the current share price. Driving that bullishness is the fact that Vale has a lot of low cost production and would become breakeven even at $78/t iron ore prices.
BHP Looking To Shed Assets
The Financial Times is reporting (see article here) that BHP Billiton (NYSE:BHP) is looking at getting rid of its aluminum, bauxite, manganese and nickel operations as those divisions drag down the company's results. The only problem is that it is worried about the sales price it could get for the assets and is now looking at spinning out the assets to shareholders instead. Either way the company would be able to cut costs and improve the its main iron ore, copper, gold and energy core business categories but this latest idea would allow shareholders the luxury of deciding whether they wanted to hold on to the out of favor commodities or simply cash out and invest the capital elsewhere.
It is important to note that this move would stick to BHP's desire to hold only the lowest of cost production facilities while also being one of the largest players in each sector they engage in. Although BHP, Vale and Rio Tinto (NYSE:RIO) all try to invest in these types of assets, BHP's track record is solid when it comes to this specialty and we would defer to them. So when they want to sell, we would have a very tough time trying to be a buyer.
Disclosure: I have no positions in any stocks mentioned, and no plans to initiate any positions within the next 72 hours. I wrote this article myself, and it expresses my own opinions. I am not receiving compensation for it (other than from Seeking Alpha). I have no business relationship with any company whose stock is mentioned in this article.