No End in Site in Weather Extremes
After the most volatile and exciting winter weather market in years for natural gas, a January-February drought affecting Brazilian coffee and sugar production , things have calmed down for those markets. The drought is easing in Brazil for now and winter is over, and traders are focusing in what I believe may be a cool summer over the heart of U.S. energy areas, brought on by a developing El Nino.
Just when you might think the globe's weather and chaotic behavior might exhibit some pacification, the opposite is happening! So far in 2014, truly bizarre weather has continued to be the norm. Some of the extremes so far this year (We are only in early April) are:
*The wettest winter since 1766 that submerged much of England with biblical floods
*Australia was so hot (110 degrees for a week or more at a time) that 1,000 bats fell out of trees, dead from heat stroke
*California suffered from its worst drought since the late 1800's (though critical early spring moisture and improved spring skiing is on the way)
*The driest Russian winter in 35 years (Important for the wheat and market if timely rains do not fall this spring)
*Blizzards buried Tokyo and Alabama, while it was in the 60's in Alaska during January
* 7th Coldest winter in 120 years at places like Chicago and host of many other Midwestern cities
*Record January-February snowfall in New York City (good for salt companies, but bad for the transportation industry)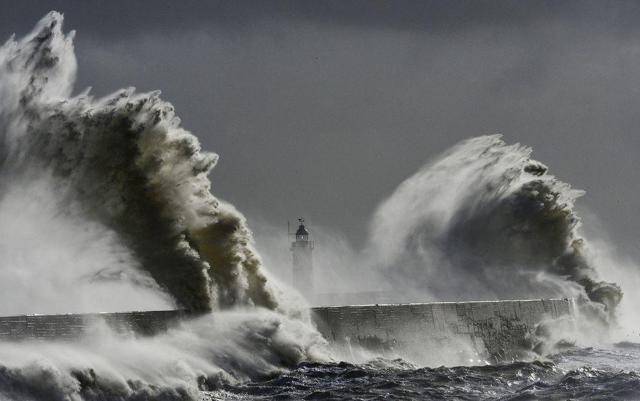 SOURCE: Bloomberg
Waves hit a lighthouse in Newhaven, England, on February 15, amid record levels of flooding. More intense storms are an example of extreme weather brought on by climate change, experts say.
I have tried to elucidate the point that Climate Change has something to do with all of these weather extremes the past few years. However, the political battle continues between party lines, even when more and more scientists agree on the effects of deforestation, CO2, methane, etc. on our planet. Here is an updated, interesting study about the severity of Climate Change.
Chilean Earthquakes Could Continue
Copper prices were the first to react to the earthquake Tuesday night. While I am not in the business to predict copper prices, one interesting ETF to look at is the Global X Copper Miners ETF (NYSEARCA:COPX). The fund is down modestly the last year, so it may be a good buying opportunity. For those who want to be flat out long copper, the Pure Beta Copper ETN (NYSEARCA:CUPM) is something to look into.
Not only was there an extended strike in Chile that affected their exporting ports of copper, but earthquake activity could jeopardize further exports out of the world's number one world supplier of copper.
The Richter scale is the most common means of measuring the strength or magnitude of earthquakes. Named after Dr. Charles F. Richter of the California Institute of Technology, it is a logarithmic scale. The ground motion of a magnitude 8 earthquake is ten times that of a magnitude 7. An earthquake greater than 6 on the Richter scale is considered major, while those over 8 are considered great earthquakes.

On the west coast of South American, Chile is in one of the most seismically active regions in the world. Chile is part of the "Ring of Fire," an arc that includes most countries that border the Pacific Ocean. Most of the west coasts of North and South America are in this earthquake prone area, as are Japan, China, Indonesia, and most other Pacific Rim countries. This is where many of the strongest earthquakes in the world occur.

The Nazca and South American Tectonic Plates

Most earthquakes occur between fault lines of tectonic plates. Like large pieces of a jigsaw puzzle, these plates of the earth's crust rub against each other, and as the tension is released, an earthquake can occur. The epicenter of an earthquake is the point on the surface of the earth directly above this major point of disturbance.

Chile straddles the border of two tectonic plates that are moving against each other at an irregular rate of about 80 mm a year. The Nazca Plate, mostly under the ocean, is forcing itself eastward under the mainland South American Plate. As this tension gives way, tremendous amounts of energy of energy are released in seismic waves. Nearly the entire country lies along this fault, and there is a significant earthquake on average about every three years. Since 1973, there have been over a dozen earthquakes of magnitude 7 or higher on the Richter scale along this fault line."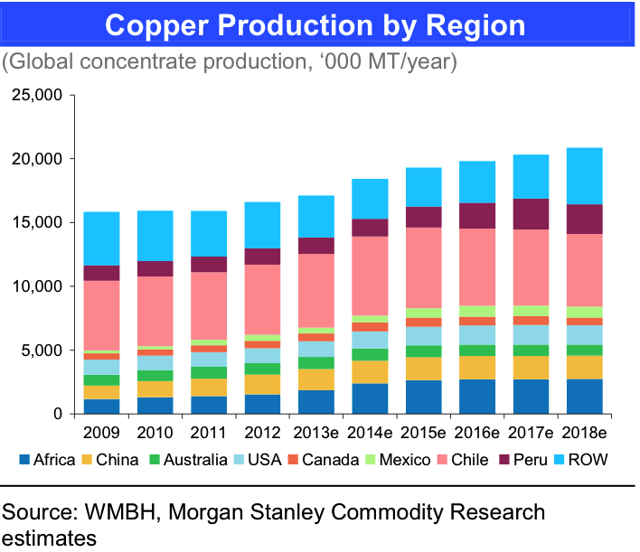 Seismic activity in Chile is some of the highest in history. While we are not in the business of predicting earthquakes, recent interplate disruptions in Chile might cause more concern in the months ahead.
What about El Nino?
There are some signs from satellite and ocean photographs that El Nino may be forming more quickly and the timing of such will have a big impact in commodities and their price trends this summer or fall.
In years past, I have second guessed computer models calling for an El Nino, in part due to the cool ocean temperatures off the California coast and what we call a negative PDO index. Also, up until recently, the present solar maximum we were supposed to be in has been feeble. However, solar activity has recently increased. This reduces what we call Cosmic Rays and allows the equatorial Pacific to warm. Also, volcanic eruptions over Indonesia may spew enough So2 into the stratosphere to cool the planet a bit. However, stratospheric volcanic ash has been known to disrupt ocean currents and sometimes increase forcing mechanisms to also allow the equator to warm, which enhances El Nino.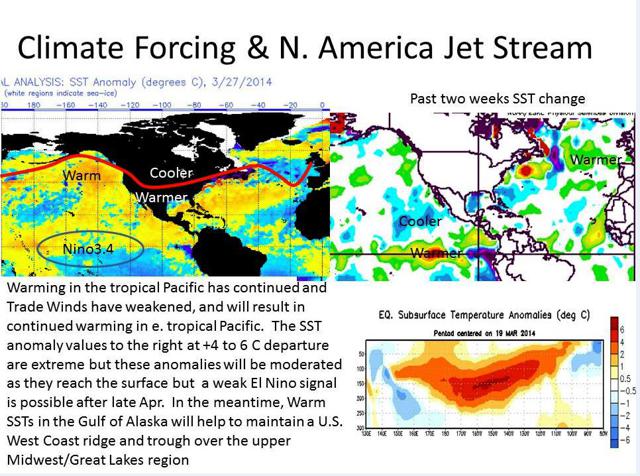 Source: Kevin Marcus
Which Markets May be Affected by El Nino?
The onset of El Nino may result in a cool U.S. summer for Midwest grain and natural gas regions this year. But if El Nino develops later, rather than sooner, this scenario may be trumpeted. There are many different studies and philosophies I use to make longer range predictions and unfortunately, I cannot share most of that for the moment.
While corn prices and the ETF (NYSEARCA:CORN) has rallied on increased global demand, feed usage and the recent USDA report showing modestly lower planted acreage than the last couple years, an El Nino that does form prior to July would bode well for the U.S. corn crop and could mean a 15-25% drop in new crop corn futures, months down the road.
Traders are also watching the Plains wheat drought closely, in which crops from Kansas to Texas are mostly in fair to poor condition. Russian's political tensions and dry weather in Ukraine are also market factors, but pre El Nino conditions may bless some important U.S. wheat regions with important spring time rains. Barring any additional unforeseen political and military risk in Ukraine/Russia (Ukraine produces 6% of the world's wheat crop), the onset of El Nino may also increase moisture in some key Russian wheat areas, which had the driest winter in 35 years. Hence, after my recent bullish attitude in wheat, I do not see much upside potential in the ETF (NYSEARCA:WEAT). This view assumes that the drought stricken Plains wheat areas will see at least "some stabilization in crop ratings, later in April and May.
Cocoa traders pay very close attention to west African weather and El Nino. With stronger European demand for dark chocolate and a world cocoa deficit this year, any added adverse weather development could mean higher cocoa prices later this year. The cocoa ETN (NYSEARCA:NIB) has rallied some 25% since its lows a year ago. If we have what is called an El Nino Mokadi and ocean temps remain cooler NW of Peru, but warm further west, the odds are not greater than 50-50 for summer weather issues for cocoa. However, if a normal El Nino occurs, then 2014-2015 cocoa production may be compromised, especially later this year and early next year. Right now, it is a little too early to predict if indeed this summer's weather, or next years, will have more of an adverse affect on global cocoa production.
For coffee and sugar, a month ago I recommended taking profits (perhaps a week or so too early) in both (NYSEARCA:CANE) and (NYSEARCA:JO) -- two soft commodity ETF's which had a price spike in January and February. Coffee in particular had an enormous price move of close to 90% at one point, due to the worst Brazilian coffee drought in more than 30 years. Prices have since retreated as we expected as conditions have stabilized and above normal rainfall will replenish soil moisture levels for much of Brazil through April.
The erratic December-February Brazilian coffee weather events, are considered by many to be the most unusual climatic occurrences since the great "Black Frost" in 1975.
Coffee is tricky, because while the weather forecast is more bearish for now, comments like this from some of my sources, portends that the Brazil coffee crop might be worse than the market thinks. "In the most affected regions of Brazilian estate coffee plantations, however, with losses above 25%, and that apparently represent the majority. The culprit of the whole process was the lack of water in the soil (almost absent of rainfall), the excessive solar radiation, especially infrared (temperature) and ultraviolet radiations, the very high water vapor pressure deficit in the atmosphere, and soil and crop management. The reservoir of soil water was quickly used up due to the strong evapotranspiration demand that was not replenished accordingly. Both the powerful electromagnetic radiation and the strong water stress broke all the natural defense mechanisms of the coffee tree, which is not a species evolutionarily adapted to an environment so aggressive, furthermore, it is a C3 plant from high altitude and moist understory environment in tropical forests."
It is statements like this that might imply the Brazilian coffee crop falling below 50 million bags this year, and hence, prices much below $1.50-$1.60/lb probably is unwarranted. My guess is that once weak longs exit the market, and barring an unforeseen frost this summer (Brazil winter) in Brazil, global weather issues later in 2014 and/or 2015 will allow coffee prices to rebound again. But we advertised to personal clients 3-4 weeks ago, to take advantage of the price rise hysteria and selling out of the money coffee calls for now. To that now, is a bit too late, so we do not advise it.
While sugar prices have been under pressure again, we will be watching ocean temperatures around India this summer as well, and whether or not a potential short-fall in Indian or Thailand sugar production may develop. Historically, El Nino results in higher sugar prices, but global crop conditions for now, are improving.
Rainfall (below) is easing drought conditions in Brazil and has pressured sugar and coffee as we advertised more than a month ago, when we said to take profits. Rainfall will be even more widespread than this map below shows, in a couple weeks. However, there has been irreversible damage to the coffee crop and while prices could head lower in coffee for a while, longer term depending on El Nino's timing, global production short-falls later this year and in 2015 may result in higher coffee prices, months down the road. If it was not for El Nino, we would have actually recommended shorting coffee and the ETF more than a month ago and given the heavy speculative long position.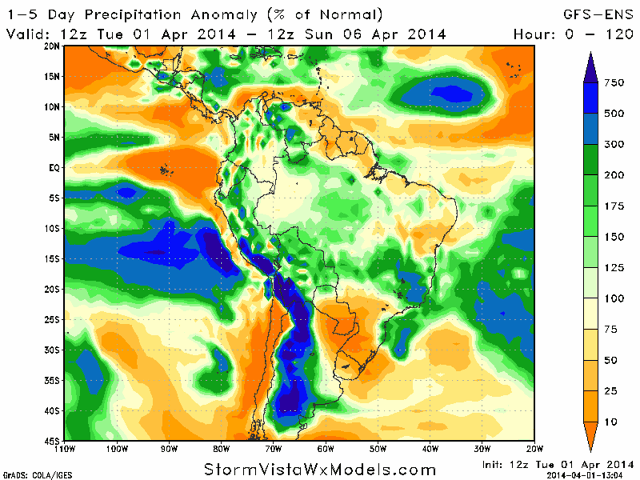 Disclosure: I have no positions in any stocks mentioned, and no plans to initiate any positions within the next 72 hours. I wrote this article myself, and it expresses my own opinions. I am not receiving compensation for it (other than from Seeking Alpha). I have no business relationship with any company whose stock is mentioned in this article.