Back on June 9th we updated clients and also published on Seeking Alpha, pointing out a possible rally in Crude Oil, and the ETF and ETN products that track the commodity such as United States Oil Fund (NYSEARCA:USO), PowerShares DB Oil (NYSEARCA:DBO), (NYSEARCA:OIL) iPath (S&P GSCI Crude Oil Total Return ETN), United States Brent Oil (NYSEARCA:BNO) and the United States 12 month Oil Fund (NYSEARCA:USL). Since the June 9th note, USO has rallied over 8% to $35.66, including a healthy 3 plus percent rally last Friday, and has traded as high as $36.04 in recent sessions, while USL has rallied over 5%.
In our original June 9th note, we cited the recent BP mishaps and how the government will be more closely regulating oil rigs and their drilling operations, which in effect may reduce oil supply and increase oil's price. Secondly, we spoke about the effect that the weakening Euro has had on oil's price and any rebound in the Euro (FXE, the Currency Shares Euro ETF has rallied over 4% from the recent June 9th low of $118.79) should contribute to further strength in Oil as investors may shift money that was previously invested in U.S. Dollars and Gold back to the Euro. In short, a U.S. Dollar price decrease and Euro increase will potentially be bullish for Oil the commodity.
In this weekend's Barron's, Leslie P. Norton notes in an article titled "Stronger Yuan Will Lift A Long List of Stocks, Funds" that
Commodities and commodity currencies, too, will benefit (from a stronger yuan): China is the largest buyer of many industrial commodities, which are priced in dollars.
So coupled with the factors we listed above along with the current scenario of a potentially strengthening Chinese Yuan, the landscape is ripe for another possible leg higher in commodities, oil included. Potential ways to capitalize on the Yuan effect not only in oil, but in other commodities and currencies include such ETFs like FXA (CurrencyShares Australian Dollar), EEO (EGS DJ Emerging Markets Energy), EMT (EGS DJ Emerging Markets Metals and Mining), CYB (WisdomTree Dreyfus Chinese Yuan), CNY (Market Vectors – Renminbi/USD ETN), DBB (PowerShares DB Base Metals), JJM (iPath DJ-AIG Industrial Metals ETN), CU (First Trust ISE Global Copper), JJC (iPath DJ-AIG Copper ETN), COPX (Global X Copper Miners), GCC (Greenhaven Continuous Commodity), GSG (iShares GSCI Commodity), and DBC (PowerShares DB Commodity Index).

As a secondary point to our June 9th note, we also noted that Natural Gas the commodity could also see potential upside given the increased government regulation and the current landscape surrounding oil drilling, and that related ETFs and ETNs could benefit. UNG (U.S. Natural Gas Fund), UNL (U.S. Natural Gas 12 Month Fund), and GAZ (iPath DJ-UBS Natural Gas ETN) are all basically flat since our June 9th note, but have traded in a volatile pattern since the note. UNG by June 14th for instance, traded as high as $8.84, a 7% return since our original note, amidst heavy upside call buying across consecutive trading sessions in the July 9 calls in the ETF as noted in our 6/16 edition of the S1F ETF Daily.
Chart for USL (U.S. 12 Month Oil Fund)
click to enlarge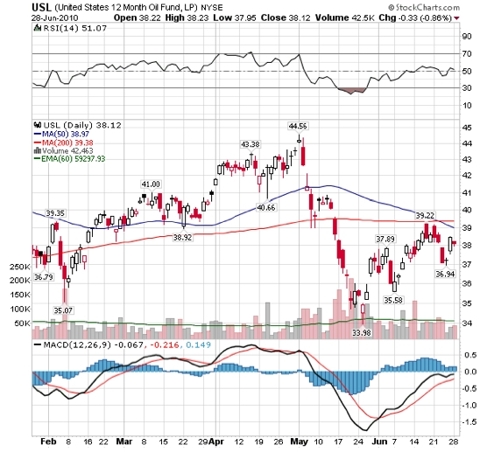 Click to enlarge
Chart for UNL (U.S. 12 Month Natural Gas Fund)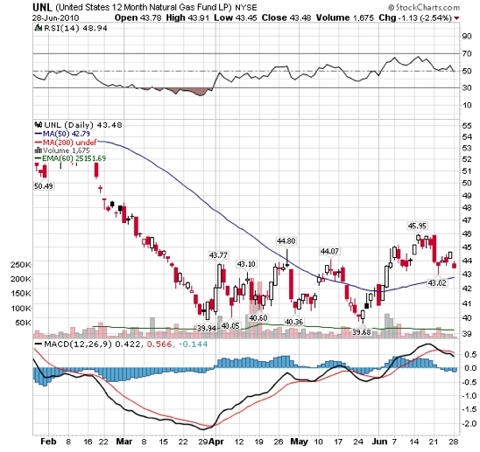 Click to enlarge
Chart for GCC (Greenhaven Continuous Commodity)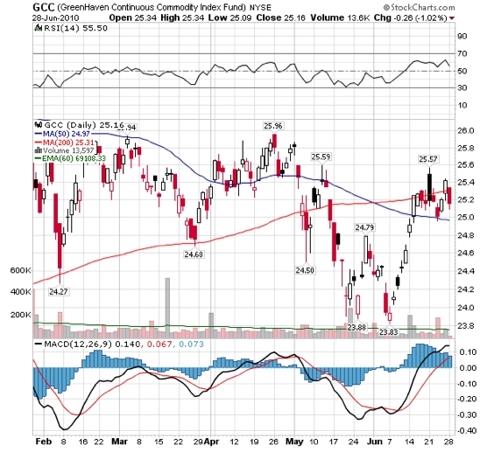 Click to enlarge
Chart for CYB (WisdomTree Dreyfus Chinese Yuan)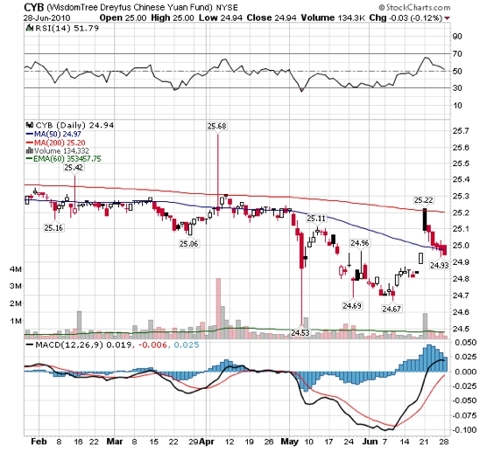 Click to enlarge
Disclosure: No positions