Ouch. Four nasty days followed by a glimmer of hope on the one day that should have topped off a strong pullback with a grand finale of selling. Instead, stocks clawed back to a slight gain on Friday, forcing us to question just how serious the bulls were when they kicked things off last week.
We'll look at the nitty-gritty below, but first, a quick recap of the economic data that was driving the move (and a look ahead at this week's announcements).
Economic Calendar
As we mentioned a week ago, home sales and home price data would kick-off last week's trading, and round out the picture of the real estate industry that first started being patient by the prior week's building permits and housing starts. Bluntly, things continued to look bad.
Existing home sales fell from 5.79 million to 5.66 million units, while new home sales fell from 446K to 300K (annualized). Both were below estimates, though one should note that in the aggregate, the total number of homes sold (new plus existing) didn't plummet. It mattered little.
Homes Sales Chart – New & Existing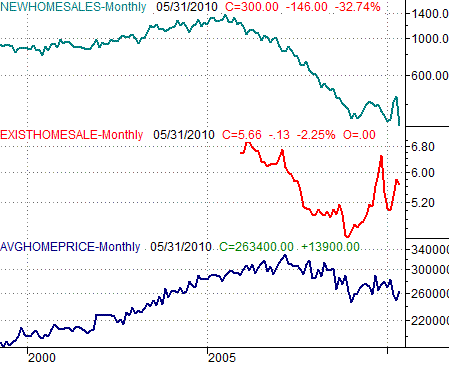 Durable orders with or without transportation orders both came in under estimates; they fell 1.1% with transportation, but at least grew 0.9% when factoring transportation in. Still, it all points to a slowdown.
On the unemployment front, both new and ongoing claims were below estimates, yet both remained in line with recent readings; they were 457K and 4548K, respectively. It's a positive that neither are trending higher again, but investors are understandably getting more and more concerned that the number is stagnant.
And finally, the University of Michigan Sentiment Index rolled in at 76.0 for June, up from last month's 75.5, and above expectations of another 75.5 score. That said, we'll remind you that this particular confidence measure hasn't proven all that useful to investors; it pales in comparison to the Conference Board's equivalence measure.
click to enlarge
Economic Calendar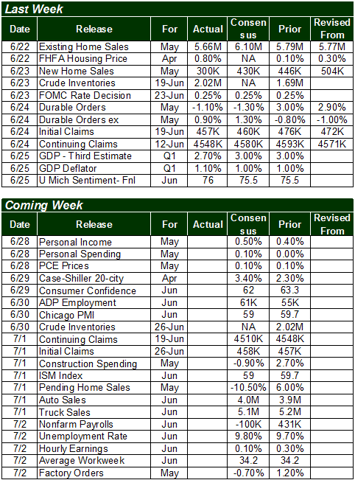 As for the coming week, we've got even more in store …. more than we can look at in its entirety. Here are the highlights to look for.
The Conference Board's consumer confidence number is out on Tuesday,

Construction spending and pending home sales will be posted on Wednesday, but for May's numbers – don't be shocked if we see the same post-tax-credit-dip we saw with related numbers.

Nonfarm payrolls and the unemployment rate are slated for Friday, and both are expected to show an increase in lost jobs – unemployment should tick higher to 9.8%, and nonfarm payrolls are expected to show a loss of 100K jobs. Let's hope that's just some sandbagging.

Also on Friday, factory orders, hourly earnings, and the average workweek are scheduled, though they don't have a major impact on stocks.
S&P 500 Index
There's really not a great deal we can say about the S&P 500, other than the obvious…. As it stands right now, the SPX is under is 20, 50, and 200 day moving averages, which is technically bearish in all major timeframes. As such, the trend is bearish, but Friday's rebound effort (fueled by the fairly anemic financial reform bill) should at the very least have the bulls curious.
Along with the halted downtrend on Friday was a halted uptrend from the VIX – and that's where it gets really curious.
Remember how the 30 level was an effective floor for the VIX in May? Though it finally broke down, it's come back into play as a ceiling on Thursday and Friday. Maybe it's something, or maybe it's nothing. For right now though, it's actually more apt to drop hints than the market indices are.
So, the MO is simple… if the VIX cracks the 30 ceiling, that's not good for stocks. If instead the 30 line holds the VIX down, the bulls are still in the game. In fact, we'll still draw our bullish line in the sand for the S&P 500 at the 1043 mark (blue, dashed), which has proven to be a meaningful low for months now. In the meantime, a wait-and-see stance may be the most prudent.
Oh, and just so you know, Friday's volume bar on the chart below isn't an error – volume really was that strong. Before you jump to the conclusion that it was the financial sector alone that was driving Friday's volume (it was the undisputed winning gainer for the day), you need to know that most sectors participated in the rally, and most saw a nice volume bump. That's the last little detail for Friday's intra-day bounce that has us thinking the pendulum may be swinging bullishly again.
SPX & VIX Daily Chart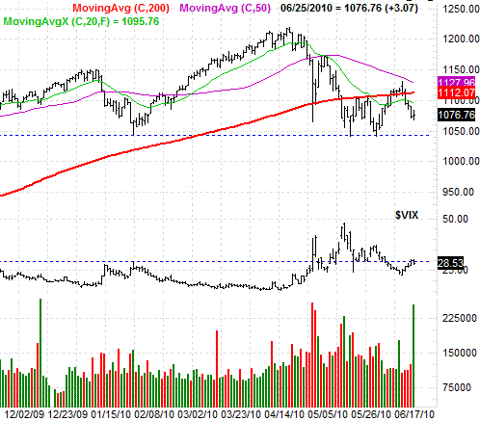 Sector Performance
Guess where the only place to hide last week was? No surprise here…. gold stocks continued their march. Once again though, gold is now going higher simply because it's going higher – and that's a rug waiting to be pulled out from underneath it. Energy was the big loser all week long, but the big winner – financials – only emerged as a winner thanks to Friday's skewed buying.
As far as any trade-worthy trends appearing at the sector level though, we don't see anything consistent enough to chase (up or down). That's not true at the industry level though.
Sector Performance Table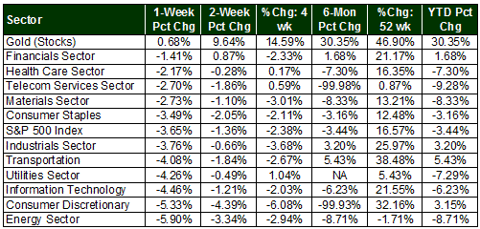 Industry Performance
Yes, you're seeing the table right…. energy refiners were well up for the week, though the broad energy sector was down. That's actually a trend that's been shaping up for a while now, and may be one of the few long ways to make any progress in this go-nowhere market. That said, the strength in the heavy electrical equipment group is nothing new either. Though it's obscure, the consistent and reliable bullish steps we've seen here deserve a closer look.
As for the losers, they've all been habitual losers for a while now. Notice that two of the worst six were from the retailing arena… an illness that may be infecting other closely related industries.
Industry Performance Table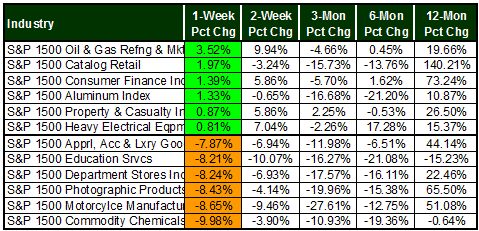 Disclosure: No positions