This is part 14 in a continuing series of articles discussing building a portfolio of dividend income equities. The strategy seeks to use value investing principles and apply them to stable companies offering reliable dividends. Further safety is sought by diversifying through a wide range of industry segments and often using multiple tickers in each of those segments.
Series parts 1, 2, and 3 lay out the philosophy, strategy, and methods of the Tortoise Strategy and Use of Covered Option Writing to boost performance. I recommend readers review each of these first 3 initial parts. Beginning with part 4, each subsequent installment reviews and analyzes one of the 16 tickers identified in the preliminary screen (listed in part 4). A full index of links to the complete series, including future installments as they occur, is available here.
PPL Corporation
| | | | |
| --- | --- | --- | --- |
| PPL Corporation (NYSE:PPL) | $ 33.14 | $ 1.49 | 4.50% |
(image source: PPL investor relations)

PPL Corporation , founded in 1920 and headquartered in Allentown, Pennsylvania, is an electric utility serving parts of the eastern United States and the United Kingdom. PPL generates over 19,000 megawatts of power from fossil fuel, hydro, and nuclear energy facilities. In addition to its energy generation and distribution businesses, the company also buys, sells and trades energy fuels, petroleum products, coal, and renewable energy credits.
This is the third and final utility company we shall look at in this series. The screening filter identified several such companies because this sector generally is stable with a good record of paying consistent dividends. Often considered good defensive stocks, the utility sector has been performing very well as the broad markets probe new highs in advances some think mark the late stages of the bull market.
Shares of PPL Corp. have traded rather predictably for most of its history. The slowly rising channel since April 2010 is both consistent and volatile, extending a steady slope channel with broad boundaries spanning a fairly consistent 15% trading range. This type of pattern can be excellent for covered option writing. Its well defined upper and lower limits allow confident choice of strike prices and relatively high premiums.
(click to enlarge) (source: yahoo.com)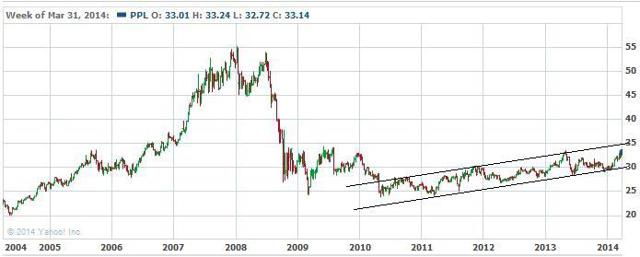 Like most utilities, many investors are attracted to PPL Corp. for its long history of reliable and increasing dividends. The YDP chart confirms it to be a good fit for a dividend income equity investment pattern of valuation. Investors bid price up and down in reciprocal response to dividend distribution growth, so as to yield a result of relatively stable trends of effective yield rate. The correlation of these 3 variables is defined by the mathematical Y = D/P (Y is yield, D is dividend distribution, and P is share price). This is characteristic of dividend income equities and indicative that yield rate can be a measure of value. For those not familiar yet with YDP charts, I refer you to my introductory article on YDP chart analysis and its precursor article with several YDP chart interpretation examples.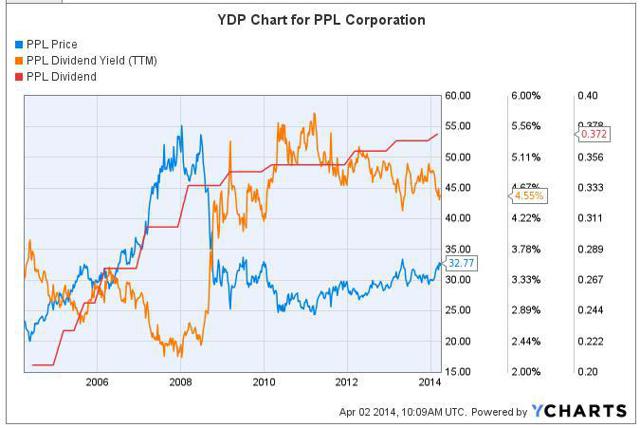 PPL's YDP chart shows a post global financial crisis yield focused around 4.7%, fluctuating narrowly, mostly concentrated in 4.25% to 5.25% limits. This is a steady, predictable, well run company focused on providing that consistency to stakeholders. The 2013 impairments and write-offs of discontinued and re-evaluated operations paves the way strong 2014 results. Further, almost all of the forecast, current year operating income is based on regulated activities, a number easy to determine. Rate increase approvals from regulatory bodies are in the pipeline for this year also.
Dividends have grown well over the years. Management understands its shareholder goals and provides a focus on these income distributions. PPL has increased its dividend eleven times since 2000, and has paid a common stock dividend to shareholders every quarter since 1946.
Payout ratios are solidly sustainable, in line with their historical trends at the current 77.7% ratio. Somewhat high compared to other industries, the regulated nature of utility sector structure provides a secure stream of income and cash flow that management can anticipate, plan for, and adapt to with minimal surprises.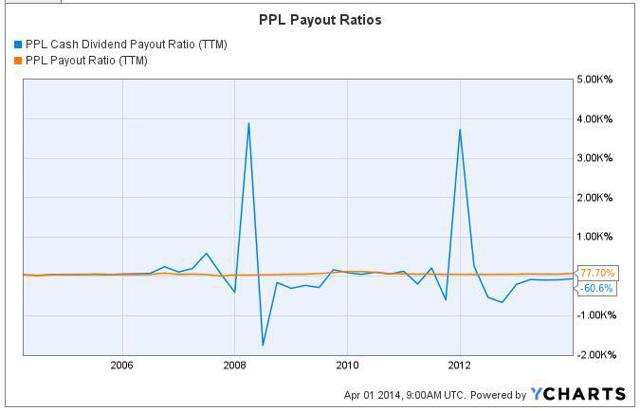 Traditional value metrics show PPL to be well positioned in comparison to competitors. The superior operating margins only demand a small premium in P/E and Price/Book ratios when contrasted to the rest of the utility industry.
(source: yahoo.com)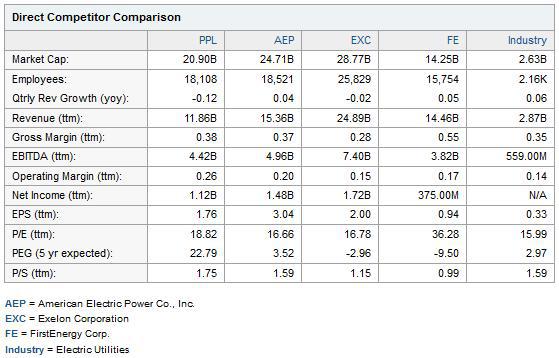 Management effectiveness is reflected in the performance trends. This is a mature company with generally flat or very slow growth trends. Near term dips relate to write down impairments and also include some energy commodity trading losses for the past year.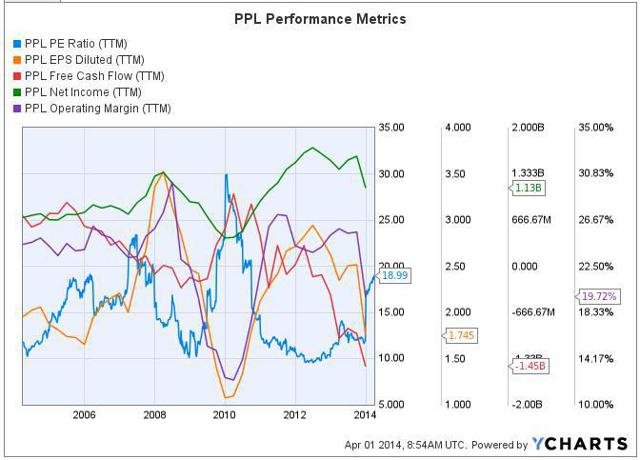 Overall, this is a company for income focused investors that demand a minimum of performance volatility and do not seek aggressive growth in shares nor distributions. Investors seeking this kind of stability should consider accumulating anytime shares dip near $30.00, adjusting for the slowly rising channel limits as time passes.
In summary;
PPL Corporation is valued as a dividend income equity and a slow growth stock.
The company has paid a dividend every quarter since 1946, increasing its dividend 11 times since the year 2000.
Shares are currently trading in the upper half of their well established trading range. Interested investors should wait for price dips near $30.00 to accumulate shares.
The current payout ratio of 77% is consistent with long term historical rates and dividends are considered safe and likely to continue to grow in the future.
Premium return rates should be examined and considered along with the balance between the investor's income and growth focus to determine which, if any, covered option strategy is best right now.
Covered Options to boost performance:
Covered Calls (left side of chart)
With current prices of $33.13, the shares are trading about 10% higher than the lower limit to their established trading channel. The upper limit currently is at $35.80 and rising slowly. Current share owners should examine Call option strikes above the projected upper limit to the trading range (currently $34.05). The projected upper limit for mid January 2015 is about $35.25. None of the call premiums look very attractive. The 1/17/2015 $35 Strike Call with a premium of $0.50 for 290 days ($0.63 when annualized to 365 days) would boost the 4.5% dividend to 6.33% (a 40.67% boost).
(click to enlarge) (source: schwab.com)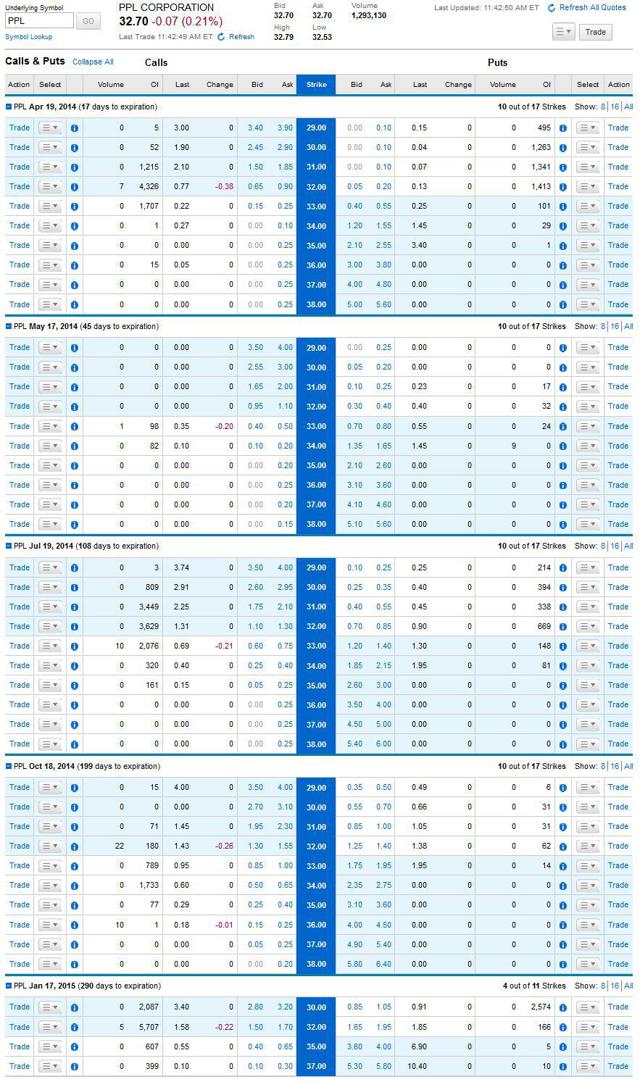 Cash Covered Puts (right side of chart)
Those interested in PPL shares, but not currently owning a position, should avoid the current prices over 50% above the lower limit of the established trading channel. Examine Put Strike prices near the lower limit of this channel (currently $30.00). The 1/17/2015 $32.00 Strike Put with premium of 1.85 for 290 days provides an annualized 7.52% yield on your covering cash and a potential entry point near the projected lower trading limit at that time.
Conclusions & Recommendations:
Shares of PPL Corporation should be of interest to conservative dividend income investors seeking a solid dividend and slow growth.
Shares are currently trading above the midpoint of their long established rising channel.
Cash covered puts offer the best strategy for establishing a well priced entry.
Current holders sell the 1/17/2015 $35 Strike Call with a premium of $0.50 for 290 days ($0.63 when annualized to 365 days) to boost the 4.5% dividend to 6.33% (a 40.67% boost).
Investors without a position that find the company of interest should sell the 1/17/2015 $32.00 Strike Put with premium of 1.85 for 290 days, for an annualized 7.52% yield on your covering cash and a potential entry point near the projected lower trading limit at that time.
Always be aware of ex-dividend dates and the potential for call, dividend capture and Strike price adjustments by the option clearing house when writing contracts across dividend months.
In part 15, I will discuss Lorillard (NYSE:LO). Each subsequent part of the series will discuss and evaluate one more of the original 16 tickers identified in the preliminary screen for building your Tortoise on Steroids portfolio.
I hope you will join me as I detail the use of covered option writing on quality dividend income equities to develop a model portfolio for the Super Tortoise. Simply click on the bold link labeled FOLLOW above the title at the top of this article to get an email notice of my new articles when they are published.

Disclaimer: I am not a licensed securities dealer or advisor. The views here are solely my own and should not be considered or used for investment advice. As always, individuals should determine the suitability for their own situation and perform their own due diligence before making any investment.
Disclosure: I have no positions in any stocks mentioned, and no plans to initiate any positions within the next 72 hours. I wrote this article myself, and it expresses my own opinions. I am not receiving compensation for it (other than from Seeking Alpha). I have no business relationship with any company whose stock is mentioned in this article.
Additional disclosure: I am short the LO June 2014 puts.