Back in 2007, solar stocks saw exponential gains as the price of ol and other fossil fuels soared. Over the next couple of years, things were not quite as rosy. As oil prices pulled back, interest in alternative energy waned, and became almost non existent after the economy fell off the cliff in 2008. Recently, a decline in government subsidies and concerns about the euro and the yuan have kept solar stocks, particularly those based in China, from seeing any sort of sustained rebound.
Very recently, however, solar stocks have slightly outperformed the S&P. Could this be a sign that value investors may be hopping on board this time around. The dismal environment over the last two years for the stocks combined with a favorable environment for the companies has brought valuations way down. One stock with a very low risk profile is JASO, JA Solar Holdings.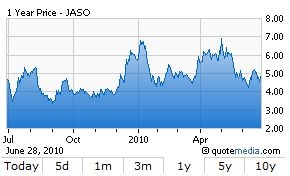 The company is based in China where the government recently announced it will take the first steps to allow the Chinese currency to appreciate against the dollar. Although seemingly bad for JASO, the yuan revaluing will likely be very slow and the stock has already been sufficiently beat down from weakness in the euro.
Recently, the euro has been on the rebound, however, and gains there will likely more than offset any declines from the yuan. Being based in China already gives the company a huge cost advantage with labor and capital that is not affected by currency shifts.
Although government incentives and subsidies for the industry are expected to decline in China and Europe in the near term, a surge in these incentives back in 2007 helped the sector take steps to find stability and move towards becoming more self sustainable. Most notably was their ability to bring cost's way down bringing them closer to a traditional energy model. These companies are now primed and ready for a new surge of interest in alternative energy. Production has been streamlined, they just need demand to start accelerating.
This surge may come once again from the price of oil, which has been on the rise again recently. JASO may stand to benefit substantial, especially if China decides to embrace alternative energy this time around the way the U.S. did back in 2007. Getting both superpowers to begin competing for alternative energy would be the ultimate goal.
JASO seems to offer little risk, and a lot of reward potential for the long term. The balance sheet is very strong, with assets outnumbering liabilities by 3 to 1 and close to $300 million in cash. The stock is trading right at book value and has a forward P/E of just 7.56. The company's most recent quarter saw slight positive gains all around, and they have recently provided a strong outlook for the next year or so.
Disclosure: Unbiased, no position