The number of investment grade preferred stocks selling for a market price below $25 is now at 98, over quadruple the number of choices that were available a year ago.
Last year at this time preferred stock investors were faced with extremely high prices, primarily being jacked up by the Fed's QE bond-buying program and fears in Europe that central banks there were going to start grabbing citizens' savings accounts (which they had just done in Cyprus).
At the end of March 2013, only 22 investment grade issues were available below these securities' $25 par values and even those had an average price of $24.75, offering a miserly average yield of 5.46 percent (see Investment Grade Preferred Stocks Still Available For Less Than $25: Q1 2013 Update, April 1, 2013).
But since then, the Fed has started backing out of our market and preferred stock investors are no longer hanging on every word whispered by Fed officials, trying to second-guess what's coming next.
The Preferred Stock Market, Q1 2014
This Preferred Stock Market SnapshotTM chart depicts the preferred stock marketplace at the end of Q1 2014 (April 2, 2014) along with two characteristics that are usually high on the list of considerations for risk-averse preferred stock investors - current market price (above and below these securities' $25 par value) and investment risk (as reflected by investment grade versus speculative grade Moody's ratings).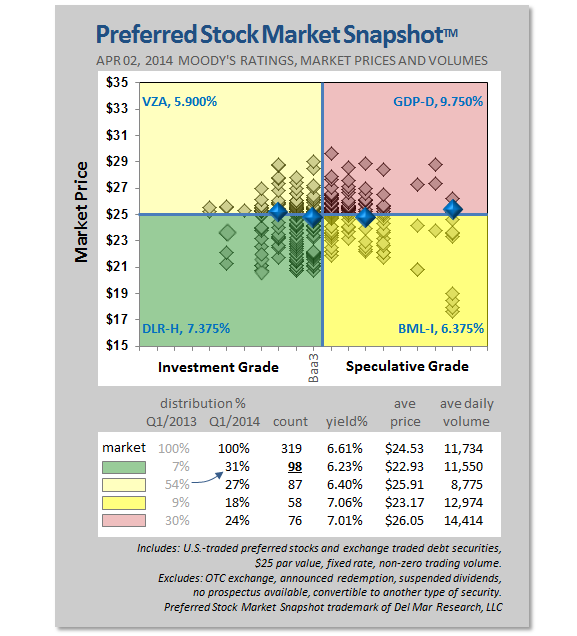 Each diamond represents a preferred stock. The sweet spot of the preferred stock marketplace is depicted in the green lower-left quadrant - investment grade preferreds selling for a market price below their $25 par value.
While there are currently 933 preferred stocks trading on U.S. stock exchanges, 319 meet the criteria listed under the chart. The arrow in the table below the chart points to the migration that we have seen over the last twelve months. As market prices have returned to normal, without the external influences of central bank activities, the percentage of the market occupied by investment grade securities that are priced below $25 has risen to 31 percent, up from only seven percent a year ago.
(Source for preferred stock data: CDx3 Notification Service database, see Disclosure)
What Does $25 Buy?
The purple diamonds on the above chart provide examples (not to be taken as recommendations) of preferred stocks from each quadrant, all of which are trading at, or very near, $25 per share. The dividend rate (coupon) offered by each security is also indicated.
VZA is an Exchange-Traded Debt Security (ETDS) introduced by Verizon Communications (NYSE:VZ) in January. VZA is a bit unusual for Verizon in that the company has not historically favored ETDS as a means to raise capital. While there have been a number of 3rd-party trust preferreds offered over the years that are backed by Verizon debt (primarily by Merrill Lynch, Lehman and Morgan Stanley), the new VZA is the only ETDS that Verizon has issued (see "Preferred Stock Investors: 'Exchange Traded Debt Securities' Offer Same Reward, Lower Risk", March 20, 2012). Verizon is taking advantage of its strong Baa1 rating by offering this ETDS at a miserly 5.9 percent. But investors are still snapping up shares at $25.01.
DLR-H, introduced last month by Digital Realty (NYSE:DLR) at 7.375 percent, stands out among the robust March offerings (see "Digital Realty: Despite Turmoil, New Preferred Is Interesting", March 20, 2014, Rubicon Associates). Digital Realty is a property REIT specializing in the ownership and operation of large data centers, primarily for Fortune 1000 companies. DLR-H has cumulative dividends and is one of four preferred stocks that are currently trading from this company. DLR-H offers a Baa3 Moody's rating and was trading at $24.94 when this data was collected on April 2. DLR's cash is impressive but many are keeping an eye on the company's $5 billion debt and how its new CEO will manage it.
BML was originally issued by Merrill Lynch as MER-I, but since Bank of America (NYSE:BAC) purchased Merrill in January 2009, this has been a BAC traditional preferred stock. BML-I offers a 6.375 percent coupon with non-cumulative dividends. The security has been callable since November 2010, but still trades at a respectable volume (for an eight-plus year old preferred stock). With a speculative-grade rating of Ba3, investors are pricing BML-I at $24.91.
GDP-D was introduced last August by Goodrich Petroleum (GDP) at 9.75 percent. Its Caa2 rating is so low that this security is barely hanging onto the low end of the Moody's scale. The uncertainty introduced into the energy market by the Russia/Crimea activities has boosted GDP's common stock over the last few weeks and preferred stock investors are buying GDP-D at $25.16, up from $24.75 in early-March.
These four securities from four vastly different companies are examples of what $25 buys in today's preferred stock marketplace.
(Source: SEC prospectus filings for VZA | DLR-H | BML-I | GDP-D)
What's next?
Last year it was the activities in Cyprus that caused many of those invested in European securities to move their assets to U.S. bonds and preferred stocks, putting additional upward pressure on prices here. While that crisis has calmed down substantially, we saw preferred stock prices tick up last month in the wake of Russia's land grab.
At the beginning of March, the average market price for the 40 highest quality preferred stocks was $24.61. By the end of March, investors were paying an average of $24.95 for those same securities. But today's market is still much better than the $26.30 we were paying a year ago, as the 40 highest quality securities are now offering an average yield of 6.8 percent.
It's hard to say how much the Russia/Crimea/Ukraine turmoil has to do with the March price bump, but the coincidence, given the history, is hard to ignore. It certainly appears as if preferred stock investors have finally "priced in" the complete end of the Fed's QE program since the current "taper" is no longer dominating price activity.
Disclosure: I have no positions in any stocks mentioned, and no plans to initiate any positions within the next 72 hours. I wrote this article myself, and it expresses my own opinions. I am not receiving compensation for it (other than from Seeking Alpha). I have no business relationship with any company whose stock is mentioned in this article.
Additional disclosure: The CDx3 Notification Service is my preferred stock email alert and research newsletter service and includes the database of all preferred stocks used for this article. Securities identified within this article are for illustration purposes only and are not to be taken as recommendations.