Below are some of the recent negative economic data worldwide:
1. The Conference Board cut its April figure for China's leading economic indicators from 1.7% to just 0.3%. This mistake was due to a calculation error. This is a huge drop from the March value of 1.2%.
2. China is about to sign a free trade agreement with Taiwan. This heavily favors Taiwan. China exports $2.86B to Taiwan, while Taiwan exports $13.84B to China. The removal of tariffs will make it harder for Chinese companies to compete with Taiwanese goods. This likely will put a strain on the Chinese economy, which may already be more troubled than some realize.
3. The Baltic Dry Index has been falling rapidly for several weeks. This tends to indicate that the Chinese economy is slowing. If the Chinese economy slows enough, it will bring on CRE, RRE, and major credit problems. Some pundits have estimated China has $4T in toxic debts. Chanos has estimated 50% vacancy rates in China Commercial Real Estate as China slows. See the BDI chart below.
Click to enlarge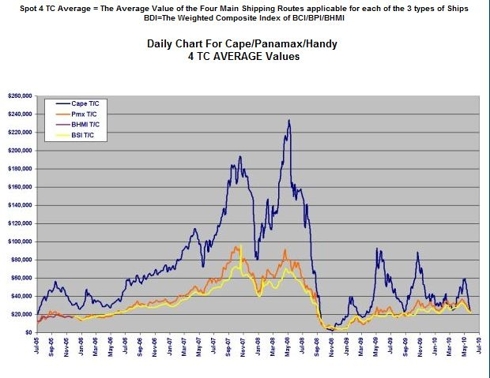 4. The Japanese unemployment rate rose to 5.2% in May. Expectations had been for 5.0%. Plus the Industrial Production number fell -.1% in May. It had been expected to rise 0.4%. Japanese household spending fell -0.7%.
5. The EU money supply (M3) fell -.20% y-o-y.
6. US Existing Home sales fell to 5.66M from 5.79M. Even worse, the market had expected 6.1M.
7. US New Home Sales fell from 446K to 300K. Expectations had been for 430K. Can't get much worse.
8. The US Fed lowered its outlook for the US economy.
9. The headline US Durable Goods order for May was -1.1%, although ex transportation it was positive.
10. US Initial Claims were persistently high, although they showed improvement over the previous week.
11. The US Q1 GDP estimate was lowered from 3.0% to 2.7%. The expectation had been for 3.0%. This didn't make anyone feel good about the coming Jobs report.
12. Greece's bond yields continued to shoot up last week from 9.42% to 10.42%. The 5yr Mid CDS Spread is now 10.95.25bps. The cumulative probability of default is now 67.59%. Many think it will not be able to meet the bailout requirements for the next tranche of aid, which is scheduled for August. If it can't, default and restructuring may be the only answer. Other European countries are seriously troubled. Many have cumulative probabilities of default of nearly 20% or more. In addition to Greece, this list includes: Ukraine, Spain, Portugal, Ireland, Romania, Hungary, Bulgaria, Croatia, Latvia, and Lithuania. Forgive me if I left out one or two.
13. The EU banks have to pay back 442B Euros of 1 year loans to the ECB on July 1. This will likely be a substantial hit to EU credit. I expect we will see some of the EU's sovereign CDS Spreads widening later this week. Perhaps as importantly, this may negatively affect business credit availability. If the businesses can't get credit, they have a harder time operating, they have a harder time creating jobs. They will be buying fewer US products.
14. The BoE warned that the UK could be susceptible to an EU credit crisis. The BoE did not feel there was imminent danger from Greece. However, it felt that UK banks could be hurt by the problems incurred by the many EU banks that were hurt by Greece. One problem would be that the UK banks and businesses would have a harder time getting credit from the EU banks.
15. The US FinReg bill will cause serious disruption / reorganization in the US banking industry. Costs will rise in many cases. Plus the capital requirements necessary to proceed with current banking business will go up. Bernanke has already said that US SMBs are having a hard time getting credit. This is severely hampering job creation. FinReg will exacerbate the situation.
16. We received negative guidance from such majors as McDonald's (MCD), FedEx Corp (FDX), Nokia (NOK), and Best Buy (BBY).
17. The huge oil spill in the Gulf is now expected to lower real estate prices in already depressed areas such as Florida. It is expected to have a negative effect on the tourism and the fishing industries. There is bound to be some cascade effect from these.
18. Just so we don't feel Mother Nature has slighted us, there is a tropical storm, Alex, in the Gulf, which is expected to soon become a hurricane.
I could go on, but data goes out of date quickly. Suffice it to say there are substantial reasons for us to worry about the US and the world economies. This would tend to make one think that the near term market direction is down. The following chart of the SPY gives a good indication of the recent trend.
Click to enlarge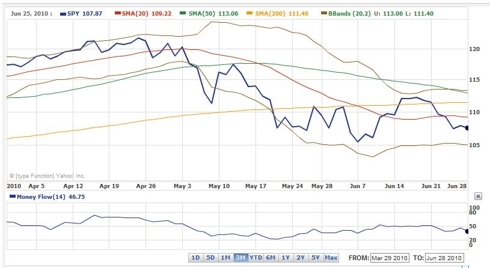 Many think the SPY will test the $104.40 level soon. Some of those believe it will punch through support there this time.

Disclosure: I have a small short position on the SPY.