By Mark Bern, CPA CFA
Qualcomm (NASDAQ:QCOM) has been one of my favorite portfolio stocks since the 2000s. The dividend has grown nicely every year since initiated in 2003. I liked the company's potential earlier, but the shares were over-valued much like everything else with even a hint of technology. I did not catch the bottom, but I have been very pleased with the results nonetheless. But growth is slowing and will continue to be more subdued in the future than in the past. The emerging markets are still experiencing strong adoption rates of smartphones, but much of the growth from developed countries is in the rear view mirror now.
Sales of smartphones in the North America, Europe and Japan will flatten somewhat year over year as the majority of the upgrading is done and the bulk of sales in these areas will be replacements. A replacement sale of a smartphone to a new smartphone only maintains revenue and earnings at current levels; it is the upgrade from less expensive cell phones to smartphones that increases the top and bottom lines. There is also evidence that the replacement cycle is lengthening. Thus, the rate of growth should be less going forward than in the past in developed economies.
Competition is the primary headwind facing QCOM in emerging markets, especially in the largest market of all for new smartphones, China. Marvell is shipping product to China after having spent several years developing a good relationship with China Mobile. And Chinese firms are bound to enter the market, as well. I do not expect patents to hold them back for long as there is just too much money to be made and, after all, it is China. I expect additional competitive pressure in other emerging markets for QCOM but the company is well positioned for continued growth for at least another decade or more. It will just lose a portion of the near monopoly it has enjoyed.
All told, management expects that future growth rates will be ten percent per year over the next five years compared to the incredible compound annual growth rate of over 30 percent that the company experienced the last three years.
With continued adoption and convergence of communications (voice, video and data) onto mobile platforms and devices around the globe, the future growth of a globally positioned company like QCOM is relatively assured. QCOM is the dominant company in the mobile communications infrastructure technology arena and owns the patents on technology that is used in most mobile devices around the globe. If QCOM doesn't manufacture the patented components, it is paid a royalty by those companies that do so using its technology. Competition will eat into that dominant position, but I believe that process will take many years and that QCOM will retain its leadership for the foreseeable future.
Now I want to look at how QCOM has done since I recommended buying shares in previous articles. I have done so twice in the last 2 1/2 years. On December 5, 2011, QCOM shares were trading at $54.49. Including dividends, the shares have provided an unrealized gain of 51.9 percent so far. I recommended QCOM shares again on July 25, 2012 when the price was $57.28, which would have produced a return of 43.7 percent so far. But in the latter article, I also recommended buying the shares combined with an options strategy that reduced the initial cost by $8.30 per share (creating a cost basis of $48.98) and resulted in the sale of the shares at $67.50. I was not optimistic enough! We ended up having the shares called away in January 2014 for a total return of 42 percent. If we had turned around and repurchased those QCOM shares in January, we would own the shares at $74.08. The shares price now stands at $80.14 (as of the market close on Tuesday April 2, 2014). The share appreciation since January 20 has been 8.2 percent.
My point is that no matter how you invested in QCOM shares, the results have been very positive. Also, the strategy actually worked because when I have shares called away, I generally buy them back immediately and collect more premiums from selling another set of options to reduce my cost basis again. Even if I had not sold more options, my total return from the combined transactions would still exceed the return if I had merely bought the stock and held it. I do not like it when one of my positions gets called away, but the active management has several benefits: lowers my initial cost (by collecting the premiums), adds to my income (especially when the stock does not get called away) and increases my total return by several percentage points. The strategy is neither necessary nor appropriate for all buy-and-hold investors, but some may find it interesting. I generally only use such options strategies in my tax advantaged accounts. Otherwise, the tax implications can eat into the results.
At the time of the July 2012 article, I had a five-year price target on QCOM of $97. My new five-year price target is $106 which, if attained, would result in total compound annual returns of 8.2 percent. I prefer buying when I expect a return of ten percent or more per year. That would require a purchase price of $75.25 or lower.
Looking at the one-year chart for QCOM, it would appear that such dips are rare.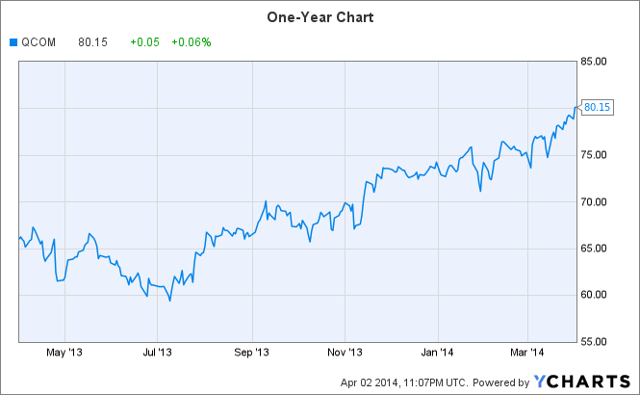 Click to enlarge
QCOM data by YCharts
But if we look at the five-year chart, we see a different picture.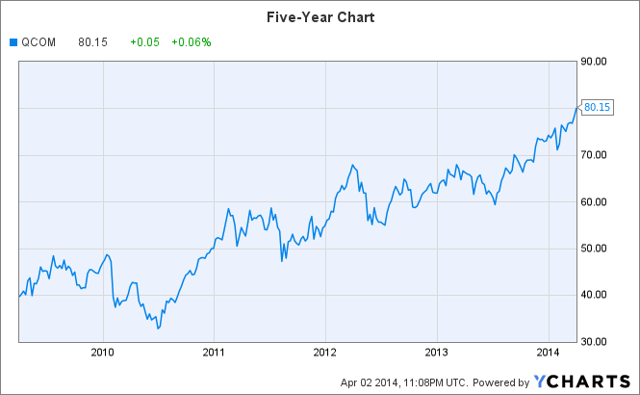 Click to enlarge
QCOM data by YCharts
I like my chances of getting shares at my entry target price.
The current bull market will soon be the fourth longest in duration since 1929. If you are considering hedging your equity portfolio and would like to consider an inexpensive strategy, please consider my series, "Protecting Your Equity Portfolio for Less" series.
I hope this article was helpful in some way to readers. As always, I welcome comments and will try to address any concerns or questions either in the comments section or in a future article as soon as I can. The great thing about Seeking Alpha is that we can agree to disagree and, through respectful discussion, learn from each other's experience and knowledge.
Disclosure: I am long QCOM. I wrote this article myself, and it expresses my own opinions. I am not receiving compensation for it (other than from Seeking Alpha). I have no business relationship with any company whose stock is mentioned in this article.