Consistent Growth in Revenue and Net Profit
Disney (NYSE:DIS) earned a place on Forbes World's Most Valuable Brands list at number 17 as of May 2013. Disney is the entertainment king that has consistently amazed generations with its entertainment, and this has translated into consistent growth in its top and bottom lines.

If we analyze Disney's performance over the past decade, we see that its revenue grew each year. Although its revenue grew at a low CAGR of 4.33%, it has been consistent over almost a decade. Its revenue grew at a higher rate than the decade-average CAGR in 2013 at 7.14%. Gross margins have also increased in recent years, as shown in the table above.
Earnings per share have grown at a healthy CAGR of 13% over the last decade. Disney has consistently shared its profits with shareholders in the form of dividends and share buybacks. The dividends increased every year at a CAGR of about 15% since 2004. This article explores the reasons why Disney will continue this growth trend in the many years to come.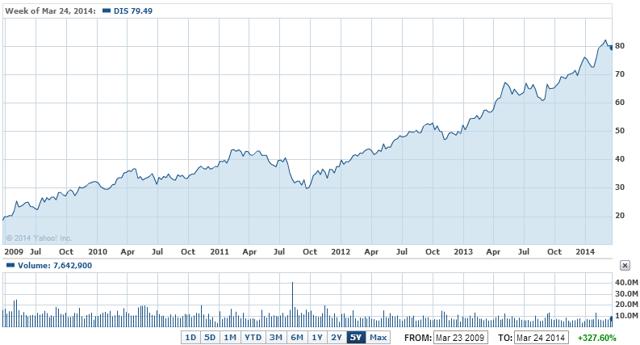 Over the last five years Disney's price performance has remained consistent, showing an upward trend. The stock produced a fantastic return of 327.60% in the last five years. In 2013, Disney's market cap grew from $100 billion to $140 billion.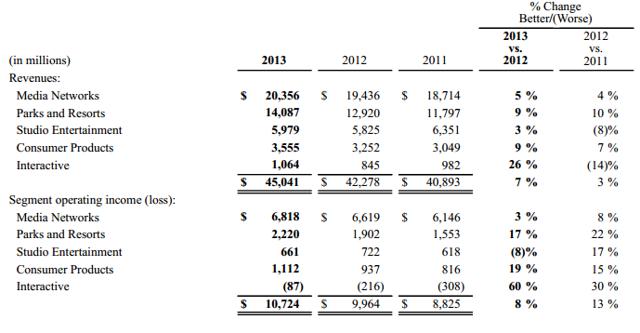 If we look at Disney's revenue performance in 2013, we see that all of the company's segments showed positive growth with an overall growth of 7% over 2012. The operating income of all the segments except studio entertainment showed growth with an overall growth in operating income of 8% compared to 2012.
Amazing Animation
Disney has always amazed the world with its amazing animations. Animation is at the heart of Disney and the company has never stopped improving its quality. Each new animated movie brings with it the graphics that give its audience an unmatched experience. "Frozen" is an example of Disney's high level of creativity and innovation. "Frozen" has achieved a number of awards, including Oscars for Best Animated Feature and Best Original Song.
"Frozen" has made more than $1 billion in global box office and it's all set to become a record breaking movie. "Toy Story 3" previously held the crown with a take of $1.06 billion. Disney's "Maleficent" is making waves in the box office with its trailer. The "Incredibles 2" and "Cars 3" are also coming to the theaters and are expected to do well. In the coming year, many more Disney pictures are expected to hit theaters, including "Inside Out", "Pirates of the Caribbean 5", "Star Wars Episode VII", "Finding Dory", "Cinderella", and "Ant Man". Many of these movies are sequels to previous movies that did very well at the box office. A repeat performance of their predecessors may indicate that Disney is going to continue its growth through these pictures.
Park and Resort Segment
The park and resort segment is Disney's second largest revenue and profit producing segment. Over 31% of the revenues and over 20% of Disney's operating income in 2013 came from this segment. This segment posted good growth over the last two years. In 2013, revenues grew by 9% and the operating income grew by 17% compared to 2012. In 2012, the revenue from this segment grew by 10% and the operating income increased by 22%.
The following chart, taken from marketrealist.com summarizes the percentage change in yearly performance and change in per capita guest spending from 2005 to 2013. Guest attendance has increased in the recent years. Per capita attendance grew by around 7% in 2011, about 5% in 2012, and nearly 7% in 2013. There is also a consistent increase in the per capita guest spending in last three years that can be seen in the blue bars in the following graph.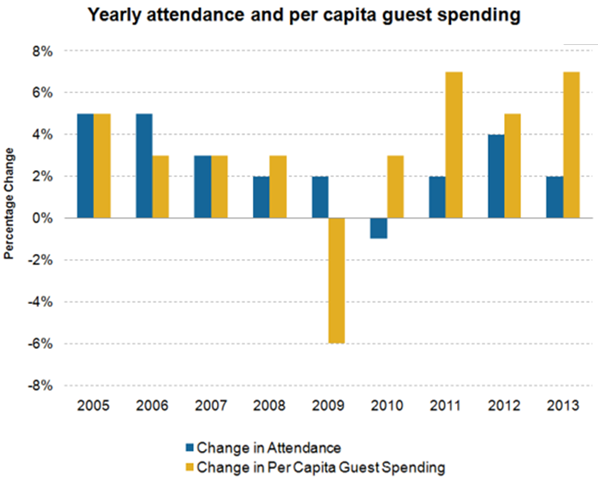 Source: Chart from marketrealist.com
DIS holds a big share in North America's theme park business. Disney runs five of the top ten theme parks in North America. DIS is expected to remain a dominant player in theme park business in NA in the foreseeable future driving strong cash flows for this segment. Growth in the attendance and per capita spending at the theme park is expected to continue since a recovery in the US economy is expected.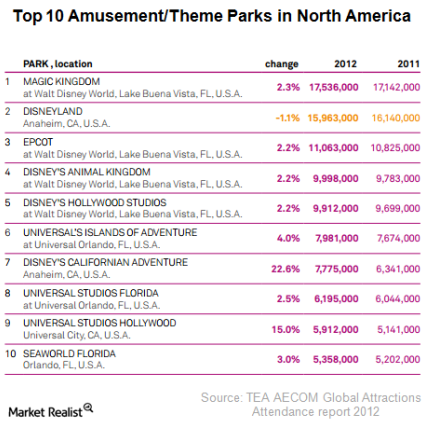 Disney is working on a Disney Resort in Shanghai, China that is expected to be open by the end of 2015. Disney holds a 43% stake in this joint venture between DIS and Shanghai Shendi Group. This will give Disney access to the rapidly developing emerging market, and it is expected to give this segment good growth in its top and bottom lines in the many years to come.
Conclusion

Source: Yahoo Finance
Disney is trading at a price that is around 20 times its earnings, and that is lower than the industry P/E of 30.56 times. The PEG ratio incorporates the expected future growth, and is also lower at 1.27 times compared to the 2.96 times PEG ratio of the industry. This also suggests that Disney is comparatively undervalued. Its consistent performance in the past, financial strength and growth prospects make Disney a good candidate for long-term investment.
Disclosure: I have no positions in any stocks mentioned, and no plans to initiate any positions within the next 72 hours. I wrote this article myself, and it expresses my own opinions. I am not receiving compensation for it (other than from Seeking Alpha). I have no business relationship with any company whose stock is mentioned in this article.