Shares of Tesla Motors (NASDAQ:TSLA) have fallen off their highs recently. After a run to $265, shares fell to $203 in a month. Tesla helped to lead a momentum-based selloff in the market, with many recent winners falling out of favor. In Tesla's case, concerns were building a little over Q1 as well as the gigafactory. But all hope is not lost. A recent report suggests one country loves Tesla's vehicle, and that should certainly help the company in Q1. Shares have recovered about half of their recent losses, and stand today at $230. In this article, I'll cover the latest news regarding Tesla.
Maybe Q1 isn't too bad:
About a month ago, some concerns were starting to build that Q1 was coming in weaker than expected for Tesla. After such a strong Q4 and finish to 2013, Tesla did give decent guidance for the 2014 year in general. However, the company did say that things would improve throughout the year, and the second half of the year is expected to be better than the first. In my latest Tesla article, I detailed how some Q1 weakness was being priced in.
Production is expected to outpace deliveries in Q1, as Tesla works to move vehicles around and support European and Asian markets. Obviously, European sales will be key for Q1. A recent report states that Tesla had nearly 1,500 deliveries in Norway during March, up from just 563 in the first two months of the year. The report says Tesla has delivered 2,057 vehicles in Norway this year, which would all be in Q1. If this report is true, it should help calm worries about Q1 results. Additionally, the report states that Tesla had just under 2,000 deliveries in all of 2013 in Norway, meaning Tesla's Q1 in Norway has already outpaced last year's total.
Analysts are getting less positive:
We have seen analysts temper their earnings expectations a little since I last covered the name. After reaching a high of $1.90, 2014 non-GAAP EPS estimates have come down by a dime. A penny or two is for the first half of 2014, with the majority of the reductions being for Q3 and Q4. For 2015, estimates have come down from a high of $3.92 to $3.86 (and they dipped to $3.79 before rebounding). In terms of revenue estimates, Q2 numbers have increased a little, but the rest of the year numbers have come down a little too.
We've also seen two analyst notes that were not really positive. First, UBS started Tesla at Neutral with a $230 price target. The firm sees Tesla's risk/reward slightly skewed towards the downside. UBS is a bit bearish when it comes to Tesla's battery ambitions, mostly on the pricing angle. The firm puts potential upside for 2020 at $372 per share, and downside for 2020 at $41 a share. With Tesla now at $230, there's more risk to the downside than upside based on the firm's bull/bear cases.
Additionally, Wedbush cut its price target on Tesla by $20 to $275. The firm noted increased risk with the company's gigafactory plan given that Panasonic is not on board yet. Additionally, the firm notes that sources are saying that battery material prices are rising due to tight supply ahead of the gigafactory launch. One $20 cut in a price target may not seem like much. However, this firm just a month earlier raised its target from $225 to $295 following the gigafactory announcement. Is this a slight hedge from the firm, or has something really changed? Until Tesla gets a major partner like Panasonic, I'd go with the latter.
Playing out the rest of the year:
Tesla has stated it expects more than 35,000 deliveries in 2014, with the number increasing as the year goes on. With only 6,500 deliveries expected in Q1, that leaves a lot more for future quarters. How does the company get to 35,000? There are a number of possibilities. Assuming 6,500 in Q1, one way is 7,500 in Q2, 9,500 in Q3, and 11,500 in Q4.
Analysts are probably a little more skewed towards the first half. Current revenue estimates call for $3.64 billion this year, of which more than $1.51 billion is expected in the first half. So maybe Tesla does 8000 in Q2 and a little less the second half of the year. When it comes to earnings per share, however, the numbers are even more stark. Of the current $1.80 profit forecast for the year, analysts only expect about 40 cents in the first half of 2014. In fact, current estimates call for half of the year's profit in Q4. Tesla expects margins to improve throughout the year, and a higher revenue number in later quarters means higher earnings per share even if margins don't improve.
The 50-day was held for now:
I mentioned in my previous article that Tesla could find support at the 50-day moving average. In that article, the 50-day was below $200, but it was climbing. The last time Tesla saw this level was right at the Q4 2013 deliveries pre-announcement, which sent shares spiking higher. As you can see from the chart below, Tesla's fall did push shares below the 50-day. However, shares were able to bounce back, and are now above the 50-day.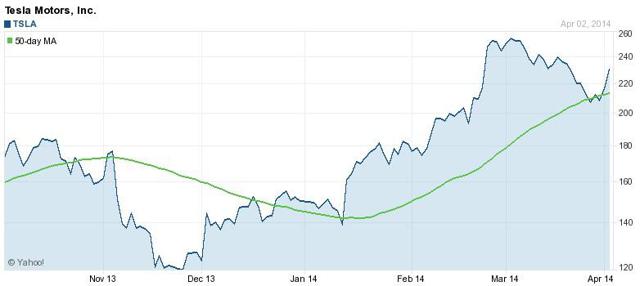 (Source: Yahoo! Finance)
The 50-day is starting to level off. The moving average is not rising as fast as it was a few weeks ago, but it is still climbing. If Tesla shares do not make another push upwards, the 50-day will eventually roll over and head lower. That will push the level of support lower. For the moment, the 50-day should continue to be support, unless we get some large piece of news that changes the equation. As a point of reference, the next moving average that could be hit on the downside is the 100-day, currently sitting a little below $180 but rising by the day.
An update on short interest:
For those that missed my latest short interest series article, Tesla was one of the names I covered. As you can see in the chart below, short interest dropped by more than 2.6 million shares, putting Tesla's short interest at a 4-month low.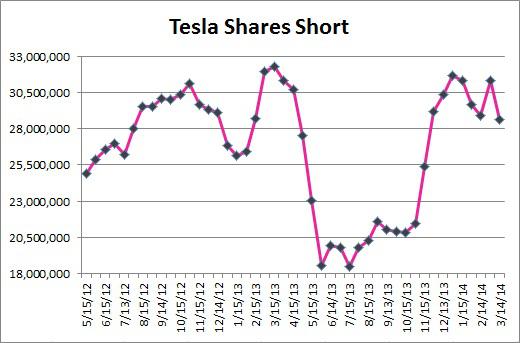 Even with the recent dip, Tesla remains a heavily shorted stock. More than 23% of shares outstanding and 32% of the float remain short. There is still a lot of potential for short squeezes in Tesla. One thing to watch going forward is the share count. Tesla's share count and float are rising pretty much every quarter thanks to dilutive securities like executive options. If some of Tesla's convertible debt gets converted to equity, that will further increase these numbers. So if Tesla's short interest number stays at a similar level, the percentage of shares short compared to the outstanding count and float will decline over time.
Final thoughts:
The news out of Norway helped to push Tesla shares up by more than 6% on Wednesday. Although some analysts have gotten a little negative lately, the latest news should bring some confidence back to the stock. Tesla shares bounced off the 50-day moving average, a level of support I figured would be reached. The pullback for investors was good, and those that have taken advantage have been rewarded. For those looking to enter the name, the latest news is good, but waiting for the next pullback would probably be smart. I would suggest using the 50-day moving average as a starting point, and averaging down if shares go below it. If the Norway report is accurate, Q1 may not be as bad as feared, and that could set up 2014. A lot of improvement is expected as the year progresses, and a large short interest number will lead to another short squeeze if Tesla continues to beat like it has recently.
Disclosure: I have no positions in any stocks mentioned, and no plans to initiate any positions within the next 72 hours. I wrote this article myself, and it expresses my own opinions. I am not receiving compensation for it (other than from Seeking Alpha). I have no business relationship with any company whose stock is mentioned in this article.
Additional disclosure: Investors are always reminded that before making any investment, you should do your own proper due diligence on any name directly or indirectly mentioned in this article. Investors should also consider seeking advice from a broker or financial adviser before making any investment decisions. Any material in this article should be considered general information, and not relied on as a formal investment recommendation.