Following the announcement of March auto sales figures that outpaced analysts' estimates, Ford Motor Co. (NYSE:F) shares rallied +4.62% from $15.67 to $16.32 during Tuesday's trading session. It's trading higher again in Wednesday's session as I write this.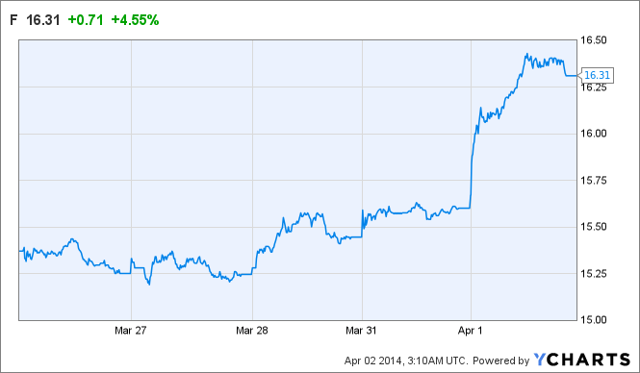 Click to enlarge
Despite this dramatic one-day gain, my opinion on Ford has not changed much since last week, or last month, or since I wrote an article outlining my bull case on Ford over a year ago. It was March 13, 2013 and the stock had closed at $13.39 the previous day. I wrote that I thought a 12-month target price of $15.10 was realistic at the time. As it turns out, that number was very close to reality. A year later, Ford closed at $15.08 on March 15, 2014, registering a 12-month gain of +12.6%, versus my +12.8% estimate.
"That's great, but what about right now?", you say. I'm glad you asked. In my opinion, Ford is still an under-appreciated stock and its still selling at an attractive valuation.
Fundamentals
Profitability: Ford's gross margin of 12.81% stills trails the industry average of 17.27%. The automaker appears to run a much leaner operation than most of its competitors however, so by the time we get to the bottom line, Ford's net profit margin of 4.87% is above the industry average of 4.26%.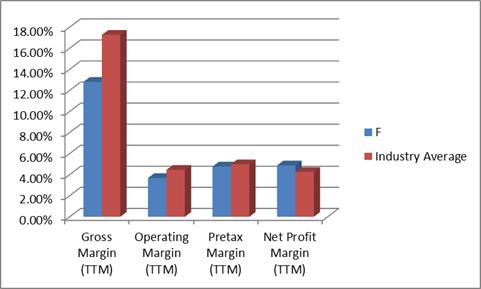 Valuation: Ford's trailing P/E of 9.3 represents a -22.5% discount to the Auto Industry average of 12.0, as well as a -47.5% discount to the S&P 500 Index's earnings multiple of 17.7.
Looking out 12 months, the stock's forward P/E of 11.2 is significantly lower than both the industry and the broader market, whose forward earnings multiples are 44.9 and 20.1, respectively.
Ford also has a very attractive PEG ratio of 0.8, meaning its earnings multiple is less than its expected earnings growth rate. Translation: its earnings are undervalued.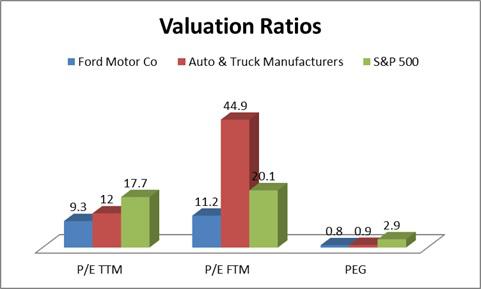 Management Effectiveness: Ford's ROA of 3.65% is as unimpressive as the industry average of 4.22%. More importantly however, Ford's ROE (TTM) is a very impressive 33.81% when compared to the industry average of 20.67%. Ford is earning roughly $0.34 annually on each dollar of equity held, 36% more than it's competitors.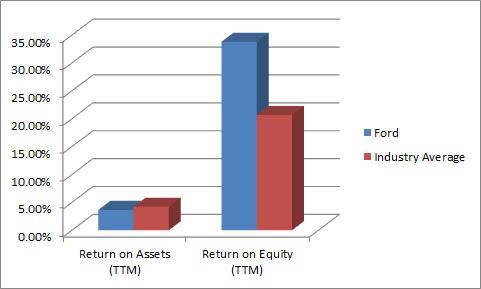 Dividend: Ford increased its quarterly dividend last year by 25% from $0.10 to $0.125. At Tuesday's close of $16.32 this works out to an annual yield of 3.06%, well above the current yield on a 10-year U.S. Treasury of 2.77%.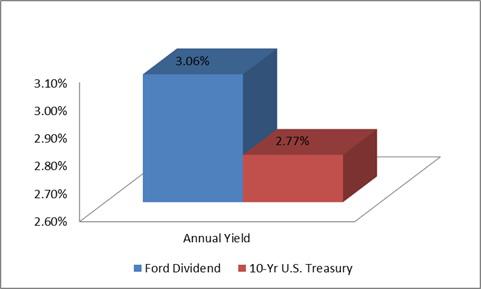 12-Month Price Targets: The mean of 15 analyst published 12-month target prices is $18.00, which represents a potential gain of 15.4%. The current version of a proprietary valuation model I'm developing outputs a 12-month target price of $19.75.
| | |
| --- | --- |
| | 12-Month Price Targets |
| Mean - 15 Analyst Estimates | $18.00 |
| My Estimate | $19.75 |
Technicals
Bullish Crosses: In the last few sessions the price of Ford has crossed above both the 20-day and 50-day moving averages, and eventually closed right up against the 200-day on Tuesday. Crossing through all three levels is a strongly bullish signal.
The 20-day MA also crossed above the 50-day MA, which means that short-tem prices are now moving higher compared to medium-term prices.
Bullish Breakout: Ford had been stuck in a trading range, between $15 and $16, for about 6 weeks. Tuesday's rally represented a significant breakout to the upside; another bullish signal. Additionally, the move came amid a strong uptick in trading volume, adding further confirmation to the validity of the price action.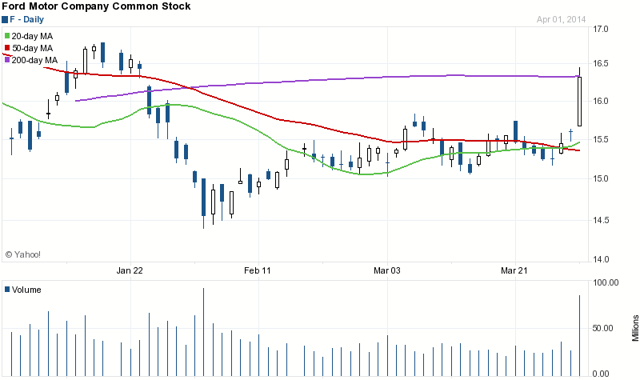 Click to enlarge
Recent News
Highlights from Tuesday's news release:
March sales were up 3%, best march in 8 years
Ford Fusion posted a record sales month - 32,963 sold, up 8% over previous monthly record
F-Series truck sales of 70,940, up 5%
Lincoln total sales up 31%
Lincoln MKZ sees 72% increase in sales to 4,052 vehicles
Keep An Eye on...
Ford, like all discretionary stocks, is highly sensitive to sudden downturns in the global economy. While recent economic indicators have been marginally positive, any number of factors that could trigger a reversal in trend would be highly damaging to Ford's projected earning and the stock would suffer accordingly.
Conclusion
Ford is a fairly volatile stock, especially for such a long-established, large-cap company. It's beta of 1.35 means that it is fairly prone to large price swings. These are often interspersed by short-term trading ranges. There may very well be a significant pullback sometime in the next few days or weeks after such a spike on Tuesday, but this should not deter long-term value investors from adding to, or opening new positions in, the stock. It is still a good value at this price and I am re-iterating a 'Buy' rating on Ford.
Disclosure: I am long F. I wrote this article myself, and it expresses my own opinions. I am not receiving compensation for it (other than from Seeking Alpha). I have no business relationship with any company whose stock is mentioned in this article.