Nokia (NYSE:NOK) and Microsoft (NASDAQ:MSFT) are having a hard time getting regulators in China and India to approve the D&S deal. However, despite the said setback, Nokia is coming up with a new flagship Lumia phone and two new low-entry Windows 8.1 handsets.
This announcement did help give NOK a +1.06% increase yesterday. I hope these new phones will help Microsoft sell more than 35 million WP8 units this year. Nokia, through patents and HERE, will also continue to benefit from more WP8 handset sales.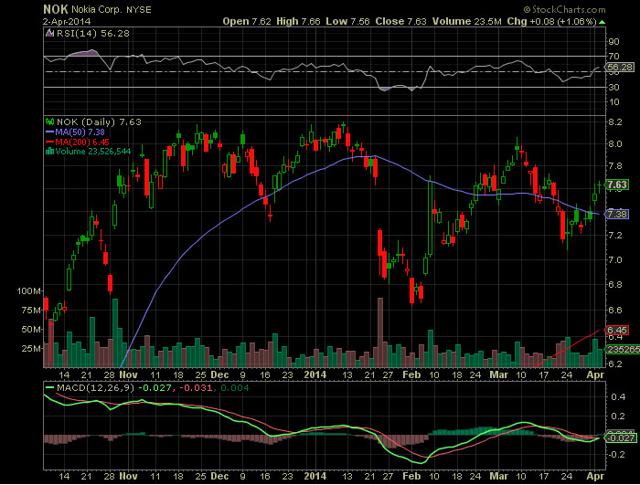 Click to enlarge
Touchscreen Clones of The iPhone
The new flagship product is Lumia 930. The 930 has a phablet-like 5-inch full 1080p HD display and is powered by 2.2 Ghz Qualcomm SnapDragon 800 SoC. The Lumia 930 also comes with Nokia's cutting-edge 20-megapixel PureView technology and Zeisz lens. It also comes with wireless charging capability.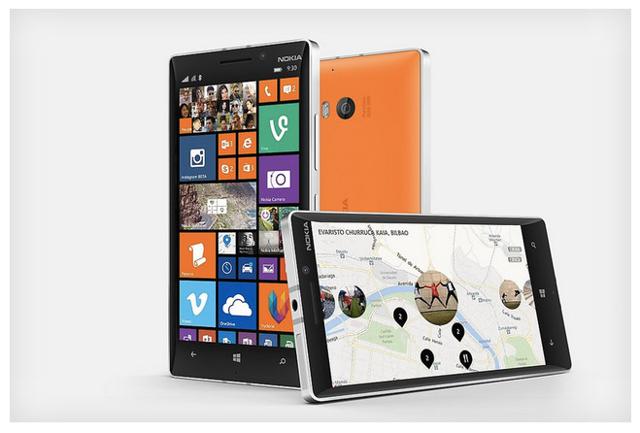 Click to enlarge
Source: The Verge
The Lumia 930 will cost $599 before taxes and subsidies. This flagship smartphone is bigger than the rumored 4.7-inch iPhone 6 . I hope the Lumia 930 can sell a tenth of what the iPhone 6 sales will surely bring later this year.
The Lumia 930 is a clone of the current touchscreen-only craze for high-end smartphones. Hopefully, enterprise users will be more welcoming of the Lumia 930 and buy it instead of the iPhone 6 or Samsung Galaxy S5.
A QWERTY-equipped version of the Lumia 930 will make me buy it instead of the iPhone 6 or Galaxy S5. Nokia has a great history of making excellent QWERTY-equipped business phones like the Communicator series and the Nokia E7. I hope Elop breaks out of the current fad and experiments with physical keyboard-equipped Lumia models.
Nokia also announced two new sub-$200 Windows 8.1 phones for the emerging markets. The 3G-only Lumia 630 single SIM will retail for $159 and the dual-SIM variant will sell for $169. The LTE-capable Lumia 635 will sell for $189. The 630 and 635 phones have 4.5-inch screens.
Nokia MixRadio Is Free And Without Ads
Nokia's MixRadio has the biggest library of songs. Nokia's 30 million songs is bigger than the libraries of Spotify and Rdio. MixRadio's free music streaming doesn't come with advertisements like Pandora (NYSE:P) and Spotify do for non-premium users. This free service should help boost the sales of Lumia and Nokia X in China. Nokia is planning to launch MixRadio in China this week.
As a NOK investor, I hope Nokia will not keep MixRadio's service free or ad-free forever. Pandora makes a tidy sum inserting ads to its non-paying account users. If Nokia X and Lumia phones reached enough saturation level in China and the rest of the world, Nokia ought to monetize MixRadio too.
Microsoft Is Giving Away Free Windows
Aside from bring full native Office for the iPad to the world, Satya Nadella has also decided to give away free Windows operating systems to manufacturers of phones, tablets, other devices which have screens 9 inches or smaller. This new policy applies to both desktop Windows 8.1 and Windows Phone platforms.
Since Nokia's HERE maps is the default navigation maps for the Windows platform, Nokia definitely benefits from this newfound generosity of Microsoft. OEM phone and tablet makers previously paid as much as $50 each for Windows 8 licensing. This free OS policy should now encourage more manufacturers to make Windows 8 phones and tablets instead of just focusing on Android.
Conclusion
Nokia's bottom line will benefit from increased sales of Lumia phones. The Lumia 930 can steal Galaxy S5 sales and the 630 and 635 can also steal customers away from Samsung's low-end Android phones.
I look forward to the completion of the D&S sale to Microsoft this month. If it gets delayed again, I'll just endure more downside for NOK. The $7.2 billion cash infusion from Microsoft should help NOK make a breakout run towards the $9 level soon. A $7.2 billion in cold cash might entice either Juniper or Alcatel-Lucent to merge with Nokia.
Nokia is a strong HOLD. Refer to the chart below and you will understand why I'm still in love with Nokia. NOK has decent EV/Revenue, EV/EBITDA, AND Price/Book ratios. Nokia also has a low Price/Sales of 1.70. The projected forward P/E is also reasonable considering Nokia's NSN won Vodafone's Project Spring contract last February.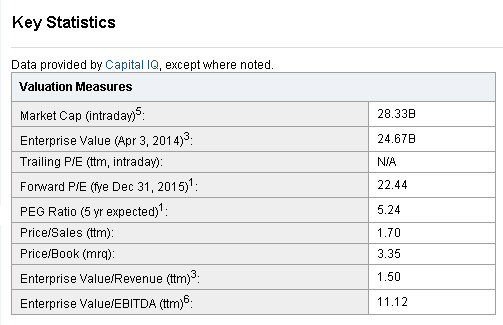 Source: Yahoo Finance
Disclosure: I am long NOK. I wrote this article myself, and it expresses my own opinions. I am not receiving compensation for it (other than from Seeking Alpha). I have no business relationship with any company whose stock is mentioned in this article.