By Julian Murdoch
Last week, I took a look at gold miners, and pointed out the volatility alligators lurking beneath what seemed like a simple precious metals play. This week, I thought I'd turn to a different kind of miner: copper miners.
I laid out a lot of the current fundamentals back in April, when it seemed that the classic inventory story for copper finally began making sense again. But for years now, the real macroeconomic story driving copper has been China. And, as Lara Crigger covered in her most recent podcast, the story is still China.
With the yuan potentially ready to float, China becomes an even bigger potential buyer of copper (on top of everything else). After all, from the Chinese perspective, a stronger yuan means that, all else being equal, they can buy more pounds of copper per yuan than they would have been able to before.
So how did the copper market react to the news about China?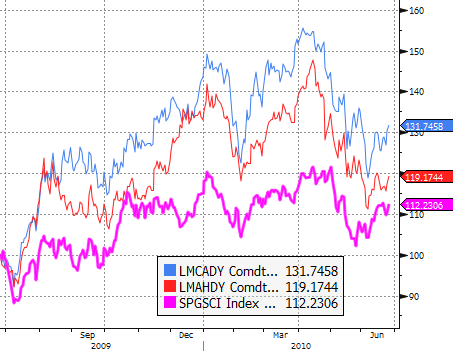 Last week, copper spot prices on the London Metals Exchange, seen here ((LMCADY)) compared to spot aluminum ((LMAHDY)) and the S&P GSCI Commodity Index ((SPGSCI)), climbed toward one-month highs, with the metal closing Friday at $6,760/tonne. So the yuan news was certainly perceived as bullish. When it's trading rationally, copper tends to react strongly to core supply and demand news, and more demand from China definitely would be a big deal.
But is copper trading rationally? I'm not so sure: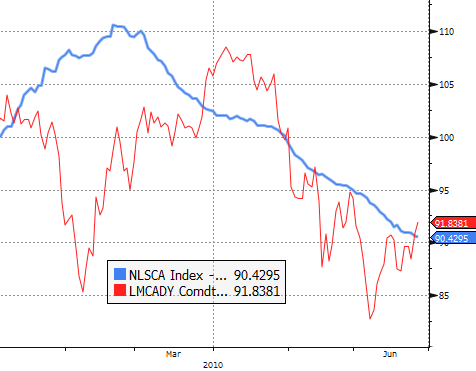 Copper inventories (the blue line) have steadily declined since peaking in February, making for a near constant decline in global availability. Both copper's spot price (the red line) and the actual available copper in London Metals Exchange inventories are off almost 10 percent. In fact, prior to the yuan announcement, some analysts argued that copper demand was so poor, producers could soon start slowing down production.
In other words, prior to last week's little China-based rally, there simply wasn't much belief among copper traders that the demand situation globally had enough legs to justify worries about the relatively low copper inventories. And the operative word here is "relatively."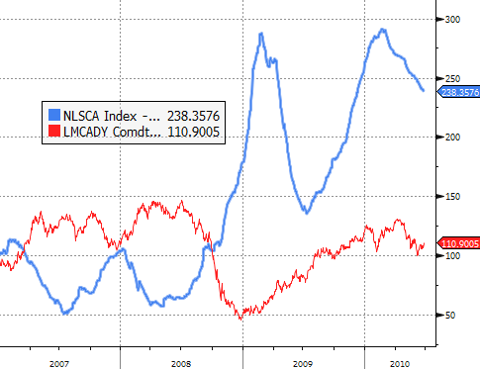 (Click to enlarge)
For the past 18 months, the inventory has been highly unusual and largely disconnected to reality. The global financial meltdown in 2008 caused copper demand to drop all around the world, not just in the US, and the resulting overproduction put tons (and tonnes) of copper in warehouses, sending inventories to levels not seen since 2003.
How then to consider the current crop of copper ETFs?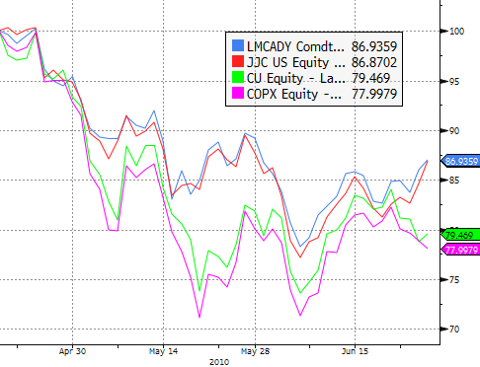 (Click to enlarge)
Here I've tracked spot copper versus the metal's three major plays: the iPath Copper ETN (NYSEARCA:JJC); and two newcomers tracking the copper miners, the Global X Copper Miners ETF (NYSEARCA:COPX), which launched in April, and the First Trust ISE Copper ETF (NASDAQ:CU).
What the chart immediately reveals is that, throughout the short life span of the two equity funds, they've simply been more volatile than the underlying metal itself or the metal's front-month futures.
Let's take a closer look at that volatility, shall we?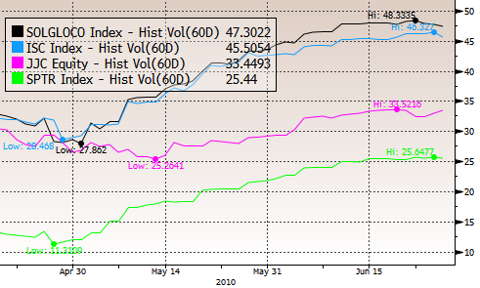 (Click to enlarge)
Here I've compared the rolling 60-day volatility of COPX and CU's benchmark indexes (black and blue, respectively) against JJC's index and the S&P 500 (SPTR). Unsurprisingly, just like we saw in last week's look at gold miners, the copper miner ETFs have been radically more volatile over the past few months than copper itself or large-cap equities as a whole.
But if you're dying to play copper miners, how do you pick the right ETF?
COPX and CU are seemingly nearly identical in many regards. They both purport to track companies with major copper mining exposure. They both track roughly 30 stocks. Both have heavy concentrations in Canada and other copper countries.
However, a quick look at the top holdings in the two funds shows some glaring differences:
| | | |
| --- | --- | --- |
| COPX Weight | | CU Weight |
| 0.00% | Rio Tinto Plc (RTP) (ADR) | 6.27% |
| 6.00% | Freeport McMoRan (NYSE:FCX) | 6.23% |
| 5.54% | Equinox Minerals (EQN) | 4.81% |
| 5.26% | Grupo Mexico | 0.00% |
| 5.24% | HudBay Minerals (HBMFF.PK) | 3.35% |
| 5.21% | Southern Copper (NYSE:SCCO) | 5.88% |
| 4.89% | Jiangxi Copper (OTC:JIAXF) | 0.00% |
| 4.87% | Antofagasta (OTC:ANFGF) | 6.07% |
| 4.83% | Quadra (OTC:QADMF) | 2.78% |
| 4.80% | Oz Minerals (OTC:OZMLY) | 0.00% |
| 4.79% | Ivanhoe Mines (IVN) | 4.94% |
| 4.66% | Xstrata Plc (OTC:XSRAF) | 6.02% |
| 4.44% | Kazakhmys Plc | 5.92% |
| 4.58% | First Quantum Minerals Ltd. (OTCPK:FQVLF) | 4.99% |
| 4.59% | Vedanta Resources Plc (OTCPK:VDNRF) | 4.83% |
| 4.68% | Inmet Mining Corporation (OTC:IEMMF) | 4.75% |
| 0.00% | MMC Norilsk Nickel JSC (OTCPK:NILSY) (ADR) | 4.46% |
By far the biggest difference between the two portfolios comes from what can only be attributed to definitional screening. For whatever reason, Rio Tinto, the $111 billion mining giant, doesn't show up in COPX. Similarly, $20 billion Mexican mining giant Grupo Mexico fails to pass CU's test.
Furthermore, if you dig deeper, COPX seems to engage in a currency overlay, with a 4.78 percent investment directly in Canadian dollars and small investments in the Mexican peso, British pound — even a little short US dollar exposure, just for fun. These may be the result of dividends that have been neither distributed nor reinvested, but that's just me speculating.
I say "speculating," because unfortunately, Global X's published prospectus for COPX doesn't hold many definitive answers. It features virtually no information on how the index is actually constructed, or how the portfolio is actually managed. A deep dive into German Web sites will eventually yield a construction document for the index, which has some fairly complex liquidity and market-cap math that I can only assume somehow justifies taking the world's largest miner off the table (not that Global X provides a link to the calculations, or any information about the index on their Web site).
I'm sure the two issuers would argue with each other until they were blue in the face about which approach yielded a "purer" exposure to the global copper markets. In the end, however, I imagine most investors will focus on performance and liquidity.
While CU is more expensive than COPX (at 70 and 65 bps in annual expenses, respectively), over the long haul, CU's index approach has paid off better. While both funds are too new for meaningful comparisons, over the last four years, the ISE Copper index tracked by CU has yielded an annual 75 basis point advantage over the Structured Solutions index that underlies COPX. Combine that with a trading advantage of a few thousand shares a day on average, and it seems like a fairly clear choice.
Of course, that's assuming you're sold on copper miners in the first place. With declining copper prices defying slowly declining global inventories, I find it hard to find much to love in the metal, yuan or no yuan.
Disclosure: No positions