For the next two weeks, in an unprecedented move, McDonald's (MCD) is offering free cups of McCafe coffee to customers at participating US locations. The decision comes on the heels of Taco Bell's (YUM) ad campaign for its new breakfast menu, which features real men named Ronald McDonald enjoying Taco Bell's morning offerings. McDonald's hopes the coffee giveaway will lure customers (existing and new) to stop by more frequently and buy something off the breakfast menu when they're picking up their cup of joe.
And it's possible because Americans love the stuff. Coffee is a $30-$32 billion market in the US, the global leader in coffee consumption. Roughly 83% of Americans drink coffee while 63% of Americans have some everyday, according to the National Coffee Association's 2013 drinking trends study.
This widespread craving for coffee has catapulted the cafe business into the fastest growing segment of the quick service restaurant industry. Bloomberg, citing a report from research and consulting firm Technomic, writes that cafe sales increased 9% in 2013.
Joe on the Go
Data from market research firm Studylogic shows that nearly 32% of domestic demand for coffee is "outside the home." In 2013, McDonald's sold less than 13% of all coffee sold in US restaurants, dwarfed by market leaders Starbucks (SBUX) and Dunkin' Donuts (DNKN).
Starbucks generated a record $14.89 billion in revenue in fiscal year 2013, a 12% gain from $13.30 billion in 2012. The company reported $1.72 billion in net profit, up nearly 25% from $1.38 billion a year ago. EPS rose by 26% to $2.26 per share from $1.79. US same-store sales increased 8% year-over-year in 2013. Most of the stores are on the west coast where the Seattle-headquartered company has a strong foothold. Starbucks plans to add 600 new stores in the Americas region in 2014.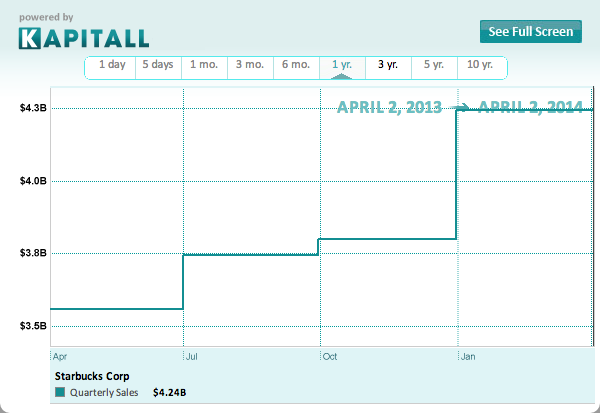 Click here for more information on Starbucks.
Dunkin' Brands, the parent company of Dunkin' Donuts, saw an 8.5% gain in revenue during fiscal year 2013, rising to $713.84 from $658.18 a year earlier. The company's profit increased to $146.9 million, or $1.38 EPS, from $108.3 million, or $0.94 EPS, at the end of fiscal year 2012. Dunkin' Donuts experienced a 3.4% hike in US same-store sales from a year ago. Dunkin' Brands plans to expand Dunkin' Donuts' presence in the US -- which is heavily concentrated in the Northeast -- by adding 380-410 new restaurants this year.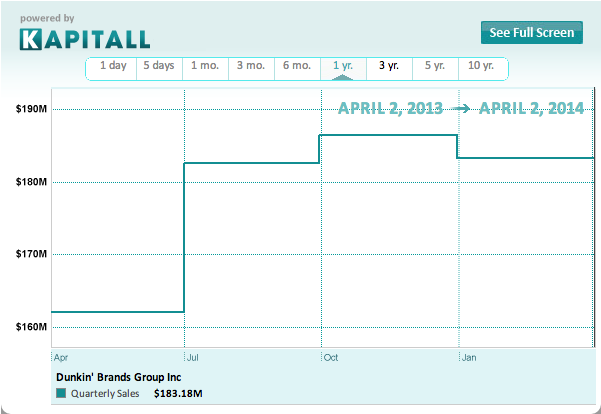 Click here for more information on Dunkin' Brands Group Inc.
A look at the return on equity of the two companies reveals that Dunkin' Donuts has better sources of profitability. DuPont analysis -- which breaks down a company's return on equity by examining profit margin, total asset turnover, and financial leverage -- revealed that Dunkin' Donuts has increasing net profit margin and asset turnover, and a decreasing leverage ratio. In the most recent quarter, net profit margin stood at 22.97% compared to 21.24% in the same period a year ago. Asset turnover rose to 0.057 from 0.05 during the same period in the previous year, and leverage ratio dropped to 7.941 from 9.282 a year earlier.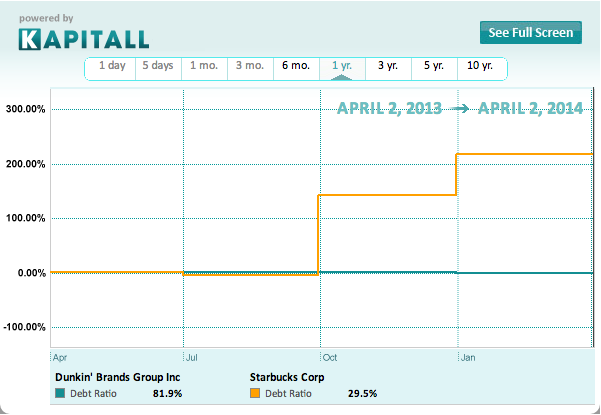 Click here to get more information on the stocks listed here.
Last month Dunkin' Donuts announced its plan to enter Brazil, the world's second largest coffee market. Working with OLH Group, the company intends to bring 65 stores to the Brasilia and Goiás regions over the next couple of years. Brasilia is the fourth most populated city in the country with 2.79 million residents, while the state of Goiás has 6.15 million inhabitants, potentially giving Dunkin' Donuts access to 10 million new customers.
Disclosure: I have no positions in any stocks mentioned, and no plans to initiate any positions within the next 72 hours.
Business relationship disclosure: Kapitall is a team of analysts. This article was written by Mary-Lynn Cesar, one of our writers. We did not receive compensation for this article (other than from Seeking Alpha), and we have no business relationship with any company whose stock is mentioned in this article.