Qihoo 360 (NYSE:QIHU), which means "Strange Tiger" in Chinese, is a security-focused software company seeing rapid earnings growth over the last year. The stock has appreciated over 400% since the release of so.com, Qihoo's search engine product, in June of 2012. Since the company beat earnings estimates and issued a positive outlook on March 06, Qihoo stock has dropped to a trailing P/E of 127. This presents a rare buying opportunity in a company that saw 100+% revenue and earnings growth in 2013, has dominant and innovative products, and is only beginning to roll out its monetization system. CEO Zhou Hongyi cultivates an innovative and dynamic culture. Check out his microblog if you are interested. In the interest of brevity this article will focus on opportunities in core business lines including anti-virus, search, and app distribution. Be aware that Qihoo is a true platform with browser, gaming, hardware, entertainment and device management offerings too.
Highlights from the March 06 earnings release include:
- Record Quarterly Revenues of $221.6 million, up 115.3% Year-over-Year
- Record Quarterly Non-GAAP Net Income of $96.3 million, up 260% Year-over-Year
- Record Full Year Revenues of $671.1 million, up 104.0% Year-over-Year
- Record Full Year Non-GAAP Net Income of $226.3 million, up 132.4% Year-over-Year
Anti Virus
Qihoo's core business is the PC Security Defender product. It enjoys 94.6% coverage in the PC market, is free to use, and protects against a wide variety of security threats including viruses, mal-ware and spam. In addition it acts as a portal, raising awareness of the entire 360 product line amongst its 475 million users.
Building on its security successes, Qihoo released the Phone Defender in 2006. It is also free to use and acts as a portal to other products. In the last year its user base has more than doubled to exceed 500 million. Despite attempts by Baidu (NASDAQ:BIDU) and Tencent (HK.0700) to enter the mobile security market, 360 Phone Defender is the best mobile security software available, and they have the user growth to back it up. As increasing amounts of time and money are spent on mobile devices, security is becoming crucially important. Mobile payments are one opportunity for future growth and cooperation.
Search
After firmly establishing itself in security, Qihoo made the bold decision in the summer of 2012 to enter the search market. This was a direct challenge to Baidu's monopolistic position in search. Initially, the company's chances of success were written off. Today, so.com's PC search market share (according to CNZZ data) is 25% and rising steadily. Key verticals include web pages, news, maps, medicine, music, and pictures. Baidu margins are collapsing as they try to slow market share erosion.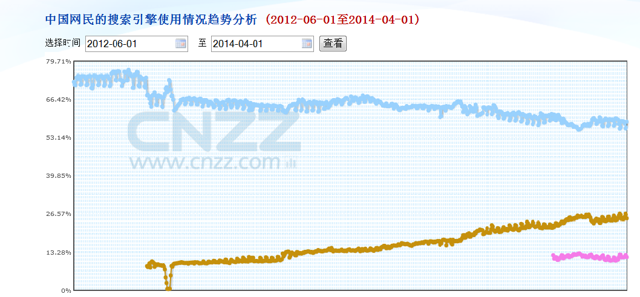 Click to enlarge
In addition to so.com, Qihoo also operates a mobile content search engine called LeiDian (English translation: Thunder and Lightning). While it is still new, progress has been rapid. The search capabilities are unique and innovative, serving up the content most useful to mobile users. The company is beginning to distribute it across their existing user base.
A final strength of Qihoo is in app distribution. With the purchase of 91.com last year, Baidu made an attempt at heading off the 360 App Store. It is proving futile. The 360 App Store continues to out-compete other distribution channels, as evidenced by distribution of top mobile game titles. As other internet players have spent heavily on promoting their mobile apps and games, Qihoo has been a key beneficiary. But more importantly, Qihoo can distribute its own apps for free. This is why the Qihoo software portfolio is so deep and widely used.
In conclusion, the recent retrenchment in Qihoo stock may be a buying opportunity. Affiliated advertising agencies now cover all provinces and administrative regions of the PRC. The long-term platform strategy remains intact, and may be accelerating according to the full-year financial results and year-ahead guidance issued March 6th. Then they advised for stable margins and 1Q revenue between $226 million and $228 million, representing a year-over-year increase of 106% to 107%.
Disclosure: I am long QIHU. I wrote this article myself, and it expresses my own opinions. I am not receiving compensation for it (other than from Seeking Alpha). I have no business relationship with any company whose stock is mentioned in this article.