Qualcomm: Mobile, Global, and Reasonably Priced
Qualcomm (NASDAQ:QCOM) is another great company headquartered right here in San Diego, California. It was founded in 1985 by MIT alumnus and UC San Diego professor Irwin M. Jacobs and USC and MIT alumnus Andrew Viterbi. The pair had previously founded another company together called Linkabit.
One of Qualcomm's first products and services was the OmniTRACs satellite locating and messaging services used by long-haul trucking companies. It was for that business that in 1990, Qualcomm began the design of the first CDMA-based cellular base station, based on calculations from the CDMA-based OmniTRAC satellite system.
Cellular provider AirTouch (now Verizon) contracted Qualcomm for a study because they were facing a shortage of cellular capacity in Los Angeles. Almost overnight, a business was born, that would turn many of the company's original employees into "Qualcomm millionaires".
Over the next two years, Qualcomm began to manufacture CDMA cell phones, base stations, and chips, and grew into the 13,000 employee company it is today. Almost three-quarters of Qualcomm's employees are based right here in San Diego, ranking it as the #1 public company employer in San Diego.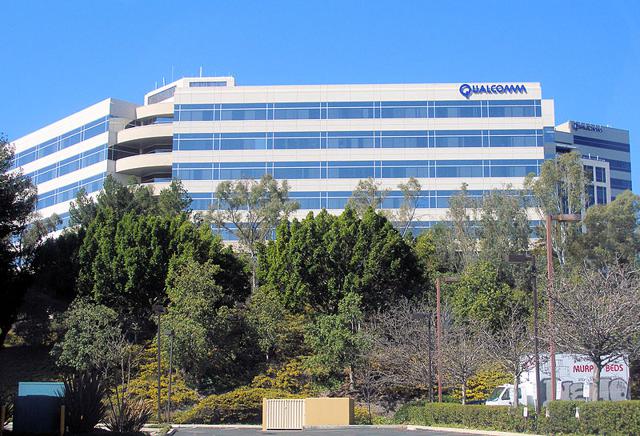 Qualcomm designs, develops, manufactures, and markets telecommunication products based on CDMA (code division multiple access), OFDMA (orthogonal frequency-division multiple access), and other technologies.
It operates in four key segments: Qualcomm CDMA Technologies (QCT), Qualcomm Technology Licensing (QTL), Qualcomm Wireless & Internet (QWI), and Qualcomm Strategic Initiatives (QSI).
Qualcomm has a long history of innovation and continues to invest heavily in R&D. In 2013, GAAP R&D spending was $5 billion, up from $3.9 billion the previous year.
Growth Catalysts
Smart Phones
Qualcomm continues to benefit from continued momentum in the smartphone segment. Gartner estimates the CAGR for smartphone unit shipments between the years 2012-2017 to be approximately 20%, with cumulative unit shipments of $7B. Qualcomm has the most widely licenses portfolio applicable to 3G and 4G devices, including many licenses in China.
Its Snapdragon chipset continues to gain share in the global smartphone marketplace. It is the key supplier to many Asian smartphone manufacturers including HTC, Samsung, Nokia, Sony, and LG.
The smartphone market is maturing and demand is shifting away from the US and other developed countries, to countries like China where consumers tend to buy less expensive phones.
Qualcomm aims to sustain margins by focusing on innovation, hoping that improving wireless connectivity, cameras, sensors, and audio technologies will continue to drive demand. China's local market is particularly important to Qualcomm, as it recently struck a deal with leading telecom provider China Mobile.
Some recent good news coming out of China for Qualcomm is that China Mobile is likely to shift to five-mode handsets. Qualcomm was the first to launch multi-mode chipsets and is currently the leader in LTE broadband shipments. In addition, a five-mode handset carries higher royalties than three-mode which could boost Qualcomm's licensing margins.
Data Growth and Product Extensions Beyond the Handset
One of the key challenges facing mobile device makers is that richer content, increasing global traffic, and more devices have all resulted in huge data demand increases. This demand continues to spur the upgrade cycle from 3G to 4G LTE and toward multimode handsets. Both of these trends are favorable for Qualcomm.
Qualcomm's technologies are also being further extended into adjacent device opportunities such as health devices, smart grid, wearables, tablets, hybrids, smart-homes, cars, and TVs.
The Octa-Core Era
As the smartphone market has exploded over the last few years, so has the competitive landscape. While Qualcomm continues to dominate, other companies such as Nvidia(NASDAQ:NVDA) and Media Tek are fighting to gain share.
And some device makers such as Samsung (OTC:SSNLF) are designing their own chips, such as those for the Galaxy line of smartphones. One of the ways these companies have been trying to compete is by adding more core processors, up to eight in fact, being coined the octa-core.
Whereas initially Qualcomm resisted this trend, it recently announced the introduction of its own 64-bit octa-core chipset because that is what Chinese consumers are demanding.
According to Qualcomm's marketing VP Tim McDonough, the new chip is partly the result of catering to the Chinese market. "It's very interesting. Consumers in China want octa-core. It's very high on their list; while in the US and Western Europe, it's totally other things that consumers want," the exec said. "So we've really recognized that if that's what Chinese consumers want, that is what our Chinese customers, our OEMs want, and Qualcomm has to care for that need; so that's what we're doing."
Recent Financial Results
Qualcomm reported quarterly earnings results on January 29, 2014. Its earnings results were $.08 ahead of the Capital IQ consensus, but revenues of $6.62 billion were light of estimates and the company issued downside guidance. The lower guidance was attributed to a worse than expected drop in QTL revenue, offset by better-than-expected QCT revenue. However on the conference call, management said they see potential upside to the full year forecast related to LTE deployment in China. They also expect to see improving trends in the second half of 2014.
Qualcomm achieved record results in device sales reported by licensees and MSM chip shipments. Chairman and CEO, Dr. Paul Jacobs, cited strong global growth of smartphones, Qualcomm's chipset leadership position, and competitive position in 3G/4G technologies and products as the key drivers of the company's solid quarterly results.
During the quarter, Qualcomm sold its OmniTRACS fleet trucking business to Vista Equity Partners, a private equity firm. The division was one of Qualcomm's earliest successes, but has struggled to grow in recent years.
Qualcomm is scheduled to report its next quarterly results on April 23, 2014.
Recent Price Performance
Shares of Qualcomm have performed well over the last few months. While the high end smartphone market has remained challenging for many competitors, Qualcomm continues to benefit from the shift from 3G to 4G technologies as well as its strong leadership position in mobile chipsets.
It is important to note however, that Qualcomm derives about two-thirds of its income from technology licensing related to its impressive patent portfolio. So even if competitive pressures heat up from companies like Samsung and Intel in mobile chipsets, Qualcomm remains resiliently positioned for future growth. Investors also appear cautiously optimistic about Qualcomm's opportunities in China, especially given the opportunities afforded by this year's China Mobile deal.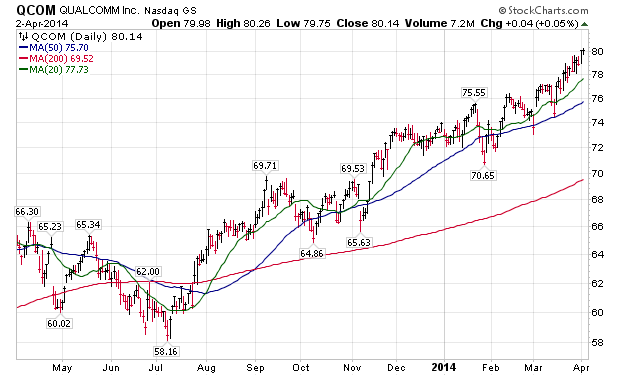 Commitment to Shareholder Value
In November of 2013, Qualcomm announced a new capital return commitment to shareholders, targeting a return of 75% of the company's free cash flow. Whereas other tech behemoths are hoarding cash, Qualcomm is committed to growing its dividend in excess of earnings growth and repurchasing their own shares.
At their Annual Meeting of Stockholders this month on March 4th, Qualcomm announced a $5 billion increase in its share repurchase authorization and increased its quarterly dividend by 20% to a record $1.68/share payout. This currently
Risks
China
Qualcomm faces the prospect of a record antitrust fine of $1 billion in China. Despite the market potential of China, the regulatory uncertainties remain a negative. The company is also facing margin pressures as the smartphone market matures and the global product mix, particularly in China, as they favor less expensive phones.
Competition
Aggressive competition in the mobile chipset market could also trim Qualcomm's profits going forward. The company is facing a severe competitive threat from Intel (NASDAQ:INTC) which recently started shipments of its first multi-mode LTE baseband modem. Other formidable competitors include: Broadcom (BRCM) and Nvidia and low-cost chip suppliers such as Taiwan's Media Tek.
Gunderson Capital Management Best Stocks Now! Analysis
San Diego hometown favorite Qualcomm was identified as a candidate for purchase by our Best Stocks Now! App which uses our proprietary grading system. The final grade and overall ranking are based on performance, value, and technical patterns.
This mega-cap stock has a market cap of $135.4 billion and falls into the Conservative risk profile category. It could also be used in an Income & Growth profile with its current dividend yield of 1.8%.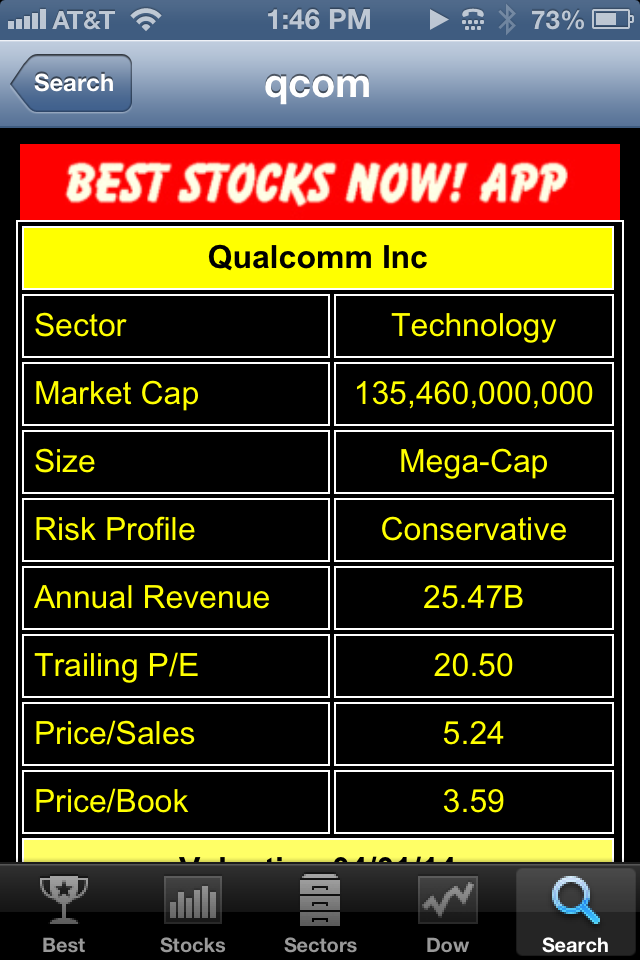 Over the last fifteen months the market has greatly favored high growth stocks in the biotech, pharmaceutical, and internet sectors. That all came to a screeching halt after Fed Chair Yellen's "six-months" comments two weeks ago.
The market is currently going through a very rapid and turbulent, internal sector rotation. It is shifting away from high PE stocks (growth) to low PE stocks (value), which have tended to be left behind during this recent market cycle.
The five year old Bull is still well intact, but we with higher interest rates looming on the horizon, and a market that is going to have to get by without performance enhancing stimulus, value is suddenly back in vogue! So are the beleaguered international markets.
Performance
With a forward PE ratio of just 14X, and an anticipated annual growth rate of 15% over the next five years, Qualcomm is trading a slight discount to its growth rate. The PEG ratio is currently 0.94.
Furthermore, when I extrapolate next year's EPS of $5.70 out over the next five years at a growth rate of 15% per year, I come up with potential earnings of almost $10 per share.
Applying a reasonable multiple of 14.5X to those potential earnings nets me a five year target price of $145 on the shares.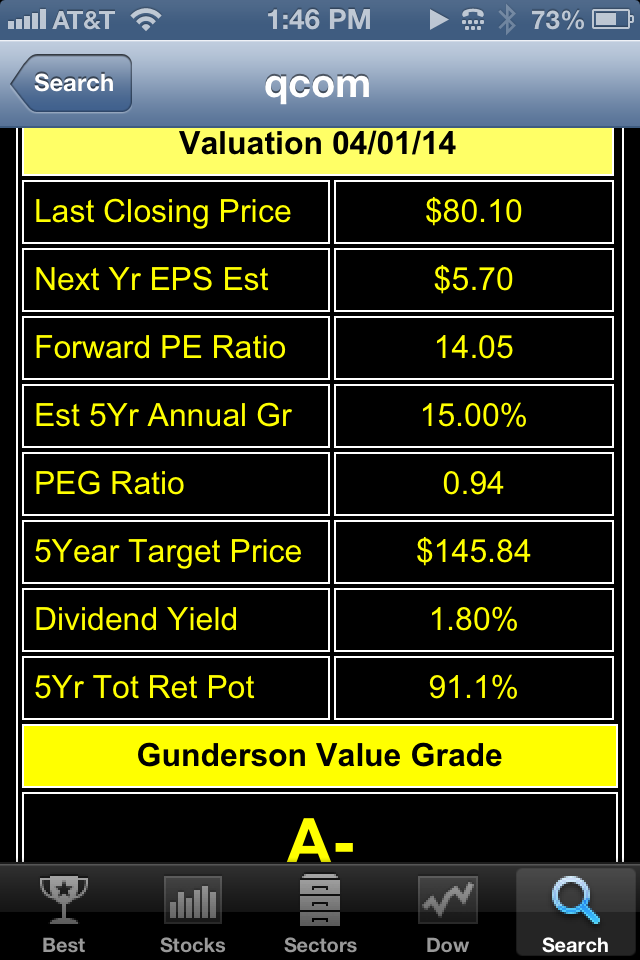 Qualcomm has just over 90% upside potential over the next five years. This earns it a value grade of A-.
Performance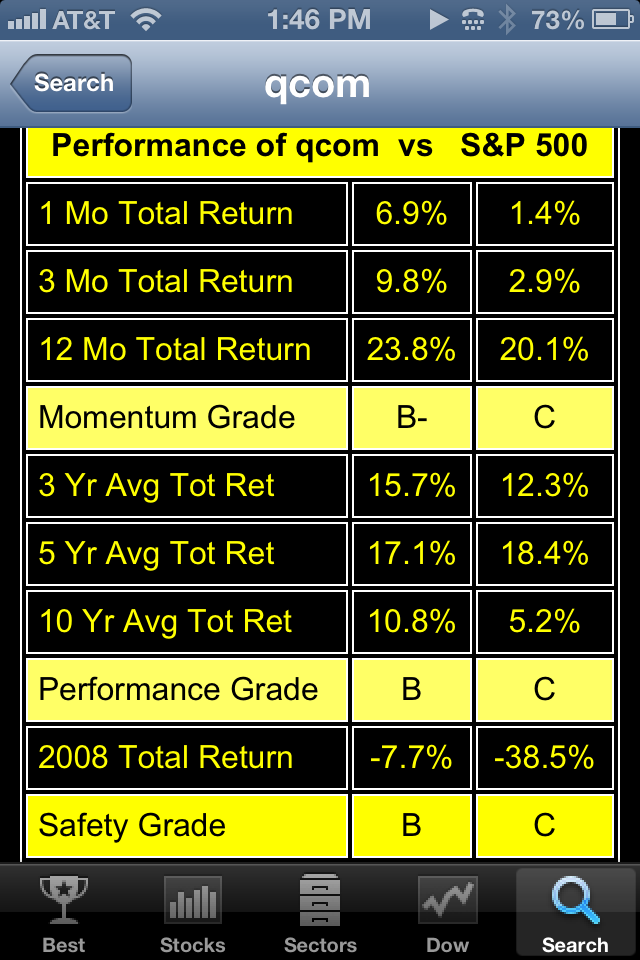 Over the last ten years, the shares have more than doubled the returns of the S&P 500. During the last five years, the stock has lagged the market a bit. And over the last three years the stock has averaged a total return of 15.7% per year, while the market has averaged 12.3%
Last year was a year of transition for Qualcomm. There was concern that competition in the mobile chipset market was heating up, China and Emerging Market economies were slowing down, the China Mobile deal was still not locked down, and the rapid pace of smartphone growth appeared to be decelerating.
Even given these headwinds, the stock's 12 month return managed to beat that of the S&P500 at +23.8% versus 20.1% for the Index. Qualcomm currently earns a momentum grade of B- (but it has a very good technical pattern) and an overall performance grade of B.
It currently fits my theme of the market going from high PE to low PE stocks. The market is also shifting away from the micro, mid, and small cap stocks that it favored so much last year toward larger cap stocks where more value is found currently.
This tech leader is currently really waking up and it has been on a tear for the last three months. Shares of Qualcomm earn a Gunderson Stock Grade of B+. The stock ranks #248 out of our 3800 stock universe and it has been steadily moving up in the ranks.
This is an example of a company that makes sense in the current market environment. I have not owned Qualcomm over the last 1, 3, 5, or ten years. I only recently purchased it for my managed accounts.
We recently purchased the stock for our Conservative and Income and Growth accounts. .
Qualcomm is a great growth story that leverages both mobile and global growth, and it is available at a reasonable valuation.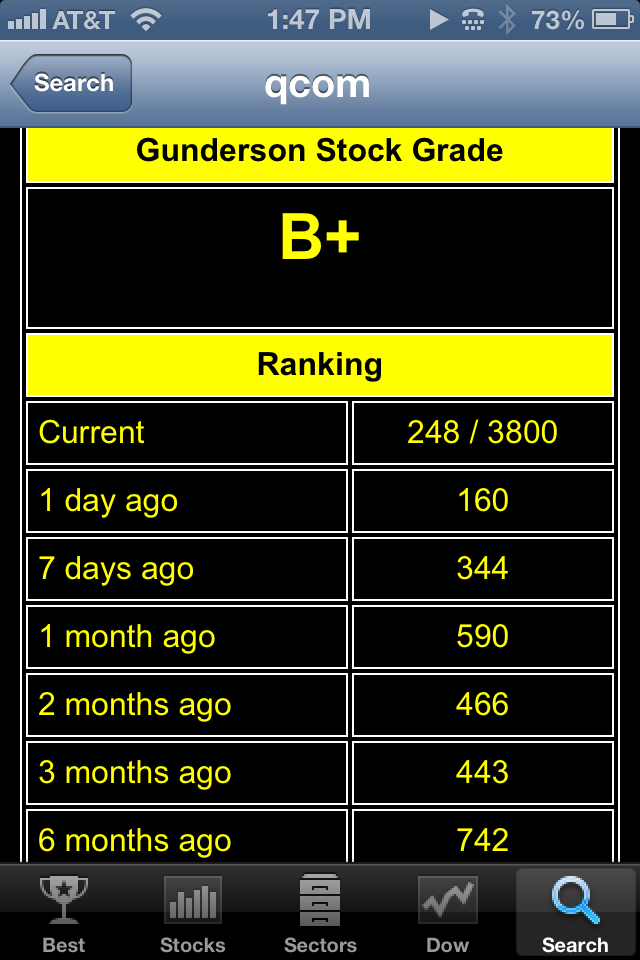 Follow me on Twitter @BillGunderson for a change in my opinion of the stock.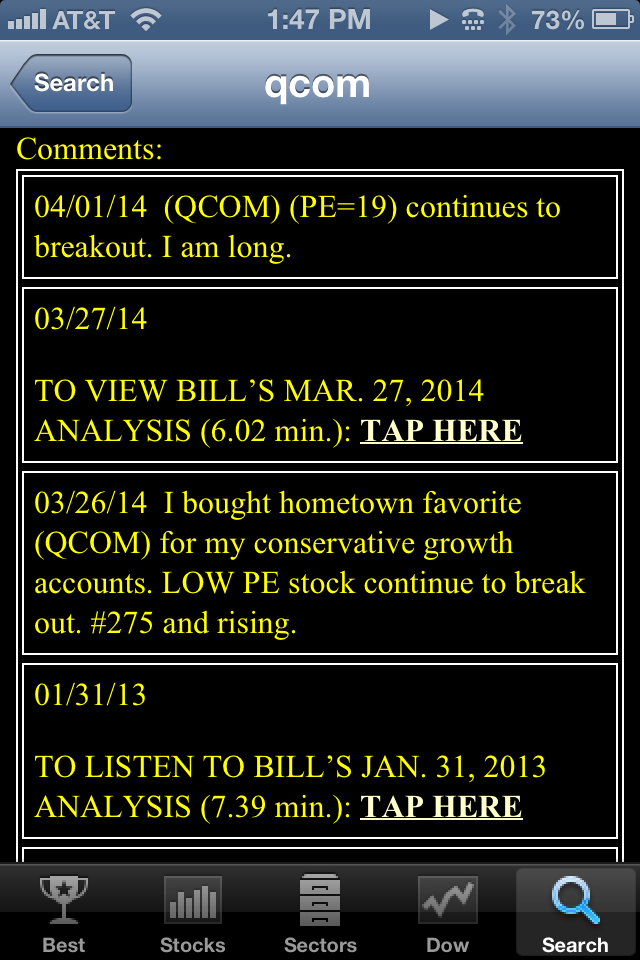 Disclosure: I am long QCOM. I wrote this article myself, and it expresses my own opinions. I am not receiving compensation for it (other than from Seeking Alpha). I have no business relationship with any company whose stock is mentioned in this article.