King Digital Entertainment (BATS:KING) opened for its first day of trading last Wednesday, and what a disappointment. King Digital Entertainment is the company behind the popular mobile game Candy Crush Saga, and at the end of the day is a one trick pony. The company offered 22,200,000 shares at $22.5, giving the company a valuation of $7.1 billion.
Now KING put up a diluted earnings per share of $1.75 in 2013 and a net income of $568 million, which is nothing to sniff at. Keep in mind the almighty Zynga (NASDAQ:ZNGA) couldn't even turn a profit last year. Still, no successful organization can have a single point of failure and for King Digital Entertainment its Candy Crush Saga.
The fact that King Digital Entertainment could be valued in the same ballpark as popular game makers Hasbro (NASDAQ:HAS) - $7.23 billion and Electronic Arts (NASDAQ:EA) - $8.83 billion while having the majority of its business from one revenue stream is outlandish. Even with a relatively low P/E ratio, it seems that KING is nothing but a value trap. The mobile entertainment industry has extremely low barriers to entry and any change in player sentiment will prove catastrophic. The decline of ZNGA has only proven this.
From their own prospectus, the company recognizes that "a small number of games currently generate a substantial majority of our revenue." In the fourth quarter of 2013, Candy Crush Saga, Pet Rescue Saga, and Farm Heroes Saga accounted for 95% of the total gross bookings across the web and mobile channels. Candy Crush Saga represented 78% alone. The problem: King Digital Entertainment actually lost paid subscribers between the 3rd and 4th quarter in 2013. As you can see below, monthly unique payers (MUPs), actually declined over 6.5%: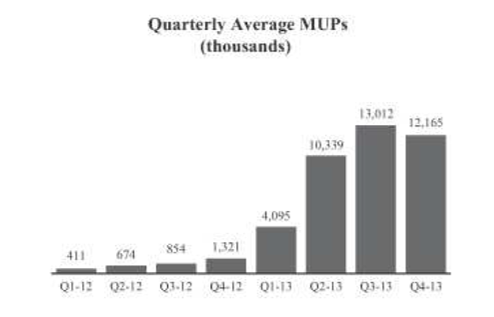 Source: King Digital Entertainment F-1
When I first heard that King Digital Entertainment was being valued at $7.1 billion with only one truly successful product, my mind naturally drifted back to the year 2000 and the internet bubble. Recent tech IPOs to include Castlight Health (NYSE:CSLT) and Coupons.com (NASDAQ:COUP), both posting high percentage increases after they opened, yet both unprofitable, have furthered my fears. Facebook's (NASDAQ:FB) acquisition of virtual reality startup Oculus VR for $2 billion, a two-year old company hasn't even brought a product to market, didn't do much to help the situation either. It seems as if investors have lost their mind.
With King Digital Entertainment falling almost 20% in its first week of trading, I would argue that there is indeed some sanity in the market place. Maybe KING is being unfairly punished, but it seems investors have woken from the smoke and mirrors of Wall Street and maybe we are not headed for the same bubble of 2000.
Disclosure: I am long SPY. I wrote this article myself, and it expresses my own opinions. I am not receiving compensation for it (other than from Seeking Alpha). I have no business relationship with any company whose stock is mentioned in this article.