Last quarter's earnings and guidance were extremely dismal for LeapFrog (NYSE:LF). The stock fell to 52 week lows at $6.10 in February. Now that it has rebounded since then, I researched the company to see if things will get better or worse from here.
After much research into LeapFrog, I have found that it is on a path of continual value destruction. I have also uncovered special information from my sources that an analyst is pushing LeapFrog's board to undergo a dramatic transformation. As I explain towards the end of this article, I believe the transformation this analyst is seeking will likely cause even more value destruction for the company at a more rapid pace.
For those that are bullish on LeapFrog, I want to ask the question:
How many parents would choose an expensive LeapPad for their kids and cut them off from the Android and iOS ecosystems?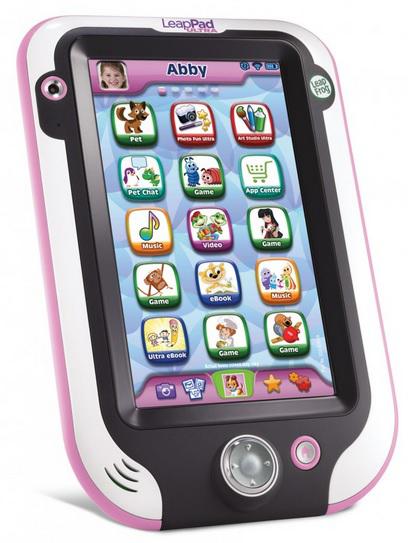 As I explain in the financials section of this report, my price target for LF is $4.20 per share for a 40% downside on the stock.
LeapPads Don't Offer Android Or iOS Games Or Apps
In conducting my research, I noticed a link where a mother asks the question:
Is it worth buying a LeapPad rather than a Cheap Android tablet?
One mother answered the question the way many parents are thinking after conducting some basic research:
Buy a normal cheap tablet if you are confident about installing the appropriate child protections yourself. There are some fabulous android apps for education of all types available for free or absolutely minimal cost, and any number of web articles to tell you what they are. If you buy the likes of a leap pad, (as I did this Christmas), you will end up paying through the nose to add apps and games, which are only available through the branded website, and cost a fortune (up to £20 for a game), as opposed to 99p on Google Play.
The above quote describes the main reasons why parents are avoiding the LeapPad and buying one of the many other available children's tablets instead.
LeapFrog makes their own games and apps, and charges a lot for them, about $20 apiece. Whereas there are some great kids educational games for the iOS system and Android system that are free or just cost a couple bucks. This puts LeapFrog between a rock and a hard place. LeapFrog can't have those iOS and Android apps available on a LeapPad, because then customers will get the cheap or free apps and avoid LeapFrog's expensive content. Conversely, LeapFrog can't charge for its apps on the Android or iOS system, because no one will buy them since they can get apps for free.
As more and more people realize this, like the mother above, the more LeapPads will be shunned. Starting the last couple quarters, I believe the trend to avoid LeapPads is in full effect, and will get stronger.
The Big Boys Are Pushing LeapFrog Around
Increasingly competitive name brand tablets are coming from Apple, Google, Amazon, and Samsung. All of which use the Android operating system except for Apple which has the iOS operating system.
These companies have a great track record for innovation and have a lot more resources than LeapFrog to use for it. There are an increasing number of educational programs and apps for little kids on mainstream tablets. For example, "Kid mode" just came out for the Android on March 25th with a safety lock, and has gotten great reviews so far.
Here are listed the "50 best apps for kids" and not a single one is listed from LeapFrog.
The Android and the iOS operating systems also offer ecosystem integration with other home computing and mobile platforms, while the LeapPad stands alone.
Here's an online question seven months ago from a mother who is wondering whether she should get her five year old son a LeapPad or an iPad. Overwhelmingly, readers recommended that she get an iPad.
Some of the answers are:
I think that an iPad would be the way to go. You can get lots of kid friendly games, apps and online stories designed for their enjoyment and to enhance their education. The leap frog tablet is good but he will out grow it quite soon as I don't think any kid older than 6 or 7 plays with them.

An iPad, he'll outgrow the leapfrog pretty quick and, if taken care of properly, the iPad will still have practical use for him with the variety of games and apps out there for children and adolescents as well.

Definitely the Ipad. I got the Leapad2 for my 3 year old and she played it for a while but now she's right back to wanting my phone all of the time.
iPads are strongly being adopted by schools with 25% of elementary schools having them in the US. Apple is aggressively making the push into education. That's a direct threat to LeapFrog. In Piper Jaffray's March 2014 report on LeapFrog it mentions:
"The company must plan for the increasing likelihood that an adult tablet maker (i.e. Apple) will soon enter the children's tablet market."
The Kindle recently came out with "Freetime Unlimited" for toddlers. It is hundreds of games, books and videos for only $5 per month. With FreeTime, kids have more than they could ever consume plus it automatically refreshes each month with new content.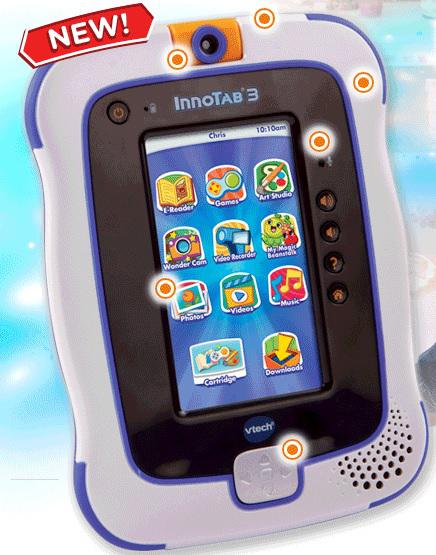 The above picture is the Vtech Innotab 3. It's an Android device that's a direct competitor to the LeapPad, designed for kids between the ages of 3-9. More devices like this can be expected to follow.
A Bearish Q413
A lot of the bearish story can be told from LeapFrog's management in the latest earnings call. Both the quarter and guidance were horrid. The estimated revenues were $216M, and the actual was $186.7M. Q4 revenues fell 30% YoY. Normalized EPS was expected to be $0.14 per share, but the actual was break-even. 2014 guidance was lower than expected as well. The company now has excess inventory.
Quotes from LeapFrog's CEO John Barbour:
Many retailers expanded their tablet sections for 2013. A lot of the new tablets were targeted at adults or families with older children than our target market, but there were also some new entrants aimed at younger children. New competitive kids tablets gained significant traction in the market, but they still took up shelf space, and negatively impacted a portion of our sales.

If you look at beyond our platforms, yes there are people that have got lots of content out there. There are millions of free apps out there for kids, right.

So far, we don't have a solution that allow to us put our content on other platforms and make the profitability that allows us to cover that investment for the long term.
A Good Technical Time To Short
Now is a good time to short LF because it has risen 17% since its low of $6.10 after its bad quarterly results. There is no fundamental reason for its rise, other than analysts giving it positive reviews, and talks of a potential acquisition.
LeapFrog's Financial Valuation Is Still That Of A Growth Company, Even Though It's A Declining Company
Don't be misled by LF's current PE of 6. In the 4th quarter, the company realized the majority of their tax deferred assets for a writeoff of $64 million. This is a non-recurring writeoff as Leapfrog's CFO, Ray Arthur, said in the latest earnings call: "we are back to a normal tax rate situation now, so it is about a 37.5% effective rate we would be looking at."
Take away the tax writeoff, and the true PE of Leapfrog is around 20. A high PE for a company with declining sales. A more appropriate PE for LF is between 5-15, depending on how fast its revenue will decline. Stephanie Wissink of Piper Jaffray gave LF an $11 price target in May of last year based on a 15 PE for 2014 earnings.
Ms. Wissink now gives LeapFrog a PT of $9 in her March, 2014 earnings report, based on a 15 PE for estimated 2015 earnings. From Capital IQ, for years 2014, 2015, and 2016, the median estimated EPS is $0.21, $0.39, and $0.40, respectively. Valuing LeapFrog at a 15 PE, using estimated 2014 EPS would put the current share price at $3.15. Using estimated 2015 or 2016 EPS would put the share price at $6. All of the above valuations put the share price at quite a bit lower than its current price of $7.40.
Why do analysts expect LeapFrog to increase revenue and EPS in 2015 and 2016? Because they expect LeapFrog to dig into its pockets and ramp up R&D and marketing, and say a prayer every night.
My price target for LF is $4.20. Or 12x my expected earnings of $0.35 for 2015.
Piper Jaffray's Analyst Is Urging LeapFrog To Become A 100% Digital Provider
Some Leapfrog bulls make the case that its educational programs are so good, it could decide to sell them on the iOS and Android platforms and do better that way than trying to fight a losing battle with the tablet wars. That is what this article suggests LeapFrog do.
One of my sources told me that Stephanie Wissink of Piper Jaffray is also suggesting LeapFrog ditch its hardware and become an educational software company. I believe turning it into a digital company would rapidly destroy the stock's value. First of all, it will make its apps compete with the already tons of Android and iOS children's apps out there. To be competitive it will have to sell its apps for much cheaper, apps that were selling for $20 before will only be able to be sold for $1-$2, or even given away for free. Those LeapFrog fans who bought the LeapPad to get its exclusive content won't have that advantage anymore, and will feel that their loyalty got betrayed. It would also have to compete with the Amazon Kindle's FreeTime. It's an unfortunate road to take, but LeapFrog may be forced to go this all-digital route if its tablets continue to lose market share.
Some say Apple (NASDAQ:AAPL) might have an interest in acquiring LeapFrog with its aggressive foray into education. As I had explained above, Apple already has a strong foothold in education with its own apps. It doesn't need to add LeapFrog's apps to its culture.
Some bulls suggest Mattel (NASDAQ:MAT) might want to acquire LeapFrog to get into the kid's tablet market. Tablets aren't Mattel's specialty, and it would just dump money into the project to no avail. It would take too much capital investment to buck the trend away from LeapFrog's products to make it worthwhile. Also an acquisition of LeapFrog would hurt Mattel's PE ratio, as LeapFrog has a higher PE. An acquisition of LeapFrog would hurt a toy maker like Mattel or Hasbro's reputation of being a "cash flower," and turn them into a "value destroyer."
Declining companies with products that are losing market share like Leapfrog are not good takeover candidates. Takeover candidates are usually either startups that are rapidly growing, or the opposite end of the spectrum, businesses that are struggling or approaching bankruptcy and are forced to sell themselves. Wait another two years when LeapFrog might be trading for $1-$2, and I may write another article saying it's an acquisition target.
There Was A Place For LeapFrog Once
When tablets first came out, they were naturally designed for adults. The market was small for children. That's where LeapFrog was able to create a profitable niche for children's games and education. However, now that toddlers using tablets is big business, LeapFrog no longer has that niche. The big players can do it better and cheaper than LeapFrog can. When a niche business becomes mainstream, the original, little guy often gets pushed out. It's not fair, but business is often cruel.
How Can LeapFrog Make A Comeback?
There are a couple risks to the short thesis that should be mentioned. I don't think LeapFrog is an acquisition candidate. However, it does have a brand that has its share of fans over the competition. This fan base could grow. It's launching a new version of its app store in mid-2014 to support its growing content library (1200 apps), and is launching a new platform in late 2014. International expansion could also be a source of growth, as international only fell 5% YoY in Q4 vs 30% in the US. I think it's very unlikely that any of these advantages are enough to halt the trend of progress away from the LeapPad and towards the Android and iOS systems.
Disclosure: I am short LF. I wrote this article myself, and it expresses my own opinions. I am not receiving compensation for it (other than from Seeking Alpha). I have no business relationship with any company whose stock is mentioned in this article.