I only own very few INTC shares now. However, since Ashraf is no longer writing good propaganda for Intel (NASDAQ:INTC), I felt I should take up the slack until he returns. INTC is a great company that deserves better public relations.
In addition to covering Apple (NASDAQ:AAPL) and AMD (NYSE:AMD), I will continue to write about good developments that involve Intel or its subsidiaries. I'm polygamous when it comes to investing. I'm multi-tabling tickers like I multi-table on poker tournaments.
I bet on companies I understand, and hopefully the variance gods will reward me with a net of $80,000 before the 2016 election.

Click to enlarge
Source: Google Finance
Free Windows Helps Lower Prices of Windows 8 Tablets
I was very much discouraged that Microsoft's (NASDAQ:MSFT) new boss, Nadella opted to discard the Windows-exclusivity of the Office Suite. Nadella's release of the Office for iPad last March 27 compelled me to get out of INTC so I can use the money instead to join the Apple camp. However, my decision might have been premature - Microsoft is not abandoning Intel's 40-million tablet campaign this year.
Nadella made another shocking act this April 2. He is giving away free Windows licenses for gadgets that have 9-inches or lower display size. The new Microsoft is really going thermonuclear against its nemesis, Google (NASDAQ:GOOG). It is safer for Intel to stay in good terms with Microsoft. Microsoft doesn't like Intel's enthusiasm for Dual-Os machines and ChromeBooks.
In my opinion, free Windows is much more important than Intel's $740 million investment in Cloudera. INTC's laggard performance in the market is due to the public notion that Intel is too far behind Qualcomm (NASDAQ:QCOM) and Apple in the mobile chip race.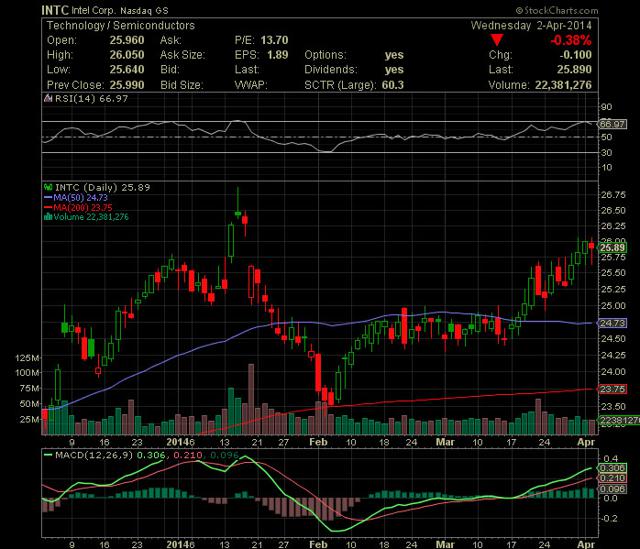 Click to enlarge
Intel needs to deliver on its promise of 40 million SoC shipments this year or else it will continue to languish below $27. The stock market doesn't really appreciate how Intel has the best manufacturing experience, best facilities, and best performing SoC solutions.
The stock market is more influenced by IDC and Gartner's chart releases of the top 5 vendors of tablets or mobile chips. Small ARM-based chip companies are giving Intel and Qualcomm a hard fight in the tablet chip market. Microsoft's release of free Windows for mobile devices might be the equalizer to the ARM-based competition.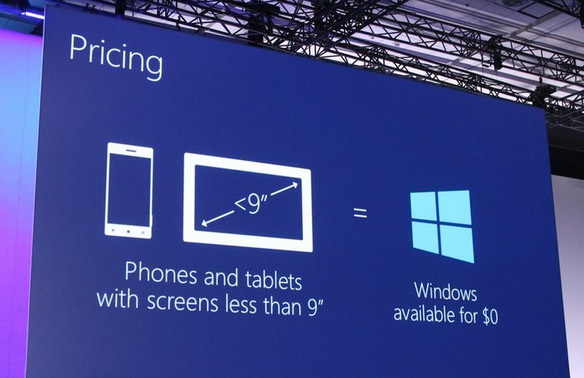 Source: The Verge
Intel-equipped Windows 8.1 tablets will be cheaper to make for the company's OEM partners. Intel needs this boost from Microsoft. According to IDC, Allwinner, a Chinese company founded only last 2007, is now the 2nd biggest supplier of tablet chips, behind Apple, and ahead of 3rd-placer Qualcomm. Intel was only ranked 6th. Rockchip and MediaTek are also fierce competitors in the tablet SoC market.
Allwinner supplies chips to low-priced tablet producers mostly from China. It shipped 18.2 million chips during the last quarter of 2013, more than 3x the number of Intel shipments. Intel is providing subsidies or contra revenues to make it possible for its OEM partners to manufacture $150 tablets this year. Microsoft's previous $50 OS licensing fee wasn't making it easy. Microsoft's $15 discounted licensing fee is still not acceptable for low-end $100 gadgets.
Even HP (NYSE:HPQ) decided to use a quad-core Allwinner SoC for its HP 8 tablet to keep costs low and make the $170 retail price of the tablet viable. Nadella's new free Windows offer is therefore a game changer for Intel.
With no more licensing fees, it's now attractive for OEM companies to produce Intel-powered Windows 8 tablets.
Intel will likely lose money on most of the 40 million tablet chips it will sell this year but the market will reward it handsomely if Gartner or IDC shows Intel did become 2014's most improved tablet chip supplier. Microsoft will lose money too but it will regain it from Office 365 subscriptions and mobile advertising.
Conclusion
Microsoft's free Windows policy improves Intel's chances to make 40 million tablet chip sales this year. Device makers will now find it profitable to make cheap Windows 8.1 tablets like they do now with ARM-based Android tablets.
A $200 Windows 8.1 tablet is more attractive than a $150 Android tablet. A Windows 8.1 tablet comes with free online storage, free MixRadio streaming, HERE maps, and more goodies.
Intel is a strong HOLD. Based on the chart below, INTC is underappreciated and underpriced. The company has below 15 TTM and Forward P/E and excellent Price/Sales, Price/Book, Price/Cash ratios.
It also has a negligible Debt/Equity and LT Debt/Equity ratios of 0.23. The 59.60% gross margin may no longer be possible this year due to contra revenue. INTC is up +29.60% from its 52-week low and its SMA200 is +9.03%.

Click to enlarge
Disclosure: I am long INTC, AMD, AAPL. I wrote this article myself, and it expresses my own opinions. I am not receiving compensation for it (other than from Seeking Alpha). I have no business relationship with any company whose stock is mentioned in this article.