Thanks to reader Kevin for pointing this name out, as it has been off my radar. Amazon.com (NASDAQ:AMZN) made a nice higher high in April 2010 (no "double top" or anything of the sort) but has been weak of late. Obviously the iPad hurts its Kindle line but that is not exactly its core line. Valuation has always been an issue for Amazon, so you can't make the case that it suddenly got expensive; it always has been.
Technically, the stock broke below the 200-day in early June, then rebounded (head fake for bears) as "risk was on" and all stocks were deemed as rally candidates during that two week move where the S&P 500 gained 8.2%. As of last Thursday, it broke back below the 200-day, closed back above Friday, then back below yesterday. Today as "risk is off" it is getting hammered. (Click to enlarge)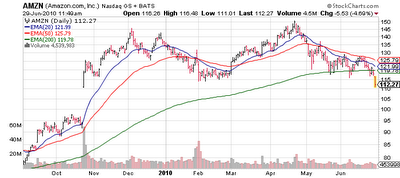 There is a chasm gap to fill back from October 2009 so here is a nice candidate to watch to see if the gap "fills." Remember, stocks are not like indexes; gaps need not fill in all cases, but it's still the general rule that they do. With stocks it can be 4-5-6+ quarters before it happens.
If it happens here look at $94.10, the high of Oct. 22, 2009 (the low on Oct. 23, 2009 was $110.62).
Recall Amazon.com and Research in Motion (RIMM) [Jun 25, 2010: Research in Motion Working on Filling the Gap of April 2009] were some of the key momo names of the past few years. The ball has been passed to a new generation, but I submit that eventually those names will have the same fate.
Disclosure: No position