After countless hours of research, I have finally made it out of the rabbit hole with some compelling insight to Apple's brand new iPhone 4G. As some of you may know, Apple (NASDAQ:AAPL) announced the iPhone 4G at the Worldwide Developers Conference (WWDC) on June 7. Steve Jobs, keynote speaker, spoke about the iPhone's new features and how revolutionary this will be for the cellular phone development. Not only is this huge for Apple, but there are also some key players who could benefit from this cutting edge technology which we will discuss in just a bit.
Let's kick this off by first discussing why this iPhone 4G is different from any other version. The iPhone 4G brings features to the table that have never been available. Features like the RETINA display which packs in 326 pixels per square inch versus 163 pixels on the iPhone 3GS, or Video Calling which allows you to switch from the front camera to the back camera in mid-conversation. Other features show the emphasis the developers placed on users' improvement comments like the 40% more battery life, LED flash, and 720p HD video camera.
Now some of you might be thinking ... Ok, that's great that Apple came out with the new iPhone 4G, but what does this mean for my portfolio? Last week, I picked up Apple at about $244/share and as of today Apple is sitting at $271/share ... that's an 11% gain in just over a week. Check out this undeniable chart below: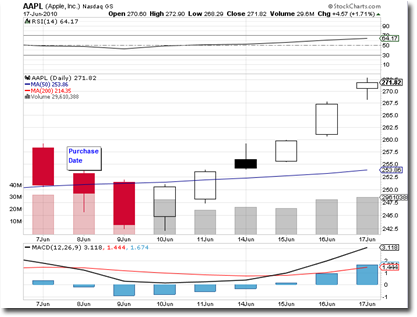 Well, Apple is not the only one benefiting from the release last week. AT&T (NYSE:T) and Apple commenced their pre-order sale on June 15, and needless to say there was pandemonium in the streets of the cyber world. AT&T's first day of pre-order sales equal to 10 times those of the iPhone 3GS last year. AT&T suspended pre-orders on June 16th in order to fulfill the 600,000 orders from the first day. iPhone 4G will officially be available on June 24th in stores, but don't expect inventory levels to meet demand since pre-orders are not expected in the mail till July 15th.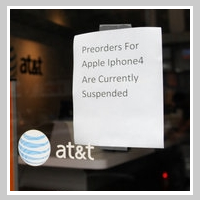 For those of you not familiar with Apple and AT&T's exclusive contract, you are not alone. Even people like myself have no concrete details on the exclusive contract which was created before the release of Apple's first iPhone in 2007. The only officially news on the contract is Apple and AT&T did enter into a 5-year agreement backed by court documents, but as we all know contracts can be amended. And with AT&T's customer service track record and the ever-growing demand for iPhone 4G, this would not be a surprise.
So you still might be asking yourself ... Now obviously AT&T is the front runner for the iPhone craze but who is biting at the feet of this exclusive relationship between Apple and AT&T?
Fighting for Second Place…
There were rumors that T-Mobile, subsidiary of Deutsche Telekom (DT), had entered into negotiations with Apple on bringing the iPhone to their customer base as well. And though negotiations were continually on going for a few months, the deal was never finalized.
There seemed to be two major reasons. First, Apple demanded T-Mobile come up with a large amount of cash that could potentially impair this major carrier by limiting their profitability to iPhones only, therefore limiting themselves to any advances in the Smartphone sector. The second reason seemed to be focused on the announcement date of the partnership if the possible negotiations panned out. Apple refused to release the details of their venture with T-Mobile till after AT&T's launch of the iPhone 4G on June 24th.
T-Mobile was not the only who was fighting for the second seat.
Verizon Wireless (NYSE:VZ) was on the edge of their chairs during negotiations with Apple. The partnership would create huge problems for AT&T, since Verizon would the largest service-provider with the iPhone readily available for its extremely happy customers. That is why we are seeing AT&T extend upgrades till the end of 2010 to customers who would not be normally eligible in hopes of locking their customers past the 2012 deadline of their agreement ... what a con.

Apple will have to make some minor adjustments to become compatible with Verizon's CDMA network. There are only rumors at this time that Apple is already in the process of building the CDMA iPhone. There is speculation that Verizon will announce their partnership with Apple in late July which could be plausible, but just be full warned that Verizon is scheduled to launch Droid X July 19th with Droid 2 to follow.
"Show Me the Money"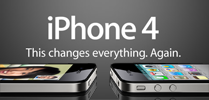 How am I going to put cash in our pockets? At this point, there's potential for some pretty significant gains in the near future, but there is one company I would avoid, AT&T. Even though AT&T had huge sales from the iPhone 4G, there are too many legal battles, aside from the website overload, ahead of them to see any significant movement in stock price. On a positive note, Apple has already shown an up-click from the launch of iPhone 4G. I do see further growth potential. I'm interested to see how inventory levels are dealt with and the impact in July of the Verizon/Apple partnership announcement. Verizon is a hot pick for me since they will not only be releasing the new Droid X, but also the Droid 2 and hopefully the Apple partnership will follow.
Disclosure: No positions