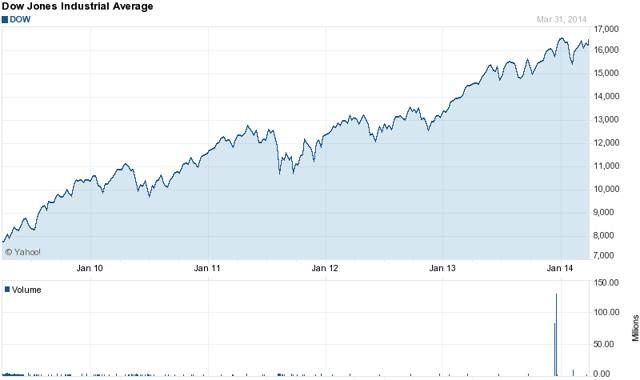 Click to enlarge
As the Dow again inches toward all-time highs, it may be time for investors to start positioning their portfolios to weather a market correction. At this point the market is starting to get overvalued and it's becoming difficult to find quality value stocks to invest in. Whether investors begin cashing out profits, inflation creeps up, geopolitical pressure grows or negative economic news comes out, there are a number of factors that can get overblown and cause a correction. Everyone from financial analyst to everyday investors are wondering what will spark the next market correction and it's the very anticipation of the event that will lead to a knee-jerk reaction and cause a broad sell-off. History shows that bull markets rarely last more than a few years and looking at the chart above, you'd be naïve to assume history won't repeat itself.
A great way to decrease risk in your portfolio is to invest in stocks that have high yields and low betas. Beta is the measure of volatility (or systematic risk) of a stock in comparison to the market as a whole. A beta of 1 means the stock price will move in line with the market. A beta of less than 1 means the stock is less volatile than the market and a beta above 1 generally means the stock price is more volatile than the market. By investing in low-beta stocks, investors can limit their downside risk during bear markets since the stock has less systematic risk associated with it. On the other hand, low-beta stocks will underperform the market during bull markets. It's up to the individual investor to determine where the market is headed.
Below is an example list of stocks with low betas, large market caps and high yields that can provide balance to any portfolio.
| | | | |
| --- | --- | --- | --- |
| Company | Market Cap ($ billions) | Dividend yield | Beta |
| General Mills (NYSE:GIS) | $ 31.8 | 3.2% | 0.25 |
| Colgate -Palmolive (NYSE:CL) | $ 58.9 | 2.2% | 0.35 |
| Kimberly-Clark (NYSE:KMB) | $ 41.5 | 3.1% | 0.04 |
| Coca-Cola (NYSE:KO) | $ 169.1 | 3.1% | 0.34 |
| PepsiCo (NYSE:PEP) | $ 126.1 | 2.7% | 0.35 |
| McDonald's (NYSE:MCD) | $ 96.9 | 3.3% | 0.35 |
| Wal-Mart (NYSE:WMT) | $ 247.7 | 2.5% | 0.40 |
| AT&T (NYSE:T) | $ 182.6 | 5.2% | 0.28 |
| Verizon (NYSE:VZ) | $ 197.6 | 4.5% | 0.35 |
| Procter & Gamble (NYSE:PG) | $ 217.7 | 3.0% | 0.41 |
| Southern Co. (NYSE:SO) | $ 38.6 | 4.7% | 0.02 |
| Consolidated Edison (NYSE:ED) | $ 15.6 | 4.7% | -0.02 |
| Duke Energy (NYSE:DUK) | $ 49.9 | 4.4% | 0.07 |
| American Electric Power (NYSE:AEP) | $ 24.6 | 4.0% | 0.25 |
| Exelon Corp. (NYSE:EXC) | $ 28.7 | 3.7% | 0.17 |
| Altria (NYSE:MO) | $ 74.3 | 5.2% | 0.42 |
| Lorillard (NYSE:LO) | $ 19.5 | 4.6% | 0.33 |
Source: Yahoo Financials
While this is a small and incomplete list of all the quality dividend-paying, low-beta stocks, there are patterns that emerge from the list. Low-beta stocks tend to be large well-established firms that have a solid core business with regular and reliable income streams. They won't deliver exciting quarterly reports or offer the latest and greatest products, but they consistently meet expectations and provide reliable income regardless of market conditions. Consumer staples, utilities, telecoms, and tobacco firms tend to fit this criteria because they all have customers who purchase their service or product regardless of economic environment. By taking profits off the table and investing in high-yield / low-beta stocks, investors can lock up gains while still making money through strong yields. It's up to the individual investor to decide how much and to what extent they want to decrease the risk in their portfolio.
"Be Fearful When Others Are Greedy and Greedy When Others Are Fearful"

-Warren Buffett
This quote by Warren Buffett is my favorite investing philosophy and is how I tend to trade. The market as a whole has doubled over the past five years and it's time for investors to decide how much more upside there is. If there's 5% upside from here it would put the Dow Jones at 17,401. If there's 10% upside from here it would put the Dow Jones at 18,230. I for one believe neither of these are likely and even if the Dow sees 17,500 this year, is an additional 5% gain worth risking for a market correction that would eat into profits? Investors' eyes are starting to get big and many people are getting greedy with their profits and want to see more. I for one am listening to Buffett's wisdom and am thoroughly happy with the profits I've made in the market. Locking up profits in quality low-beta / high-yield stocks gives investors the opportunity to weather a correction and have the money to reinvest when others are fearful of the market and again take advantage of value in the market.
Disclosure: I have no positions in any stocks mentioned, and no plans to initiate any positions within the next 72 hours. I wrote this article myself, and it expresses my own opinions. I am not receiving compensation for it (other than from Seeking Alpha). I have no business relationship with any company whose stock is mentioned in this article.